Nutrisystem Names Melissa Joan Hart New Celebrity Spokesperson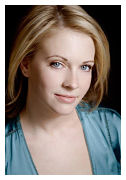 April 2, 2013 – Nutrisystem, Inc., a leader in weight loss with over 40 years of proven effectiveness, has signed Melissa Joan Hart as a new female celebrity spokesperson and has been named the "Best Convenience" diet by USA TODAY. The company also revealed that in addition to "Super Monday" (the day after the final football game of the season), "Easter Monday" is one of the biggest diet decision days of the year.
Nutrisystem announced today Hart, 36, actress, writer, producer, director, singer and mother of three, as its newest brand ambassador. Having recently given birth to her third child, the longtime actress has already lost twenty pounds on Nutrisystem. Hart is best known for her title roles in the television series Clarissa Explains It All (1991–94), the live action version of Sabrina, the Teenage Witch (1996–2003) and is currently starring in the ABC Family comedy series Melissa & Joey (2010–present).
"We are thrilled to be helping and working with Melissa," commented Keira Krausz, Nutrisystem's Chief Marketing Officer. "She mirrors our values and will resonate with our customers as authentic. Moving forward, you'll see us have an appropriate mix of inspiring celebrities and real life customers who have also enjoyed success. We think dieters are savvier than ever and really appreciate someone who — above all else — is relatable."
"I love working with Nutrisystem. The Program is really delivering results for me and I look forward to long term success, staying motivated and helping others do the same," remarked Ms. Hart.
The company also revealed that the Monday following Easter has historically been one of the biggest diet decision days of the year based on a 25% spike in phone and web inquiries from consumers versus the Monday prior. According to proprietary company data, as Americans turn their focus to warmer weather and vacations, the demand for healthy weight loss solutions rises.
"There's no question it's primetime for the diet industry," added Ms. Krausz. "Consumers who go into the holiday weekend with weight loss momentum need to keep it and those who have resolved to lose weight, but are off-track, feel a heightened sense of urgency. At Nutrisystem, it's our job to meet you where you are and turbo-charge your efforts."
Nutrisystem was also recently named the "Best Convenience" Diet in The Best Diet & Fitness Tips, a new USA TODAY publication featuring some of the best advice from USA TODAY, Shape and Men's Fitness.
"Convenience is an important factor when it comes to adherence and it's terrific to see notable experts acknowledging our efforts to make Nutrisystem a diet that uniquely recognizes the importance of a delivering a plan that fits within the busy lives we all lead and drives real weight loss results," commented Meghan Nichols, R.D., a registered dietitian and member of Nutrisystem's Research & Development team.