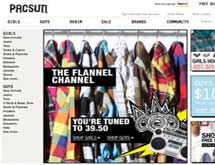 With nearly 1,000 retail locations, one strong and interactive e-commerce site, and annual revenues of more than $1 billion, PacSun is clearly a force to be reckoned with as an apparel and accessories retailer. What's shocking is that the company started as a small surf shop in Newport Beach in 1980 and is now one of the top names in the teen fashion world.
What hasn't changed is the company's focus on staying true to its roots in teen culture and maintaining a forward-looking approach to offering its target audience what will be hot in Southern California fashion tomorrow today.
Breaking it down
More than a simple clothing company, PacSun offers accessories, swimwear, sandals, T-shirts, and tank tops for boys and girls. For girls, locations offer dresses, skirts, handbags, and fashion tops. For boys, the company offers board shorts, polos, hoodies, headphones, and sunglasses.
Keeping in line with its Southern California style, PacSun carries brands such as Billabong, Fox, Hurley, Volcom, Bullhead, O'Neill, Nollie, Roxy, Kirra, Rip Curl, RVCA, DC, Lucy Love, Element, WeSC, Quicksilver, Vans, Nike, Zoo York, and Nixon. The company also distributes items under its own brand, Vurt.
Although this variety surely brings in teens, it's PacSun's approach to connecting with its consumers online that differentiates it and shows its innovative sense of business. For example, whether a skater, surfer, or snowboarder, PacSun shoppers can join the PacSun Team to connect with other teens across the country. The simple description states, "Join the community. Win stuff. Meet the team. Get sponsored."
The Team page shows other community members, has a wall for members to leave comments, and lists coupons members can use at any PacSun store to save on buying the newest fashions. There is also a blog that has entries dating back to 2007 with topics such as "PacSun's Battle of the Brands," "Flickr Pick: Summer's Almost Over," and "Win a Pair of PacSun Denim."
Shred or Die, another link on the PacSun Web site, lists its goal as being "the world's best destination for action sport video, with a focus on skateboarding, snowboarding, surfing, BMX, and FMX." Launched in 2007, the site is a collaboration between Or Die Networks, the creators of funnieordie.com, and Tony Hawk, skateboarding icon and filmmaker.
The site invites members to vote on their favorite or least favorite videos, enter contests, and learn how to improve their skill set on whichever sport they're into. As with the Team page, there is also a blog for members to follow, with topics such as "Tony's Easter Egg Hunt," which connects members to Tony Hawk's Twitter page, and "Sot T Shirts," which gives members the chance to win a free T-shirt depending on whether or not they get enough votes on a video.
And, as with any well-positioned e-com company, PacSun has a page on Facebook, MySpace, Twitter, and YouTube.
Looking ahead
Executives at PacSun, also known as Pacific Sunwear of California, Inc., include Gar Jackson, vice president of investor relations, and Michael Henry, chief financial officer. In the second quarter earnings call on September 3, Gary Schoenfeld introduced himself as PacSun's new CEO and explained why he was excited to take the position.
"I've been a long time admirer of PacSun," he said. "For many years PacSun championed the action sports market and brought a number of great brands to malls and consumers across the country. I think it's fair to say that PacSun has endured its fair share of challenges and hurdles over the past three, four, five years. And I'm equally excited about re-energizing the passion, creativity, and a relentless customer focus within our team."
Henry announced total sales for PacSun's second quarter were $243 million. And although the company ended the quarter with 916 stores versus 938 a year ago, he also announced e-commerce revenue growth of 11% to $9 million, up from last year's $8 million.
Looking ahead to 2010, Schoenfeld said the company's focus on merchandising between core versus value in terms of the mix between branded and private label merchandise will be centered on looking at what is different about a customer shopping in the company's core stores versus the value stores.
"I feel very good about the direction we're headed in our product assortments as it relates to core," Schoenfeld said. "Similarly, I think that with subject to some fine tuning, the value piece is getting better. From a projection standpoint, we need to make the brands the bigger part of what we do in PacSun."