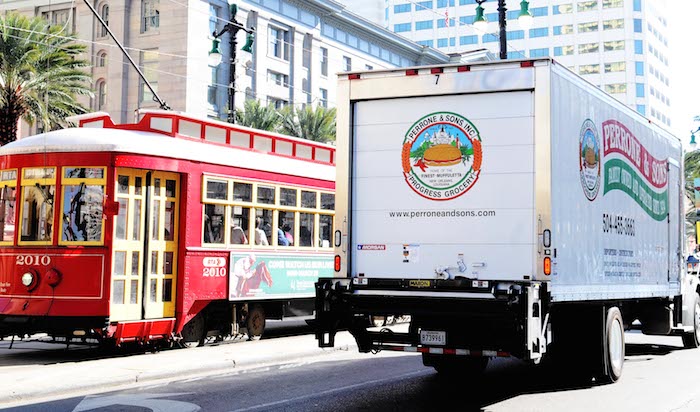 Perrone and Sons is establishing lasting relationships with vendors and customers to make itself indispensable to the New Orleans culinary scene.
By Tim O'Connor
When Hurricane Katrina hit New Orleans in August 2005, the historic storm wiped out much of the city and left businesses inoperable for weeks, even months. One of them was Perrone and Sons LLC., a specialty food wholesaler that was without power for a month following the storm. John Perrone III, son of owner John Perrone Jr., had to leave college for a few semesters to help the family business recover.
Perrone and Sons took the lessons learned during the Katrina disaster and applied them to the construction of its new distribution and production facility in 2013. The 30,000-square-foot building uses the same reinforced roofing as the renovated Mercedes-Benz Superdome and onsite generators keep the building powered during blackouts, such as when Hurricane Isaac hit in 2012. Vice President of Sales Rusty Perrone says the company now has confidence it can continue operating in the aftermath of any storm. "We'll be one of the last to be turned off if there is a hurricane," he says.
"We used Katrina as a lesson for us," he adds. "What are the requirements for us to be up and running in the shortest amount of time?" Perrone and Sons is one of the leading wholesalers to restaurants and grocery stores in New Orleans. If a disaster were to shut down the business, even temporarily, it would not only harm Perrone and Sons' operation, but the city's specialty grocery and gourmet restaurants. By investing in a facility that can withstand strong winds and power outages, Perrone says the company made a commitment to its supermarket and restaurant customers.
Integrating with New Orleans
Perrone and Sons' history began when Bartholomew Perrone, Rusty Perrone's great-grandfather, opened Progress Grocery in New Orleans's French Quarter in 1924. The store was a hit with the large Italian community as locals came to view it as the go-to place for imported goods from Europe.
As time went on, the community changed and Italian families moved out. Meanwhile, New Orleans cemented its status as a culinary destination and restaurants began coming to Progress Grocery to buy specialty products. The grocery store developed a wholesale business and began making deliveries to eateries in the French Quarter.
By 2001, the lack of local customers prompted the Perrone family to close the grocery store and concentrate solely on the wholesale operation. As a retailer, Progress Grocer was known for its olive salads, stuffed artichokes and Muffaletta sandwiches.
After the switch to wholesale, restaurants and supermarkets continued to rely on Perrone and Sons for those and other specialty food products. The company has also partnered with several of its restaurant customers to sell retail versions of signature food items, such as sauces from Two Tony's and Commander's Palace Chef Tory McPhail's rum vinegar, specialty sauces and marinades.
The company today has three primary divisions: food production and private label, foodservice and retail distribution. "If there is a white table cloth restaurant in New Orleans, nine times out of 10 we're serving them with a gourmet product," Rusty Perrone says.
Perrone and Sons' most important market is New Orleans, but the company's wholesale operation covers a 200-mile radius from its headquarters in Metairie, La. Its market reaches as far east as Mobile, Ala., and as far west as Lafayette, La. To reach those customers – and the ones in New Orleans – Perrone and Sons owns and operates six refrigerated trucks.
Rusty Perrone attributes the company's success to the quality and service standards his great-grandfather first established when he opened Progress Grocery in the 1920s. "Basically, [we are] just sticking to the core values of our family business," he says. "We have a reputation in the city of being honest and fair people, dedicated to preserving our heritage and the legacy my great-grandfather provided."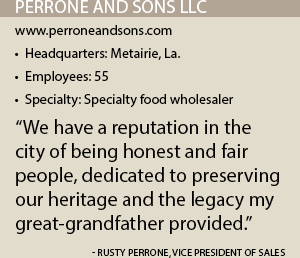 That legacy is what Rusty Perrone says sets the family owned company apart from its competitors. "We're the oldest specialty foodservice distributor in the city," he adds. Many chefs who work in The Big Easy's most renowned eateries learn to purchase from Perrone and Sons, then continue to do so once they open their own restaurants. "Our success in foodservice is really our spanning history of serving those types of products," Perrone says.
Part of Perrone and Sons' legacy is honoring members of the Perrone family. Rusty Perrone's twin brother, Randy, died in 2013 from complications with brain cancer. Randy Perrone was the company's director of retail and the family struggled with the loss on multiple sides. "To have a double whammy on the family front and the business front was quite difficult," Rusty Perrone recalls. "But fortunately we have a great family of employees that really stepped up."
Perrone and Sons is honoring Randy Perrone's memory with its new Brie, Saint Randeaux. Rusty Perrone says the company plans to donate of portion of sales proceeds to brain cancer research.
Strengthening Vendors
New Orleans is a hot culinary market that is attracting more interest from national wholesalers. To thrive in the face of well-funded competition, Perrone and Sons is relying on its relationships with vendors such as BelGioioso Cheese, a specialty cheese producer based in Green Bay, Wis. Such exclusive products enable Perrone and Sons to stand out and fill a niche in the wholesale market. "It's really making us unique enough that nobody can really replace us," Rusty Perrone says.
Having a relationship with vendors is about forming a partnership, Perrone adds. Perrone and Sons strives to helps its suppliers grow their businesses, not treat them as if they are expendable. "We need to make ourselves attractive not only to the customer but also the vendor," Perrone explains.
One way Perrone and Sons has done that is through its annual food show, a one-day event where customers and vendors can meet with each other to learn about new products. This year's food show will take place on Aug. 21 at the Hilton Riverside in downtown New Orleans. The first event in 2014 attracted 27 vendors. The 2015 food show more than doubled in size with 65 vendors.
Rusty Perrone describes it as an opportunity for vendors to get out in front of Perrone and Sons' customers and introduce them to new food products. "If somebody sees something they like it's going to be easy for them to make that purchase [with integrated iPad ordering systems]," he says. "All our guests come hungry."
Perrone and Sons continues to invest in new technologies, such as a better enterprise resource planning (ERP) system to support its vendors and customers. Rusty Perrone says the company is already near capacity in its three-year-old facility but technology investments allow it to manage the operation without issue. Perrone says keeping up with investments will allow the company to maintain its position as a key wholesaler for New Orleans grocers and restaurants and remain strong for the eventual fifth generation of Perrone family ownership, Rusty and John Perrone's young children.
The company is not planning an expansion at this time, but is open to whatever the future holds. "We're constantly looking for the next opportunity," Rusty Perrone says. "We're not opposed to other markets as long as the opportunity exists."