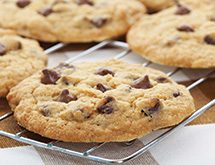 Pine Valley Foods has nurtured a loyal following of consumers that turn to the company's cookie dough when they need a sweet treat. "If they have the opportunity to buy it again, they do," CEO Joseph P. Giildenzopf says, noting that 95 percent of the company's sales are repeat.
This is thanks to the company's "very exceptional staff of hardworking people," he says. "They give a good deal of time and energy to the company. We make a really good product that people like."
Based in West Monroe, La., Pine Valley manufactures dough and related products, including cakes. Giildenzopf founded the company in 1998, after working for a similar firm that he had originally founded and sold.
"I was working for the new owners in the mass market with big-box stores and stumbled upon the niche that was product fundraising," he recalls. "When I left, the inspiration [for me] was to concentrate on that market with an innovative product."
Today, Pine Valley's products are primarily sold through a national network of 300 distributors to local groups, including schools and leagues. "[They] fill that need with a product sale," Giildenzopf says, noting that a percentage of the sales go to the St. Jude Children's Research Hospital. "We're humbled to be a partner with them."
The cookie dough product appeals to consumers looking for products with all natural ingredients, Giildenzopf says. "It's a scoop-and-bake product packaged in a stand-up, receivable pouch," he says. "There's nothing like it in the category of refrigerated grocery products."
Branching Out
Pine Valley is making the move into the retail and foodservice markets. This required the company to complete research about the markets and its future competitors.
After doing so, Pine Valley decided to make itself "relevant to buyers in those markets, which was motivation in our new product development," Giildenzopf recalls. This included the addition of its stand-up pouch packaging, which will distinguish it in the market.
Pine Valley also had to make changes at its manufacturing plant in West Monroe. The facility had not achieved certification for SQF Level 2 standards.
"We recognized the need for that, particularly in the foodservice channel," Giildenzopf says, noting that the process of converting the facility took a year.
"Fortunately, we passed with flying colors," he recalls. "Not only does that equip us with a new credential, but it assures the customers and manufacturers that the product is not only good tasting, but also safe."
The company is currently showing its cookie dough product to major grocery retailers across the country. "I'm literally in front of multiple retailers and wholesalers in the retail space every single week," Giildenzopf says.
"I'm also doing the same on the foodservice side," he continues. "We're making headway with US Foods and large, multi-unit restaurant chains are buying and selling the product."
Essential Assets
Technology plays an important role in Pine Valley's business, Giildenzopf says. "It's a necessity to streamline the operation, ensure quality standards, communicate with customers, and be relevant online and with social media," he describes. "It permeates most everything we do, from the plant floor to the customer interactions."
This includes an online store where people can buy its products. "Without any solicitation, customers have found us," Giildenzopf says. "We do sell a fair amount from that store."
A Skilled Staff
Giildenzopf is proud of Pine Valley's staff, which has a low turnover rate. "We have plenty of people that have been with the company in excess of 10 years," he says.
The company often recruits based on experience. If the job requires a manufacturing, warehouse or customer service background, "We look locally in the northeast Louisiana area where the plant is located," Giildenzopf says. "But if the jobs require specific skill sets, those are found outside of the area."
But Pine Valley is ready to enhance its employees' skills with training. For example, "If you aspire to be a forklift driver, we have a regimen for a training process through which you graduate and receive that certification before [taking on] that new position," he says.
Giildenzopf sees more growth ahead for Pine Valley. "I intend to maximize the physical plant by filling it up," he says, noting that this will help the company as it branches out into retail and foodservice.