Reveal Your Inner Cat With Friskies "Catify Yourself" Mobile App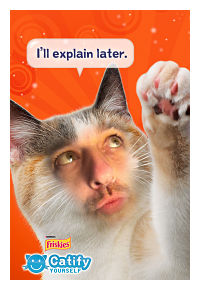 Dec. 11, 2012 – If you've ever wondered what you or your friends and family would look like as cats, download the new Friskies "Catify Yourself" app and start creating, posting and sharing your funny Cat-ified photos with friends and family today.
A leader in apps and tablet games for cats and humans, the new, free Friskies "Catify Yourself" app allows you to send photo messages to your friends from a cat-like you. The iPhone app is easy to use and free from the App store now. You can also use "Catify Yourself" on the Friskies Facebook page. Start Cat-ifying, and share your photos on the Friskies Facebook page for the opportunity for your photo to become the Friskies "Catify Photo of the Day."
The background templates feature cats with toys or in playful poses. Friskies offers special holiday-themed templates for those ready to take Cat-ification to a very merry place by surprising their friends and family with Cat-ified holiday e-greetings.
Once you've chosen a template, take a photo of yourself or choose one from your camera roll, and add a caption from the list. Friskies offers dozens of funny captions to fit a variety of expressions and situations including "Awkward," "Somebody a grouchy bear today?" "I'll explain later," "Can you pick up some paper towels on the way home?" and "Do you feel as good as I look?" With so many possible combinations of fun backgrounds, quirky captions and your photos, final Cat-ified photos can range from hilarious to cute to just plain strange.
"Cats have incredible sensory abilities and playful imaginations. We're fascinated by them, and this app lets us have fun with the idea of what it would be like to be cats for a while, at least in photos, and share those photo moments with family and friends," said Shawn Brain, assistant brand manager for Friskies. "We've enjoyed a lot of laughs creating Cat-ified images of ourselves, but seeing people's reactions when they receive Cat-ified photos is just as much fun. We can't wait for people to try it out and start sharing."
In addition to sharing with family, friends, and on Facebook with Friskies, images created with the "Catify Yourself" app make great mobile phone wallpaper or social media profile pictures. Create and upload photos to share anywhere you'd use a photo of yourself, including Facebook, Twitter, Google Plus and even LinkedIn.
Friskies offers a variety of free tablet and mobile games and apps for cats and humans, including "Cat Fishing" for cats on iPhone and Android mobile and tablet platforms, and "You vs. Cat," the first Friskies game you can play with your cat, for Android and iPhone tablets. For more information about Friskies Games for Cats, search your App Store for "Friskies" and visit www.GamesforCats.com.