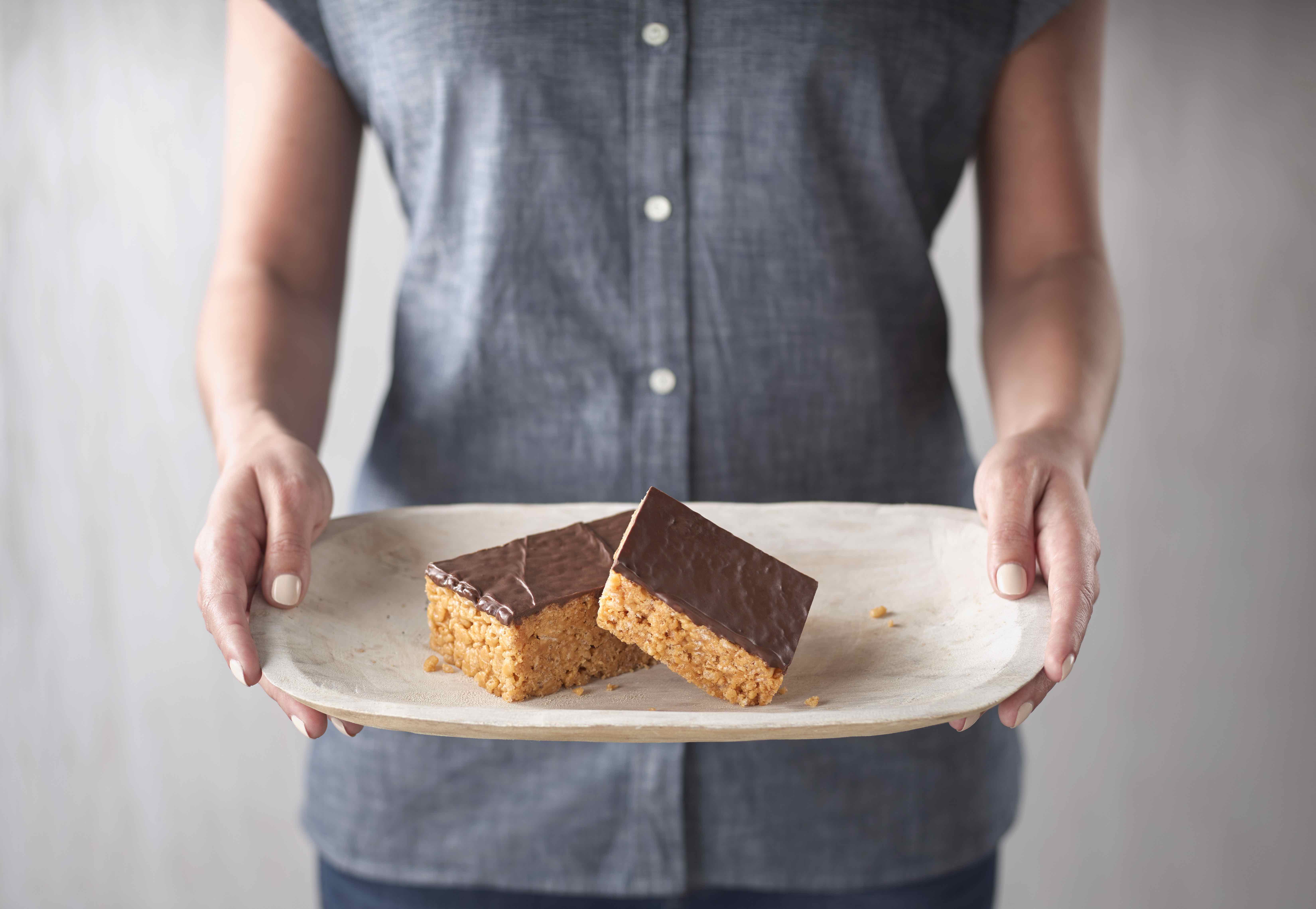 Rise Baking Company has earned its clients' trust by making them winners in the bakery category. By Alan Dorich
When some companies get larger, they lose their nimbleness when serving clients. Rise Baking Company has successfully avoided this fate, Senior Vice President of Sales Jeff Getzkin says. "We've been able to maintain exceptional service levels and grow with our customers," he asserts.
One example, he notes, is how Rise can commercialize items quickly. Some companies take three to four months, but "we will jump through hoops and knock down walls to get products commercialized," he declares.
Based in Minneapolis, Rise Baking Company provides baked cookies, cookie dough, crispy bars and artisan breads for in-store bakeries and foodservice clients. The company, which was formed from the merger of multiple legacy businesses, started with New French Bakery in 2013.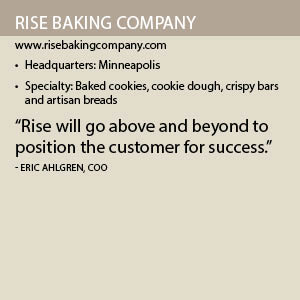 One year later, it added Best Maid Cookie Company and then acquired Hudson Baking Company in 2015. Rise followed up with its purchase of South Coast Baking in 2016 and Choice Foods last year.
Today, Rise Baking Company strives to bring a fresh, homemade taste to its more than 1,500 products. Each is made with the highest-quality ingredients, including its crispy bars featuring real butter, marshmallows, creamy peanut butter, rich chocolate icing or fruit-flavored crisped rice.
The recent acquisition of Choice allows Rise to continue innovating with the addition of an edible cookie dough line. "That's been a new venture for our team," Marketing Manager Courtney Wilman states. "It's currently a niche market we're hoping to expand."
Capital Improvements
Rise Baking Company recently made numerous upgrades to its facilities, including the installation of a new bread line at its main bread facility in Minneapolis. "We've also added two cookie lines to our Springdale, Ark., facility," COO Eric Ahlgren says.
Another major capital project has been a $12 million investment in its River Falls facility. This project included a 20,000-square-foot addition to bring the crispy bar operations under the same roof as the cookie plant, along with other facility upgrades to further support food safety, product quality, capacity and worker welfare.
It also included major equipment purchases, such as the integration of bulk tank systems, internal marshmallow production and additional packaging automation. These changes enable Rise to remain flexible and responsive to the numerous customer requests for unique items. "The ability to fully service and support customer needs is the ultimate goal," states Kristen Rieser, vice president of administration.
Information Strategies
After acquiring a company, "One of the first things we do is implement a leading ERP system into the operation," Ahlgren says. "This enables us to obtain accurate business performance information and identify opportunities for improvement."
These systems provide valuable data that helps the team react promptly to business demands across its various locations in Minnesota, Wisconsin, Arkansas and California. "We can respond quickly because we're speaking the same language across the platform," Getzkin says.
These ERP systems also enhance Rise Baking Company's decision-making capabilities. "That's what separates businesses that are moving quickly, executing and being thoughtful about what they're doing, versus businesses that don't have the information and are operating on assumptions rather than actual data," Rieser states.
Can-Do Company
Rise Baking Company operates with a "can-do" culture. "'No' isn't in our vocabulary," says Wilman. "Whether it's a new concept or how we're introducing a product to market, we always work to help our customer win."
Rise operates with long-term customer focus. "We understand that sometimes meeting customer expectations places a number of challenges upon the organization. The team is willing to take on these challenges and invest in the upfront time and costs for the benefit of the long-term vision," Ahlgren states. "Often, we'll take on projects knowing we are incurring additional costs up front. However, we view this as an opportunity to truly partner with our customers and illustrate our commitment to them – which is a win-win.
"Rise will go above and beyond to position the customer for success," he says. "A lot of companies won't take that step. Having a loyal customer that looks to you as the 'go-to solution' is more unique than you would think."
On the Radar
Rise Baking Company continually monitors commodity costs, understanding these have a significant impact on the business and its customers. "Commodities are continually moving," Ahlgren says, noting that the company works to ensure its products remain competitively priced across all its categories.
Rise Baking Company is beginning to appreciate the "challenge of success," Ahlgren says. "We've been very successful at taking market share, and competitors are now taking notice of Rise. We're more in the line of sight versus five years ago."
The company's focus on the customer helps it persevere, but Getzkin's team also looks for new products as well as new ways for Rise to innovate. "That helps insulate us from the competition," Ahlgren says.
Rise also uses fact-based selling data to help its customers determine where they should go next. "I've been able to do deep dives with [them] to show them where the market is heading," Getzkin says. "They appreciate and value that level of service."
Best of the Best
Rise Baking Company's team is united in the goal of servicing the customer. Often, Ahlgren says, the company relies on its past relationships and recruits people who its associates have worked with in the past.
"If you look at our leadership team and the layers beneath it, many of our key positions have been filled with the best of the past that we've worked with in our prior lives," he says. This helps Rise know the areas where its associates excel.
"It's very easy to build a team when you start with people that have been committed to each other's success," Rieser says. "And when you're winning in the marketplace, people want to be a part of that energy."
The company's strong record also helps it attract applicants who do not have a history with its associates, she adds. "They want to join our organization."
Great Feats
Ahlgren is proud of Rise and how it has stayed successful while growing. "Through it all, we've been able to keep the momentum going despite the amount of change the organization has endured," he says. This includes not only acquisitions and expansions, but also growing from a 200-person operation to a staff of 1,200 in a relatively short amount of time. "Working through that is no minor feat; more acquisitions fail than succeed," he says. "The fact that we've done five of them speaks volumes about our talented team."
Rise Baking Company plans to continue to grow its product categories with innovations, as well as its customer base, Getzkin says. "We've been successful with the large in-store bakeries," he says.
"Foodservice continues to be a growing area where consumers buy a lot of product outside of traditional grocery stores," Getzkin says. "We're going to continue to expand in that area, which may include potential acquisitions down the road to help achieve this."
Ahlgren agrees, adding that acquisitions can introduce Rise into new product categories and channels to sell more. "We can become a much more full-service one-stop shop for key customers, so they know they have a trusted partner for their in-store bakeries," he says, "As we Rise above the rest, the possibilities in this industry are endless."