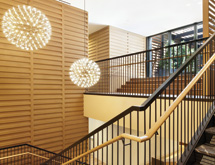 Launched in California in 1997, Rocket Dog Brands has grown into one of the leading footwear brands for girls. The company's roots stretch to the beach with its EVA and sport products, but it has evolved its collections and introduced full product lines in everything from casual, sandals, flats, dress and boots, and strives to deliver fashion trend relevant styling each season for this consumer.
"Our brand is very California and playful, and we have been a leader for young girls and teens 15 to 17 with a broad appeal and crossover in the 19 to 25 range, as well," CEO Cathy Taylor says. "We want to be true to our California roots and the DNA of our brand in casual and relaxed styling. We know our customer and we give her fashion and fun."
Studying the Market
To help the company broaden its product lines and stay relevant over the years, Rocket Dog has shopped the world. In fact, about a third of its business is now based out of the Rocket Dog Europe operation in London. Rocket Dog studies trends and does a lot of research to stay tuned to the market.
"This year, it is all about casual and sporty styling," Taylor says. "We study trends for our teen groups, which are brand conscious. The crossover range is a little less brand loyal, but she is much more fashion-aware and looking for something that has price value and fits her lifestyle needs."
Rocket Dog takes a disciplined approach to product development. The process starts around nine months ahead of rollout. The company studies the market and speaks to its retailers and consumers as it moves through the concept stage. Rocket Dog tries to understand what's important to its customers, what their needs are and where they are going, and it looks at everything from new constructions and styling of how she lives to materials and details that will keep her fashion and trend right.
After that, the company moves into an initial prototyping and review stage. After a broad merchandizing review, the company produces final prototypes and conducts small market testing with bigger strategic accounts. Once Rocket Dog has a solid read on a product, it can make some final modifications and get ready to do a final product review and then head out to market.
Understanding the customer isn't the only part of the process for Rocket Dog. The company also strives to get insight into the way the retail environment has changed in recent years. It is no secret that the industry has seen a huge shift in terms of where the consumer is shopping, especially among Rocket Dog's core teen category.
"We've seen so much online growth and shifts in her buying habits, and we need to be aware of this as we align with our consumer groups," Taylor says. "Our core channels stem across family, department stores, specialty stores, independent retailers and e-commerce. This includes brick-and-mortar stores with an e-com channel, which has significant growth. We must also be strategic of how our consumer aligns within the channels and work to have the best assortments for her needs."
More to Do
Although Rocket Dog already has come a long way in the past decade-plus, the company feels there are even more opportunities for the brand and its products to shine. International expansion is a significant piece of the company's growth plans. Rocket Dog expects international business to grow by 40 percent this year alone.
"We've invested in distribution and leadership overseas, and we are hitting new countries like Germany and France," Taylor says. "Currently, our international base is in the U.K. and we do very well there with a strong brand identity and market penetration. We should see serious double-digit growth there for several years."
The digital space remains a major focus for Rocket Dog through fan engagement within its social space where the company has been very successful in growing its fanbase, reaching nearly 350,000 fans on Facebook alone. The e-commerce space is another area where Rocket Dog believes it can grow.
"We are doubling our e-commerce business, which is critical because we can showcase the brand, enjoy stronger margins and invest this back into insights into our consumer," she explains. "Retail stores are experiencing this as well and as their e-commerce channels grow, they are leveraging the assets and intelligence to leverage growth in both channels."
Rocket Dog also believes it has room to grow its penetration in the fashion business at every level from department stores to specialty stores.
"Categorically speaking, and in terms of door penetration, we are focusing on customer segments within warm-door penetration," Taylor says. "We've seen growth in these areas with many domestic retailers, and have focused more efforts here on our part to grow in warm weather regions with categories such as beach and relax fun casuals for spring and summer wear. However, we have seen this past year beach EVA and casual take almost a year round presence in some markets."
The biggest initiative for Rocket Dog is to continue to develop to its consumers' needs and be even more relevant for fall as the company develops new and exciting ways for her to wear her fall casual boots to booties and further capitalize on the strengths of its casual category throughout all of its collections.
Ultimately, the company succeeds because it has been able to provide its customers with products that fit her personalities. Rocket Dog has a brand that speaks well to young, confident girls and young women, and has an iconic logo "the Dog" that resonates strongly with this consumer that makes the sky the limit for this brand.
"This brand is as huge as any junior brand as I have ever seen," Taylor says. "Our brand equity is a real powerhouse for us and we must manage and protect it all the time because our customers trust us and are loyal to us."