Schuler Shoes is in the process of remodeling its stores and giving them a fresh look.
By Kat Zeman
Schuler Shoes is about comfort, style and service. The family-owned company has been a staple in Minnesota for more than 125 years.
Although the company's values have stayed the same, some things are changing. Schuler Shoes is in the process of remodeling its stores and giving them a fresh look.
Operating nine stores that offer more than 80 brands, the Maple Grove, Minn.-based shoe retailer is also looking to buy land to relocate some of its existing stores. "Right now, we own two of our stores and lease the rest," President Michael Schuler says. "We've been searching for land to buy and buildings to buy. Over time, the investment pays off."
Schuler Shoes recently purchased land in Maple Grove, Minn. It plans to build a new 26,000-square-foot building that will house its administrative offices and a store. "In the next 18 months we're going to move one of our stores and our offices into the new building," Schuler says.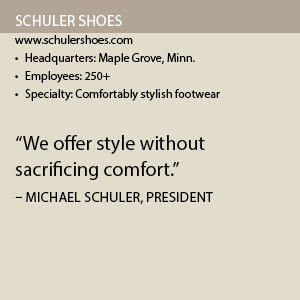 The store will take up 8,000 to 9,000 square feet. The building will also house a storage facility. The company plans to make the move in early 2020.
Schuler says that the company is not planning to abandon all of its leased locations. "We're not looking to leave all our lease premises," he says. "If it's a good location, we'll stay. But if it makes sense, we'll move."
New And Improved
In addition to moving some of its locations, Schuler Shoes is in the process of remodeling its stores to make them more modern and welcoming. "The goal is to eventually convert all of them to a more modern format," Schuler says. "A few of our stores have already been converted and a few are somewhere in between."
Aside from things like LED lighting and new fixtures, Schuler Shoes has improved the layout and structure of its retail floor. "We used to have the typical counter with the cashier facing in, but now it's more of an open design," Schuler says. "The counters are spread apart and there are walkways between them. It's a much more friendly way to finish a transaction."
The Schuler Experience
Shopping at Schuler Shoes is designed to be much more than a financial transaction. It's an experience. The company places a high value on service and spends a lot of time training its employees accordingly.
"We put them through a lot of training and shadowing and teach them our selling philosophy," Schuler says. "We teach them to make sure the customer is greeted and to establish a relationship with the customer."
Employees spend roughly 80 hours training and shadowing a mentor prior to being on their own. They are also familiarized with the company's many brands and styles.
"The sales person has to get to know our brands," Schuler says. "A lot of the reps for the brands work with our sales people to give them detailed training in addition to our online training programs."
Aside from having an extensive inventory of extended size footwear, the company also offers varying widths to ensure a better fit. "We have a huge amount of space dedicated to stock," Schuler says. "Every store is a little different, but it's usually 60-40 in most stores. So, we have a lot of options and sizes."
Sales associates are also taught how to measure a customer's foot. "We do a whole lot of training on the art of fitting and measuring feet," he adds.
Each Schuler Shoes store also has a board-certified pedorthist on staff. Although not a medical doctor, the pedorthist is trained in foot function and specializes in the use of footwear and over-the-counter orthotics to address foot and ankle conditions. They perform foot evaluations and can fill a doctor's recommendation and/or evaluate for over-the-counter orthotics.
In addition, Schuler Shoes has a partnership with the Minneapolis VA Medical Center and the Saint Cloud VA. The hospital used to keep a stock of orthopedic shoes for its patients but it eventually got difficult to maintain the stock.
That's where Schuler Shoes came in. The company now keeps a large inventory of orthopedic shoes in stock and the medical center sends its patients over with referrals.
"We already had a lot of what they used in stock," Schuler says. "So now they recommend specific shoes to their patients and send them here."
When it comes to style, Schuler Shoes has its buyers attend international shows and often carries a few different and unique brands that are not widely available.
"We offer style without sacrificing comfort," Schuler says. "Some people look for trends, but our buyers look for style that's comfortable. 'Remarkable Comfort. Surprising Style.' That's our idea."
A Rich Heritage
A family-owned operation, the Schuler family has been selling footwear since 1889 when an Austrian immigrant named Vincent Schuler opened his first store in Minneapolis. Prior to immigrating to the United States, he was a shoe repairman in Austria.
After settling in Minnesota, he took a leap of faith and opened his own business: V. Schuler Boots & Shoes. Vincent retired in the early 1920s, selling his business to his nephew Otto Schuler and niece Marie Schuler. A few years later, Otto and Marie's brother Emmet bought stock in the company and joined the family business.
In the 1950s, the siblings started expanding their business and opening more stores. In the 1960s, Emmet's son, John Schuler, entered the business and then took over in 1973.
Today, the company is operated by John Schuler along with his wife Nancy and fourth generation family members: Michael Schuler, Scott Schuler, Jennifer Heaton and Marie Vidger.
"Family and teamwork has always been a focus for us," Michael Schuler says. "But it's not just about the family name. It's also about all the people who work here. They are family too."
The Sole Project
Aside from the business of selling shoes, Schuler Shoes is dedicated to supporting healthier lives – from the comfort of its customers' feet to the encouragement of their souls.
The company is known to partner with its employees, customers and local charities to assist individuals in need. Schuler Shoes strives to be a leader in the communities it serves by actively participating and giving back to those communities through partnerships with a variety of local charities and non-profit organizations.
Its goal is to build stronger communities by helping people attain basic life needs such as food and shelter.
To accomplish this, the company established The Sole Project which seeks to build strong partnerships and lasting value in its communities by supporting humanitarian organizations that provide food/nutrition, clothing, shoes, socks, shelter, primary health care needs, basic education, drinking water and sanitation to those in need.
Schuler Shoes' desire to be a strong community partner stems from their company mission: improving lives, one person, one pair, one neighborhood at a time.