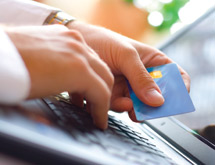 Based in Boston, Shoebuy.com is a true e-commerce success story. Founded in 1999 at the peak of the dot-com bubble, Shoebuy.com has grown into the largest Internet retailer focused on footwear and related apparel and accessories.
Since the Shoebuy.com website launched in January 2000, the company has seen significant year-over-year growth 12 consecutive years running. In 2006, Shoebuy was acquired by IAC, which owns other leading online properties. The company has tripled revenues since being acquired by IAC.
Ranked by Hitwise as one of the top-10 most-visited apparel and accessory shopping and classified sites, Shoebuy has more than 8 million unique visitors each month. BizRate ranks Shoebuy as one of the top e-commerce retailers in the country for outstanding service, and Shoebuy is ranked in the top-10 in online retail satisfaction for apparel/accessories by Foresee Results.
"We try to make our site convenient and easy to use," CEO Mike Sorabella says. "Service has been important, too. When we get that customer to make that first transaction, we must deliver. Once we do, they are willing to shop us again. Our repeat buying rate has grown year over year, and we have a wide customer base because we have something for everybody."
Shoebuy.com has also seen its selection expand extensively over the years. Today, Shoebuy has partnerships with more than 1,300 manufacturers and represents more than 1 million products from top brands. Whether consumers are looking for boots, sandals, wedding shoes, children's shoes, dress shoes, outdoor apparel, bags, watches or sunglasses, Shoebuy's offerings make it the one-stop shopping place for footwear and related apparel and accessory needs.
Touch and Go
One thing that has helped set Shoebuy apart since the beginning is the fact that it primarily utilizes a drop-ship model instead of a traditional inventory holding model. Headquartered in Boston, Shoebuy also has a call center in Boston and a warehouse in Woburn, Mass. But using the drop-ship model has allowed the company to avoid some of the friction points experienced by traditional inventory holders.
"We've expanded our suppliers by being their channel online, marketing their products and developing the marketplace," Sorabella says. "We work closely with their fulfillment and warehouse staffs."
The drop-ship model has been a critical component of expanding Shoebuy's selection. Because the company doesn't have to carry too much inventory, it can tap into the inventory of its brand partners.
Shoebuy also is somewhat insulated from trends. The company doesn't have to take bets on fashion trends because it carries a full catalog of suppliers. "We don't own the inventory, which is the advantage of the model, but it can be difficult when something gets hot, a supplier can't keep it in their warehouse and it becomes unavailable to us," Sorabella says. "But we don't have to worry about concentrating only on what is trending."
Over the last year, Shoebuy's focus has been on improving its web presence. The company has been acquiring talent and adding subject matter experts to its merchandising, technology, marketing and customer experience teams. "We have just refreshed our site to create a much richer experience with enhanced quality and size of images," Sorabella says. "We also have a new mobile site and a new tablet site is coming soon. [We] also have a new iOS app that will come out soon after the tablet site, and an Android app soon after that. Improving our offerings over multiple devices in conjunction with bringing in the right talent has been a big initiative in 2013."
Expanding Thoughts
Although Shoebuy is an online retailer, it has invested in its physical assets, too. Over the last 18 months, it expanded its headquarters to take over an entire floor at Boston's 101 Arch Street, moved its call center from Quincy to Boston, and doubled the size of its Woburn warehouse.
"That is in line with our focus on improving the customer experience," Sorabella says. "Expanding our headquarters allowed us to grow out teams. The call center move allowed us to upgrade the phone system and make space more efficient, as well as roll out new capabilities as far as monitoring KPIs, average call time, hold time, abandoned calls and email response time."
The continued growth of talent at Shoebuy will remain a priority in 2014. Shoebuy wants to add to its data analysis bench so it can get deeper into data, usability and optimization.
"In 2014, we want to be able to deliver a more personalized experience that is more relevant to customers and a more visually engaging experience," Sorabella says.
Shoebuy also wants to continue its evolution into a destination shopping site where people feel comfortable, known, safe and a sense of convenience. That is what Shoebuy has strived to be since its earliest days. As it continues to find its voice and make itself relevant to the customer, Shoebuy believes it can provide the best online shopping experience possible and build customer loyalty.
"We've added a layer of expertise that will enable us to continue to grow, and we've been doing that in conjunction with our effort to improve the site across multiple platforms," Sorabella says. "We have been doing a lot, but we're excited and optimistic about the future."