ShopSavvy Releases Product Cloud 2.0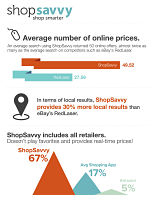 Dec. 20, 2012 – ShopSavvy, the world's largest mobile shopping platform, today announced the release of Product Cloud 2.0, the latest iteration of ShopSavvy's proprietary big-data platform that enables the community's millions of active users to easily find real-time pricing, inventory, reviews and other information for more than 20 million products. Field testing of top price-comparison apps shows that ShopSavvy consistently displays more local store results as well as online price results and lower prices for a greater variety of products than Amazon Mobile, eBay's RedLaser and other major platforms.
Based on a study of 600 random product searches across popular product categories such as consumer electronics, video games, books, movies, home and family, and office products, ShopSavvy outpaced other apps in the number of results displayed. As an example, with Product Cloud 2.0 ShopSavvy displayed on average 30 percent more local, in-store offers than RedLaser, as well as almost twice as many online price results. This new back-end update continues ShopSavvy's commitment to local commerce and ShopSavvy customers will start to see improvement in results and content immediately.
"Innovations like Product Cloud 2.0 bring much more robust connections to ShopSavvy Marketplace, which allows our retailers to enter and manage their inventory, price and store information directly into our mobile marketplace of retailers," said John Boyd, co-founder of ShopSavvy. "We've been adding around 150 new retailer accounts each month and Product Cloud 2.0 advances our local store results in particular when our customers want convenience and immediacy of buying locally."