SSP America, JFKIAT Partner to Introduce Celebrity Chefs And Award-Winning Restaurants To JFK Terminal 4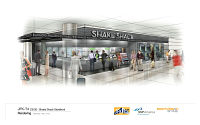 March 6, 2013 – SSP America, in partnership with JFKIAT, announced a new food and beverage program of nationally celebrated, award-winning chefs and innovative, original restaurant concepts to create an unparalleled dining experience for travelers through John F. Kennedy International Airport's Terminal 4. The star-studded line-up includes chefs and restaurateurs with deep roots in New York's melting pot of world cuisine: Marcus Samuelsson and Danny Meyer. These multiple award-winning figures are proud to bring their popular culinary expertise to the passengers of JFK, including New York's first-ever airport Shake Shack and Blue Smoke.
SSP America, the North American division of SSP, the leading operator of food and beverage brands in travel locations worldwide, is the sole food and beverage purveyor at Terminal 4. The $28 million food makeover, which follows SSP's $16 million renovation completed in 2009, is in response to the wider $1.4 billion expansion project for Delta Air Lines currently underway at the terminal.
Terminal 4 is home to 30 international and domestic airlines with an annual passenger volume of nearly 11 million travelers. By 2014, passenger volume is expected to increase to 15 million. Renovations are already underway and are designed to satisfy the terminal's hugely diverse, worldly-wise clientele and keep pace with the rapidly increasing sophistication of American travelers' palettes.
As part of its mission to elevate travelers' dining experiences in airports across the world, SSP will feature a restaurant mix reflective of the international foods found on the streets of New York. Passengers can choose from Marcus Samuelsson's latest creations, Uptown Brasserie and Street Food, or, Danny Meyer's Shake Shack featuring its ever-popular ShackBurgers and fresh frozen custard ice cream and Blue Smoke, a pioneer in urban barbecue. La Brea Bakery and Cake Tin will be sure to satisfy every carb craving and sweet tooth, while Le Grand Comptoir and Asobu sushi offer sophisticated, small plate options. Finally, Dunkin' Donuts will keep busy travelers running with a variety of beverages and snacks including hot and iced coffee, baked goods, oven-toasted sandwiches, and more.
The restaurants will be completed in phases with the first locations in Phase 1 opening to travelers in May 2013, coinciding with the opening of Delta's Concourse B extension. Shortly thereafter, a 1930's inspired, full-fledged New York diner, Central Diner, will open to the public in Terminal 4's Arrivals Hall. This will serve as the perfect rendezvous point for meeters-greeters, travelers with longer dwell time and airport employees.
"We're enormously proud to be continuing our partnership with JFKIAT, and to remain the sole food and beverage concessionaire in JFK Terminal 4," commented Andrew Lynch, CEO of SSP. "SSP shares JFKIAT's vision to redefine airport dining in the US, and this investment is evidence of our commitment to that ambition. Our new bars and restaurants include concepts created by some of the brightest and best-known chefs from New York and across the country. They will serve as a showcase of outstanding American dining at one of the most important airports in the world."
"These new restaurant offerings, which complement the exciting renovations made by SSP just a few years ago, demonstrate that Terminal 4 is again raising the bar," said Alain Maca, JFKIAT President. "With a major expansion underway, Terminal 4 is living up to its reputation as the city's most modern and efficient air terminal offering world-class services and amenities to our airlines and their passengers. SSP's remarkable composition of new restaurants includes a diverse range of national, international, local and proprietary brands bringing the total number of offerings to 16 new and expanded locations."
All establishments are scheduled to be opened by fall 2013.