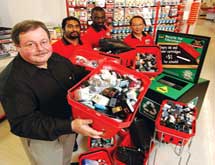 Although Staples Canada's colors are red and white, they might as well be green for all the sustainable practices the company has enlisted throughout its history. "What we've been doing lately is more of a flywheel effect," said Steve Matyas, Staples Canada president. "We started off early making sure we were good environmental stewards, going back as far as the opening of our first store in 1991, and the momentum has never slowed."
From the beginning, Staples Canada has taken significant steps to make sure its employees and customers understand that environmental stewardship is a part of its culture. That culture has since evolved, and the company now sees participation from its vendors and staff.
One of the company's more recent accomplishments is its cartridge-recycling program, which this past Earth Day successfully recycled more than 2 million cartridges. Only three years ago, that number was 300,000, but Matyas thought it was time to "bring big dreams," so he challenged the company's marketing team to come up with a way to reach a goal of 1 million cartridges.
After that success, he challenged the team to raise the number to 2 million, and 2.3 million cartridges were recycled. "These cartridges have a half-life of between 400 and 1,000 years in landfills," said Matyas. "We've done great things in terms of eliminating some of that waste."
Staples Canada also offers e-waste recycling and is one of the few electronics or technology purveyors that offer the service for almost any item a company or individual wants to recycle. Matyas said some of the company's competitors will only take products they sell, but Staples Canada decided to broaden its reach to illustrate the point that sometimes it's more important to just do the right thing.
"We also work with our vendors and packaging folks in the Orient to eliminate PVCs from our brand packaging, and we're asking our vendors to follow suit," Matyas said. "We've given them a timeline for the next year to get rid of all of it."
Keep it friendly
Consumers in Generation Y and beyond tend to make their purchasing decisions based on the amount of social responsibility a company exhibits. Staples Canada understands this and is happy to see younger generations coming into its stores, but the main driver behind its environmental innovations continues to be the earth.
Recently, the company introduced a line of eco-responsible notebooks made from sugarcane waste called Bagasse, which is one of the most eco-friendly sources to make notebooks, and vegetable- and water-based inks for printing.
In addition, Staples Canada has its own brand of USB keys (portable hard drives), which have casings made of 100% recyclable bamboo and PBC-free packaging that uses three-fourths less plastic than the previous packaging.
But Matyas is most excited about Staples Canada's private label, Forest Stewardship Council-certified paper. By working carefully with its vendors, the company has been able to promote it at a price parity with virgin paper—a unique offering.
Matyas and his team have seen that when consumers are given a choice between regular and recycled paper, even if the recycled paper isn't as bright, at price parity, they always make the choice to be environmentally friendly.
"We're looking more and more to work with our vendors to get price parity on recycled versus virgin," he said. "If we can't do that on a permanent basis, we will run a significant number of promotions throughout the year so our consumers can stock up on the promotionally priced items."
Triple bottom line
When Matyas talks about Staples Canada's triple bottom line, he's talking about its strong sense of social responsibility and the fact that it's woven into the fabric of the company. "I'm proud to stand in front of our associates and let them know they don't have to pick between a company that puts out great numbers year after year and one that has a strong sense of social responsibility," he said.
That sentiment has resonated even more strongly in recent years as younger generations begin joining the company. Like their consumer counterparts, Generation Yers looking for careers want to know they're working for a company that cares about more than money.
"I have yet to meet an individual who says, 'I joined Staples because I want to make more profit for you,'" Matyas said. "But I can tell you, and I'm not exaggerating, at least two out of three interviews with the younger generation specifically ask to have us tell them about our environmental policies and how we give back to the communities because they want to work somewhere they can make a difference."
Beyond its environmental stewardship, Staples Canada shows it cares through its sponsorship of the Special Olympics Canada. For the past 14 years, Staples Canada has been the organization's single largest contributor, representing more than 15% of its operating revenue. "When we come to play, we're not dabbling," said Matyas. "We're big supporters."
Staples Canada also runs a school supply drive. Last year, despite one of the toughest recessions of the last 50 years, the company broke a new record in terms of the charitable donations made by itself and its consumers, donating more than $1 million to children in need across the country. Matyas expects even better results this year.
"The things we do are important to the culture of the Canadian people and to our culture as well," he said. "We give back to communities because it's the right thing to do, not because there will be a payback."