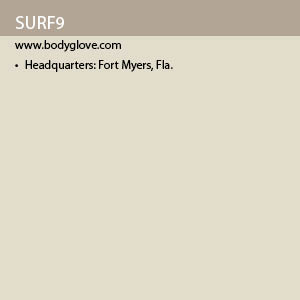 The company's focus on quality and consumer ease of use has earned it raves from consumers online. Its marketing efforts include online videos as well as ads and testimonials from brand ambassadors, as well as National Hockey League All Stars Brent Burns and Carey Price, and Sarah Lacina, the winner of the most recent season of CBS' "Survivor." Surf9's products are also featured on "The Price is Right" and Fox Sports' "Facing Waves," which is syndicated in more than 40 countries.
Design Innovations
Chenciner founded Surf9 in 2005 after acquiring the Body Glove license. He has 41 years of experience in the sporting goods industry, including 37 years specializing in footwear. In 2016, the company expanded its product offering when it introduced a new innovative line of inflatable stand-up paddleboards.
"We're finishing our first full year offering [the inflatable paddleboard], and sales have just gone crazy," Chenciner says. "We already have the most successful inflatable stand-up paddleboard in the industry, and expect that next year will be twice as big for us as this year."
Chenciner credits the paddleboard's success to its innovative design. The paddleboards feature a patented adaptable handle that can be used to carry the board as well as hold a water bottle while the board is in use. The board's nose features a rubber bumper that protects it from wear when it comes ashore. Also included in the package is an 11-foot leash, an industry leading dual action pump as well as a triple-sealed dry bag for smartphones. The boards are lighter than comparable products and feature a triple-stringer design on its top, bottom and rails that provide unparalleled rigidity in a board this light.
The boards have a pointed nose and are 33 to 34 inches wide, making it appropriate for beginners as well as experienced paddlers such as Luke Hopkins, a competitive paddler who was recently named president of Surf9's new watersports division. "He's both a world-class athlete and product designer, as well as a brilliant marketing guy," Chenciner says of Hopkins, a three-year employee of Surf9.
The new division was a natural extension for the company given Chenciner's sporting goods industry experience and paddling background. "I was keenly aware of how popular paddleboarding had become, and saw companies were making inflatable boards but not doing a great job at it," he says.
Inflatable paddleboards make up 85 percent of the total paddleboard market in Europe, but were only 25 percent of the market in the United States when Surf9 entered the market. Today, inflatable paddleboards constitute roughly 55 percent of the U.S. market. "I knew that as inflatables got better, they could compete with hard boards," Chenciner says, noting that portability and storability of the inflatable boards are big selling points.
Surf9's watersports division will launch its second product line next year: an inflatable kayak. "This will out-perform inflatable kayaks that are three times the price," he adds. Surf9 also recently expanded its footwear lines. The company's 2018 "Turf" catalog introduces its lifestyle shoes, targeted to specialty retailers.
Work Hard, Play Hard
Surf9 partners with several manufacturers in China to produce its shoes and watersports products, with all of its products designed in-house.
The company's staff also includes an analytics team that tracks sales trends, as well as a logistics team that ensures its products are always delivered on time.
"Everyone here works really hard and does whatever it takes to win, but we also have a relaxed, laid-back attitude," Chenciner says. "We believe in being the best we can in sourcing, product development and supporting retailers while having fun."
Surf9's recent product expansions led the company to increase its staff. In December, the company will relocate to a larger space in Bonita Springs, Fla.
Building a Buzz
The company's growth mirrors that of its licensor. Body Glove last year was acquired by Marquee Brands LLC, a brand acquisition, licensing and development company.
Backed by Neuberger Berman, one of the world's leading investment companies, Marquee targets brands with strong consumer awareness and long-term growth potential. Body Glove is the company's third acquisition, following Italian luxury brand Bruno Magli and British fashion brand Ben Sherman. Marquee recently added BCBG to its portfolio of brands.
"[Marquee Brands] has the expertise and financial strength to put into marketing the brand," Chenciner says, citing as examples its recent placement of a billboard in New York City's Times Square and magazine ad campaigns. "There will be more buzz around Body Glove in years to come."