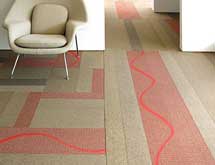 One of the reasons Glen Hussmann, LEED AP, was so excited to join Tandus two and a half years ago was the company's commitment to environmental sustainability. Now consider this: Tandus is a commercial carpeting company with a focus on soft flooring. Although much of the focus in the retail world is on how CPG companies develop customer satisfaction, it's just as important in the world of flooring. When Retail Merchandiser talked to Hussmann, president and CEO of Tandus, he was at the Greenbuild 2009 conference in Phoenix, Ariz. and discussed the importance of paying attention to what customers want in regard to construction materials.
"Some of our customers have strong material preferences, and through our innovations and technological processes, we can satisfy as many of those needs as possible," he said. For example, the Georgia-based company recently enhanced its product line by developing a carpet backing made from recycled automotive glazing laminates. The move not only provides an innovative flooring solution, it also taps into a material flow stream that otherwise is piling up in landfills.
Environmental stewardship has been a part of the culture of Tandus since the early '90s when a group of manufacturing employees decided to find a way to recycle carpeting back into carpeting in a simple, low-energy-intensive way. To date, this process is still the simplest and least energy-intensive in the flooring industry to recycle carpet back into carpet. Since 1994, Tandus has recycled more than 155 million pounds of carpeting.
"Tandus was the first company in our industry to develop a fully closed-loop process to recycle carpet back into carpeting, and we were also the first to develop a peel and stick adhesive system, eliminating the high VOC adhesives that were historically used to apply carpeting to the floor," said Hussmann.
In April, Tandus received ISO 14001 certification for its environmental management system, which provides the company with a third-party certified baseline for improving its environmental footprint and enables the company to set benchmarks to compare its year-over-year improvements.
"Our company culture is made up of employees working to do the right thing by partnering creativity with environmental stewardship," Hussmann said. "It's a culture I'm proud to be a part of."
Specialized focus
The flooring industry is highly competitive, but Tandus' specialized focus and fit-for-purpose solution approach sets it apart. Unlike multi-billion-dollar competitors that service both residential and commercial customers and multi-surface products, such as laminates, woods, and hard and soft surfaces, Tandus serves only commercial market segments and with soft flooring solutions.
Many of the company's competitors are larger in scope, but that extensive scope actually gives Tandus an advantage. "Their resources are spread across multiple products and customer groups," Hussmann said. "If you just consider the served commercial market segments, you'd find these companies are not that much larger than us in terms of size and resources."
The comparable capabilities also include the numbers of new product designs Tandus brings to the market each year, its direct field coverage, its indirect partner network, and the capital expenditures it invests to improve its business. The company mainly serves corporate offices, government, long-term and acute healthcare, higher education and K-12 education, and retail, but from a value proposition standpoint, Hussmann said Tandus excels in three areas: design, performance, and, of course, environmental sustainability.
"Our collections are designed to give the flooring more of a timeless look," he said. "And because we try to also emphasize, from a sustainability standpoint, fit-for-purpose solutions and fit-for-purpose performance, we make sure the materials are constructed to last."
When it comes to branding, the Tandus corporate brand is an umbrella for three separate product brands. Modular and powerbond product groups are branded under C&A, high-end broadloom is branded under Monterey, and the Crossley brand is what Hussmann refers to as mainstream broadloom.
Each of those product brands came together through mergers and acquisitions activities in previous years. Tandus incorporates the strengths and appeal of each to develop a comprehensive corporate brand capable of providing a solution to any commercial interior soft flooring need.
"Each product brand has a unique feel and history, which we try to complement," Hussmann said. This approach is particularly helpful when approaching the retail industry. Whether a retailer is focused on design and aesthetics or long-term performance, Tandus can customize a solution.
"We don't just sell tile, and we don't just sell broadloom," Hussmann said. "We pay close attention to the overall value proposition and environment the retailer wants to create, and we do our best to help them to achieve that."
Think big
Hussmann said many great ideas pass through the halls of Tandus; the trick is tapping into them, taking advantage of them, and making sure all employees feel they have a say in what goes on with the company.
"We're relatively small, so one of the advantages we have versus our competitors is a culture where the individual feels like s/he makes a difference," he said. "Employees can quickly see the results of their actions, either good or bad."
The company's size also gives it an advantage when working with its suppliers. By maintaining a culture that has the feel of a community employees rely on and contribute to, Tandus exudes a sense of camaraderie to its suppliers and customers. In addition, as CEO, Hussmann can reach out and get intimately involved in many of Tandus' customer initiatives, helping to ensure the project exceeds customer expectations.
"Our customers feel that; they can sense the care and the interest that many people have about their accounts within their company, not just one or two employees," he said.
Tandus' size has not limited its ability to think big. Although it was once a North American-focused business, in the past 10 years, the company has responded to growing customer demand abroad.
Rather than investing in operations outside of the US for export, Tandus invests in people outside of the US to serve local demand. The company has a plant outside of Shanghai to service the greater China area, and it's developing dealer partnerships throughout Europe and South America.
"We understand that the current economy is causing trouble in a lot of areas, but we'd be shortsighted to make decisions based on the current economic conditions," Hussmann said. "We're continuing to improve our coverage in the US, but the percentage of our work outside of the US will continue to increase over time."