The Joester Loria Group/The World of Eric Carle
"Eric Carle's effortless storytelling and brilliant graphics have delighted 3 generations, and continues to resonate with parents and children around the world," Debra Joester says. "Children love the book and seamlessly absorb its rich educational content."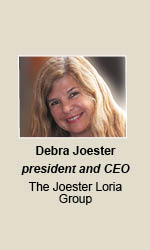 Joester is the president and CEO of The Joester Loria Group, a full-service brand licensing agency that represents The World of Eric Carle, products and experiences based on the author's books and artwork. Carle, who was born in Syracuse, N.Y., in 1929, is well-known for his popular children's books and collage artwork style.
In his process, Carle cuts and layers hand-painted papers to create bright images. These have been used to illustrate more than 70 books, including "Brown Bear, Brown Bear, What Do You See?" and the rest of the "Bear" series which were written by author Bill Martin Jr. and remain best sellers.
Carle books extend beyond "The Very Hungry Caterpillar" with "The Very Grouchy Ladybug," The Very Busy Spider," "Papa Get Me The Moon," "From Head to Toe," "The Mixed Up Chameleon" and "Do You Want to Be My Friend" considered staples in preschools and kindergartens. Two popular classics from his "Very" series, "The Very Lonely Firefly" and "The Very Quiet Cricket" also added dimensions to their reading experiences with twinkling lights and the sound of a cricket's song.
Over the years, Carle's publishing franchise has grown to have more than 150 million books sold worldwide, with "The Very Hungry Caterpillar" standing as his most popular work. A copy of the book is sold every 30 seconds, and sales of Carle's books have seen a 28 percent increase over the past five years.
"The Very Hungry Caterpillar's popularity is universal," she says. "Its success, like Carle's other works, is evergreen."
Beautiful Extensions
Joester co-founded her namesake company with Joanne Loria in 1999. "Over the past 20 years, our roster of clients has included some of the top global brands, children's entertainment franchise and emerging pop culture brands," Joester says, adding that these include Pepsi, Kellogg's, Care Bears, Animal Planet and Jeep.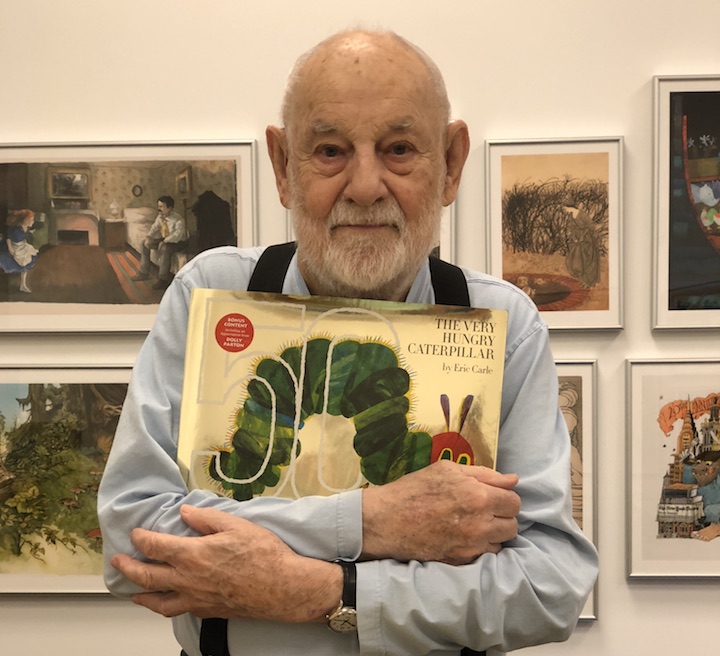 When the company was presented with the opportunity to represent Carle's distinct collage art, iconic characters and simple but profound storytelling, it immediately recognized the potential for World of Eric Carle collections of educational and lifestyle products for infants and children. The JLG team believed there was a "very hungry" community of Eric Carle fans based on the fact three generations had grown up reading Carle's books and the books' growing global popularity with teachers, parents and grandparents.
"Working with Eric Carle has been a unique privilege," Joester says. "His books were my daughter's favorites. For everyone at JLG, there is a very personal aspect to bringing Carle's work off the pages and into children's lives with experiences and quality product that educates, engages the imagination and celebrates his books."
Carle's most popular titles enter a child's life at birth, and "The Very Hungry Caterpillar" and "Brown Bear, Brown Bear, What Do You See" are often a child's first book experience.
The support of teachers has been key to the success of Carle's works. Educators have placed his books in every preschool and kindergarten class in the United States and beyond, creating curriculum around the content, using the art to teach everything from colors, fruits, days of the week, numbers, letters and healthy eating choices. "Educators are some of our best proponents and biggest fans," she says.
This early introduction and the resulting emotional connection to Carle's books allowed Joester Loria to extend the publishing franchise into an award-winning collection of licensed products. The themes of Carle's books and his iconic art and characters have been extended to toys, apparel, arts and crafts, games, early learning products, teachers' supplies, bedding, home decor and gifts.
Eric Carle's books blend engaging storytelling with important content about healthy food choices and the beauty of the natural world. Extending the brand to healthy food and beverages for children has become a growing segment of the licensing program. Organic and natural product category leaders including Whole Foods, Smucker, Produce for Kids, Cawston Press in the U.K., and Milupia a division of Danone, in Germany, have tapped The World of Eric Carle to provide quality options and educate consumers about healthy eating choices.
In fact, the Eric Carle's global sales exceed $230 million at retail annual. The sweet spot of the program is infant and toddler products, but a number of categories, including educational products, apps and games appeals to children up to age six. In Asia, the brand's success extends to adults with apparel and home goods.
To celebrate 50 Years of The Very Hungry Caterpillar, Joester Loria has developed a global campaign designed to engage consumers and thank teachers for their ongoing support. The World of Eric Carle has partnered with retailers worldwide including Barnes & Noble and Buy Buy Baby in the United States, where events and special promotions celebrated "Very Hungry Caterpillar Day," on the first day of Spring. Chick-Fil-A is celebrating the 50th with a promotion in all its restaurants, giving away 5 original mini-books and promoting the partnership online and in-store.
"As part of the 50th anniversary, we wanted to thank teachers and provide exciting lesson content," Joester says. "We partnered with Penguin books to tap Young Minds Inspired who created a multi-faceted preschool curriculum program which was distributed to 75,000 teachers." She adds that the "feedback has been exceptional."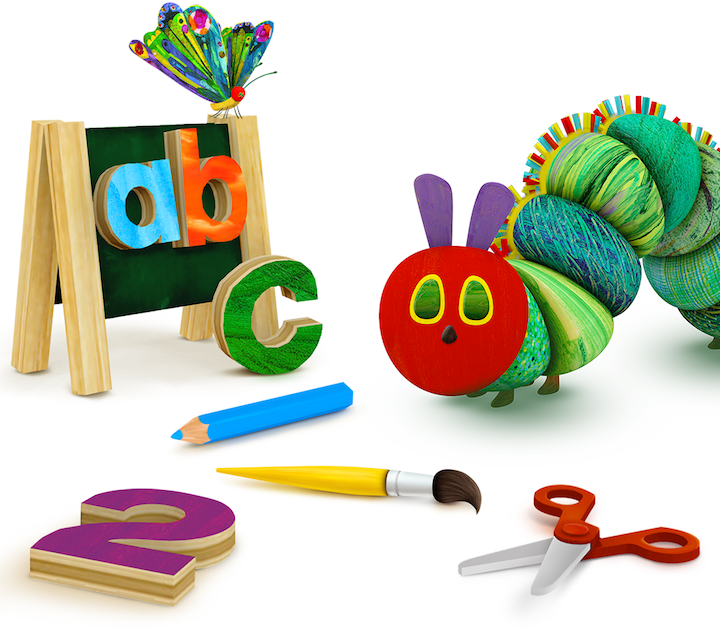 The brand is also celebrating "The Very Hungry Caterpillar" 50th around the world with key retail partners and promotions. In the United Kingdom, Debenhams is launching Very Hungry Caterpillar Walkway in its 45 locations, with in-store signage and selfie standees, as well as a collection of toys, books, games and ceramics from Rainbow Designs, Penguin Publishing, Portmeirion and Paul Lamond. In May, JoJo Maman Bébé added a Direct to Retail collection of apparel to its assortment of World of Eric Carle toys, gift and publishing. Sainsbury's continues to support the brand with toys, books and an exclusive apparel range from Paul Dennici. In Germany, Kaufland, Netto and leading book retailers Vedes and Thalia are executing 50th anniversary programs and featuring new collections of toys, books, gift and apparel.
Asia is the fastest growing market for the brand. Japan has long been a key market for the World of Eric Carle, with over 75 licensees, pop-up shops, cafes and strategic partnerships with key retailers. Japan's popular specialty apparel retailer, Graphis, continues to offer World of Eric Carle apparel and, for the 50th, has created a collection of t-shirts that features interpretations of the Very Hungry Caterpillar by five popular Japanese artists. Extensive marketing and in-store signage will support the collections. Toys R Us Japan is another key retail partner bringing the 50th Anniversary to customers with DTR apparel collections, and an extensive offering of toys, games and juvenile products. Mall events and pop-up shops include activations in Shubuya and the Tokyo Skytree Mall.
"China represents a key area of future growth for the brand," Joester says. "Chinese middle-class parents have discovered Eric Carle's books and they have quickly become top sellers," she says, noting that Chinese consumers recently purchased more than 6 million Carle books and that Carle's book account for 25 percent of Penguin's book sales in China. Recent "most popular book" research by Weibo showed that "The Very Hungry Caterpillar" was the No. 3 and "Brown Bear, Brown Bear" was the No. 7 most popular children's books amongst mothers.
The growing success of Eric Carle's books in China have been extended to new categories of licensed products to coincide with the 50th Anniversary. In addition to the launch of infant apparel, toys and games, large experiential mall installations have been featured in Shanghai's The Place and will open in Hong Kong's City Plaza in August.
The Natural World
An appreciation of the natural world is an ongoing theme in many of Carle's books. JLG has prioritized partnering with zoos, aquariums, butterfly conservancies and organizations that educate children and families about the nature world and promote exploring outdoor spaces.
In the UK, The Royal Horticultural Society has partnered with the World of Eric Carle for a summer-long program of VHC themed activities in its four locations, including storytelling sessions, gardening projects, discovery maps and trails, themed picnics, craft activities, butterfly counts and costume character appearance. The RHS Schools competitions will also take on a Very Hungry Caterpillar theme, with pupils asked to design and create ideas for sensory planters, wildlife habits and gardens inspired by insects.
In Germany, a leading nature and species protection organization, NABU, entered into a multi-year agreement with the World of Eric Carle for a program of environmental educational activities focused on the importance of insects and their endangerment. Launching summer 2019 timed for the 50th Anniversary of The Very Hungry Caterpillar and the 120th Anniversary of NABU, activities include outreach to day-care centers and hands-on activities for families including counting insects.
In the U.S., JLG and Penguin are activating educational programs, themed nature trail experiences and partnerships with butterfly conservancies nationwide that will also include book readings and costume character appearances.
Beautiful Extensions
Apps have provided an ideal platform to bring the stories off the pages and integrate playful learning. The World of Eric Carle has partnered with Touch Press for educational and entertaining apps, based on "The Very Hungry Caterpillar" and "Brown Bear" books. "These award-winning apps are a beautifully realized extension of Eric's artwork and content," Joester says.
The apps have won the 2015 Bologna Ragazzi Award, 2016 Kidscreen Award and recognized with Apple's 2017 Developer Award. "The Very Hungry Caterpillar" app has been downloaded 6.5 million times and took the No. 1 spot on children's app charts in 24 countries.
In April 2018, the brand, Touch Press and Apple launched "Eric Carle's Hungry Caterpillar Play School" app, a curriculum subscription program that is tailored for two to six-year-olds. Each section features Carle's characters and art, while helping children learn their ABCs, shapes and colors, numbers, creative skills and how to read. The subscription app is refreshed monthly with new content.
"At the outset, we recognized the opportunity to create an exceptional tool for children and parents, but we were equally aware of the potential downside posed by extensive time spent on smartphones and digital devices by young children. Touch Press tapped into leading educators to insure the apps were designed to avoid the pace and 'instant gratification' that can be detrimental to children, and the positive feedback from parents and educators validates our careful approach," she says, noting that families have overwhelmingly opted for the year-long subscription as opposed to the monthly option.
The brand also has seen a strong response to "The Very Hungry Caterpillar Show," a live puppet show that has had 1,600 performances in 180 cities and is touring 4 continents in 2019. Carle's most popular stories are being experienced anew with the critically acclaimed production which features 75 puppets and four faithfully adapted Eric Carle's stories, "Brown Bear, Brown Bear," "10 Little Rubber Ducks," "The Very Lonely Firefly" and of course, the star of the show – "The Very Hungry Caterpillar." New stories are added to the production annually and seven books have already been brought to the stage.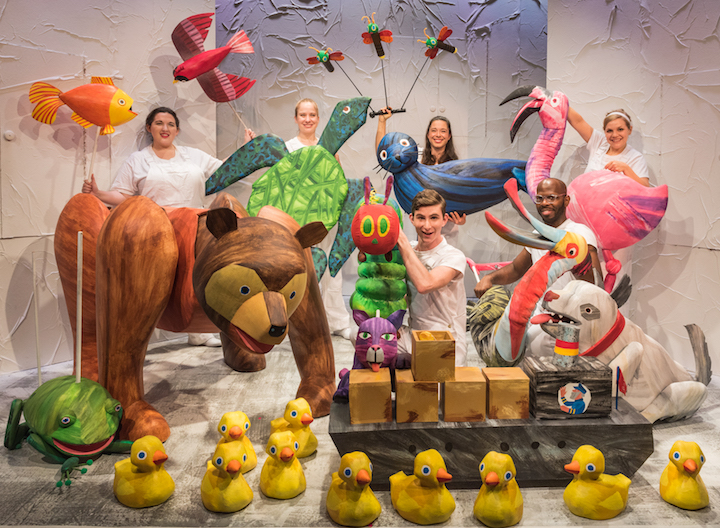 Joester Loria is committed to honoring Eric Carle's legacy and insuring the licensing program is aligned with his values, quality and approach to communicating with children. Manufacturers are carefully assessed for quality and commitment to the values of the brand.
Joester is proud of how her company has been able to develop a relationship with The Eric Carle Studio. "Having an opportunity to work with Eric Carle and his team has been an enormous privilege," she says. "He is an extraordinary man and has created a body of work that will inspire and engage children for generations to come."