The Original Pancake House
"My grandfather was a grand hotel chef making his own recipes and my grandmother was a biochemist," Co-owner Elizabeth Highet says. "Adding the magic of science to his recipes, they created an authentic batter that stays light and fluffy all day."
The Original Pancake House filled a market gap in the industry, delivering authentic national and ethnic pancake recipes without compromise. Its unique and original menu gained national acclaim and is now a second- and third-generation family business, which continues to pride itself on maintaining the high standards upon which it was founded.
"Our food truly is first and foremost," Highet says. "We never stray from quality and the finest ingredients and never take shortcuts. Everything is made from hand every single day and we maintain constant attention to detail not only in making the batter, but also in the preparation of the food. We have master chefs who have been with us for more than 20 years. It's an artform."
The core menu has remained the same since 1953, made from the very finest of ingredients. The Original Pancake House uses 93 score butter, pure 36 percent whipping cream, fresh grade AA eggs, hard wheat unbleached flour and its own recipe sourdough starter. "We source our eggs locally from the same farm we have used for 40 years to ensure the highest-quality," Highet notes. "Our eggs are only four days old. Local is always better and fresher."
The Apple Pancake, a single large pancake smothered with sautéed apples and cinnamon sugar baked to perfection, is one of its most popular signature items. Another signature item is the Dutch Baby, an air-filled delight oven-baked to golden perfection and served with lemon, whipped butter and powdered sugar to create a mouthwatering blend. "We try to change as little as possible and focus strictly on the quality of the food," Highet says. "We occasionally come out with new and rare items, and do allow for regional differences. In Texas, we feature southwestern omelets, and in the south, biscuits and gravy are popular."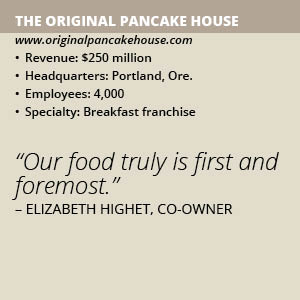 The Original Pancake House began franchising shortly after the Highets founded the company with business partner Erma Hueneke, whose great niece owns two locations in Denver today. "It's interesting because my grandfather thought it would be one restaurant in Portland, but they started franchising before it was even a thing," Elizabeth Highet says. "One of his customers came to him and wanted to open a restaurant and we transformed into a franchise."
Today, The Original Pancake House has 145 franchise locations from coast to coast, eight in Japan and three in Korea. "We went international about five years ago," Highet remembers. "It was a fluke. The franchisee in Japan had a broker call us because he wanted to franchise, but we said we had no plans to do that. He insisted on coming to Portland to meet us, and watching him eat our Dutch Baby with a big smile on his face, how could we say no?"
The Original Pancake House is particular about who it chooses as a franchisee. "We want someone who comes to us as a customer and loves our food and wants to be a part of the company," Highet says. "We tend to shy away from someone who looks at it only from a financial perspective. If they love our food, that will ensure the owner/operator will be there every day making sure it's perfect."
Once a franchisee comes aboard, they are required to train at The Original Pancake House in Portland for 10 weeks to learn how to do everything. Some of its franchisees have restaurant experience, which can be a good or bad thing. "Sometimes they want to try and reinvent the wheel, but we have strict standards of how every restaurant needs to be," Highet notes. "We don't require restaurant experience. For example, one of our franchisees in Ohio was an electrical engineer who worked on the Stealth Bomber. It's different but the same because of the attention to detail required. We think our pancakes require the same attention to detail."
The Original Pancake House locations average 4,000 square feet and are ideally freestanding buildings. Most franchisees have a five-mile area of protection and target areas that have about 100,000 people who make $50,000 or more per year. The company targets rural and suburban areas and some locations in downtown, urban settings that are perfect for weekday business.
Moving forward, The Original Pancake House plans to continue expanding. "2019 will be exciting for us as we are completing a deal in Vietnam, in talks with someone in Germany and we will have four or five openings in the United States," Highet says. "We don't plan anything dramatic and grow slowly on purpose to ensure we maintain our highest-quality standards."