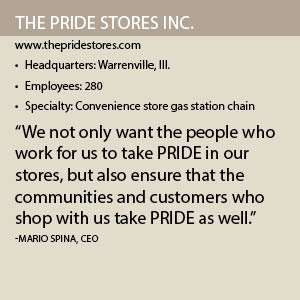 The 'PRIDE' Way
The PRIDE's customers range from commuters to locals in the Chicagoland area. Nearly six years ago, the company remodeled its stores and added new amenities to set itself apart from its competition.
"We installed new gas pumps, car wash equipment, remodeled the exterior and interior of the stores — including vinyl hardwood flooring — added LED lighting, in addition to other items," Spina says. "We also updated our fuel islands, because that is a sales floor as well, by adding concrete islands, stainless steel features and more. Ultimately, every store has a unique feel and look, but has the same warm atmosphere we're trying to emulate at all of our locations."
To differentiate itself further, the company revamped its foodservice with three new concepts: Urban Counter, The PRIDE Café and Taco Urbano. "Since people eat with their eyes, the first thing we decided to do was remodel all of our stores before we really got into foodservice," Spina explains. "When that was completed we brought in a corporate chef to create our own concepts instead of just putting in a Subway or Dunkin' Donuts.
"That's fine for most people but, again, we wanted to differentiate ourselves," he continues. "Urban Counter serves half-pound hamburgers, made-to-order breakfast sandwiches, and handmade milkshakes and salads. Pride Café sells paninis, side salads, espresso drinks and crepes, while Taco Urbano puts a modern twist on Mexican food.
"We also created our own grab-and-go sandwiches through a commissary we built about a year ago in our new Warrenville office and warehouse," Spina adds. "So we create all of our grab-and-go sandwiches, fruit and veggie cups, sub sandwiches and more."
The PRIDE makes all of its foodservice offerings in-house and self-distributes it as well. "When customers come into our stores, we want them to feel a warm and friendly environment," Spina says. "We want them to see we not only have high-end foodservice, but also name brand retail products throughout the store.
"We try to carry all name brands in our merchandise," Spina continues. "However, if we can't get a competitive price through a supplier, we then buy it direct in bulk and distribute it ourselves so we can be competitive with the grocery store chains in our areas."
A welcoming environment and competitive pricing are the definition of what "a true convenience store is supposed to be," Spina notes. "That's what we're trying to do here. You don't make a lot of money on fuel; it's a very difficult product line because the prices are always changing. So we're hoping that we can build up our revenue on the convenience store side to sustain ourselves even through bad times."
Seeing Growth
The PRIDE Stores will soon open its newest location in Palatine, Ill. "We just have to finalize permits," Spina says. "We're also starting the planning and zoning process for two locations, St. Charles and Naperville. Hopefully, they will be open next year."
Spina notes the company would like to have 18 to 20 locations in the Chicago area. "Currently our 12 stores sell 60 million gallons of fuel per year, so we have very high-volume locations," he says. "Typically, a good gas station sells around 70 to 90,000 gallons of fuel per month— our stores average 400,000. With our model, we like to have very high-volume fuel and convenience store sites. We're very particular when choosing the sites that we develop because we want to ensure they are able to do the high volumes to be able to sustain a PRIDE store."
The company would consider expanding to other markets if it reaches its goal for the Chicagoland market, Spina adds, noting that is currently the company's primary focus. "Getting to 18 to 20 stores in this market will also allow us to continue to do self-distribution," he explains. "Also, depending on how far we expand out into the marketplace, that number allows us to keep a close eye on all of our sites. I'd rather run 18 to 20 stores as opposed to more than 60 because it'll keep us nimble. So we're not only being strategic about new locations to ensure all of our stores are ran properly, but to also ensure that we remain an efficient chain."
Working Together
The PRIDE Store's main supplier for its c-stores is Eby-Brown, and US Foods for its foodservice. "We work with other suppliers as well, but if we can't get the pricing that we need to be competitive on certain products, we'll buy it direct and then self-distribute them," Spina explains, noting that the company always tries to "work well" with its suppliers.
One area that the company has been working diligently with its suppliers to enhance is its beer and wine sales. "We hired a beer, wine and spirits purchasing manager about two years ago just to focus on those sales," Spina says. "We want to grow that segment and make sure we have a very good selection of craft beer to offer customers. We also have a very nice selection of wine in our locations. In one store, we actually sell a case-and-a-half of wine per day, which is unbelievable for a gas station."
Spina adds that the company works with its suppliers to "get good purchase rates" so it can offer competitive prices for customers. "They also help us put together certain product lines in the areas that are hot," he says. "Beer and wine are so important because there are so many different options for both. So our suppliers let us know what's trending so that we can provide the best product offering to our customers."
The PRIDE Store's 280 employees also play a critical role in providing the best options for its customers. "You have to have good people in place that represent you the way you want to be represented," Spina says. "They also have to run things the way you want them to be run. Eight years ago we were running four stores and now we're running 12. It's taken awhile to not only grow, but also get the right people in place. We feel really good about the people we have, and now have the processes in place to grow the company to a new level."