"There has been a lot of evolution already. We are gaining momentum and want to accelerate the progress," CEO Claire Gillies says. "It's important to make sure the brand is and stays relevant, especially in the tech world with the constant evolution of new products. We have put the mission on the wall: to be Canada's favorite tech retailer. We set a high bar on how we run the business each and every day, and that means we have to be agile to the changing needs of consumers, associates, vendor partners and everyone we work with."
The Source has 500 locations nationwide, and an extensive e-commerce offering through its website, but also provides customers with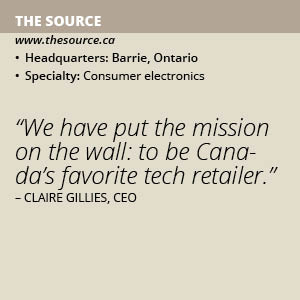 services such as best-price guarantee, easy mobile phone trade-ins, and the Advantage Care Plan to help consumers protect their purchases. That's just one example of the organization's dedication to meeting each customer's needs regardless of where or how they choose to shop.
Gillies takes pride in The Source's service promise, and that was part of what attracted her to the company. She became The Source's CEO in April. "I have almost two decades of experience in the mobile industry, and I have seen how technology is transforming the way we live and work," she says. "As technology changes, there is a need for a trusted advisor to guide consumers through that change." It is great to have the opportunity to work with a team that is passionate about helping people use technology and show them it's not intimidating."
Regular Change
The Source benefits from its ability to reach many people, but with the pace of technology progression, the company understands it must remain agile to remain in line with the needs and demands of consumers. Gillies likes to remind her team of experimentation and the scientific method, that to remain agile, The Source has to make hypotheses, test them, study the outcomes and then start again with the knowledge it has learned from those tests.
One of the company's recent changes is the remodel of its flagship store in a major shopping center in Toronto. Using the "test and adjust" approach, this location is an evolution from the existing core store design and captures learnings from more than 200 other stores remodeled over the last 3 years. The new look allows for more product trial: with product out of the box and new fixtures that allow for product demonstration. It also showcases the incredible brands the retailer offers in a more meaningful way. The Source thought about how customers experience its products, but also how to remain nimble within the store. As some legacy categories are reduced and new products are introduced that better reflect consumer demands in each region, the new design allows flexibility. "It was important for us to work with partners who understood this vision and were equally invested in this concept of testing, learning and adjusting to give us flexibility into the future." The stores have new fixtures to display emerging categories like smart watches or STEM technology, and modular magnet walls so the products on display can be changed more easily.
"Now we can make changes quickly, and we are taking products out of the boxes so people can see how they will use the products," Gillies says. "We're making things more visual with more demos. The flagship store has eight large screen TVs to experience live content. There also is a gaming area in the back of the store, which acts as a bit of a beacon to draw people in.
"We know the stores will never be done, we have to constantly think about how the environment should evolve and how people are consuming the products," she adds. "We also have to differentiate the store product from the web offering. For example, headphones are a key category for us. In the store, customers can try them on and listen to the sound quality, and that is not an experience they can have online."
The Source develops its online presence by considering how its e-commerce relates to all of the company's other channels. It is critical to the company's growth and relationship with customers, because The Source understands consumers tend to buy based on experience and convenience.
"Customers think about how quickly and easily they can get the information and products they want, so we have changed our site's buy flow, reduced the number of clicks required for customers, augmented the content and expanded the payment options to be more relevant," Gillies says. "We think about how to reduce customer friction, and we've done things like offer an extended-aisle kiosk in stores. Additionally, stores can easily ship products directly to a customer's home and the associate gets a credit for that sale. We have made a number of changes to ensure the customer can move seamlessly between channels. For example, we've merged our e-commerce team with the customer service group, so that a rep can start an e-chat online but move to a phone conversation or connect to a store if needed. E-commerce influences store visits and calls to customer care, so we have to think about it in an integrated way."
Making the Difference
The Source's ability to remain agile in the market and respond to customers' needs primarily lies with the strength of its associates. The company understands this and remains as focused on its people as it does on customers. Gillies notes that a continuous investment in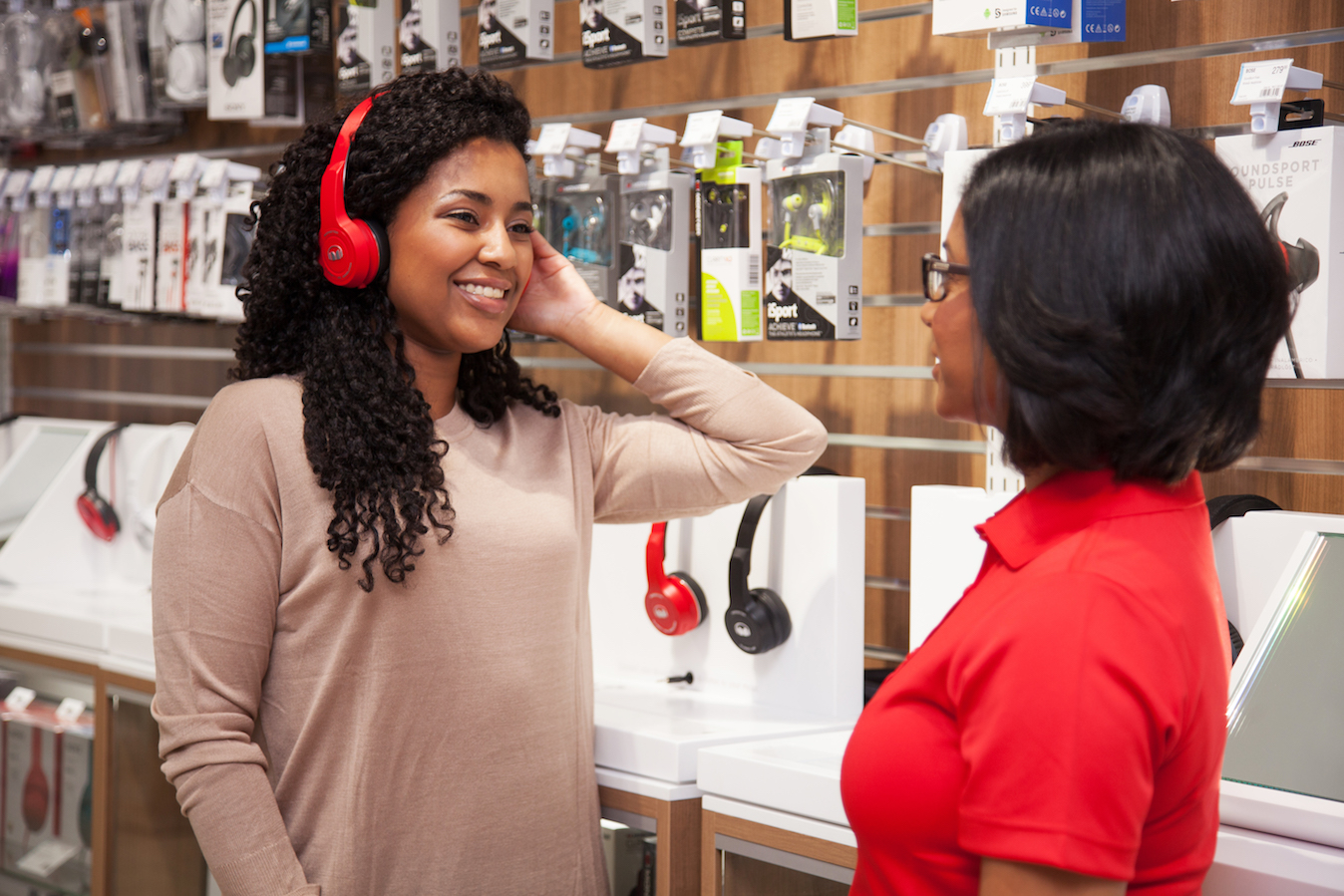 product training helps The Source adapt to consumers' needs. While consumers are getting more educated about what they intend to purchase, it can make technology overwhelming. There a need to make sense of it all and find solutions based on each customer's preferences or needs across products and ecosystems. That's what The Source tech experts excel at.
"Very early in my current role, I did some store tours and I was standing in a store in British Columbia talking to this fabulous gentleman," she explains. "I realized that all of the things we do in this company hit those store associates, and they touch more than anyone else in this organization. The job of the associate is incredibly complex, so the associates are the primary focus of the leadership team – how can we assist them, how can we reduce friction for them, how can we make their jobs easier so they are providing a better level of care."
She adds that it starts with hiring the right people, and then it's about how The Source develops its associates so they understand the company's expectations and standards. It wants associates to feel ownership in their work, instead of just being an operator. Gillies notes that when she sees positive reviews for The Source, she knows it's the work of the team at the store level.
"Our people make the difference here," she says. "I bubble over with pride when I visit stores and the warehouses and meet with buyers and the marketing team. They are so passionate about their business and they are thinking about the details involved and collaborating more than ever before. Our people use the diversity of their backgrounds to come together and provide better, more complete solutions.
"It's delightful to watch," Gillies continues. "Every night I read all of the consumer reviews that have been pushed to the web about us – the unsolicited customer reviews. At first, I was looking for things we needed to improve, in terms of challenges we were creating for customers. But I was blown away about the feedback about our people. It fills me up. There is a culture here that will make a difference."