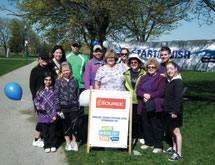 The Source has been part of Canadian's consumer electronics life for the past 40 years, with several changes in name and ownership during that time. But the retail stores – which once flew the Radio Shack and Circuit City banners – have been given a new life with new and renovated stores, the introduction of recognizable electronics brands, client-focused employee training and a multifaceted marketing campaign since Bell Canada Enterprises bought The Source in 2009.
President Charles Brown says the introduction of new stores is meant to bring the chain closer to consumers. "We have 700 locations coast to coast in Canada," he explains. "That means that 75 percent of all Canadians live within 5 kilometers of one of our stores."
"In the last year, every three days either a brand-new or a renovated store opened," Brown notes. As part of its distribution strategy, The Source is also bringing its brand to small communities with a new "store-within-a-store" concept called Source Express. Although a typical Source store is located in a mall and is approximately 2,300 square feet, the Source Express stores will be 600 to 800 square feet and located in places such as independently owned and operated computer repair shops.
The Source helps the owners re-vamp their computer repair stores prior to reopening them under the Source Express name.
"We go into these stores and re-merchandise the area, bring in new products, do the planograms and set the store up for them," Brown explains. "Owners are seeing a minimum of 23 percent lift in traffic." The Source has opened 10 of these stores this year and plans on opening another 30 in 2013.
Top National Brands
"The Canadian market has grown up thinking of The Source as Radio Shack, so consumers expect to walk into a store and find a place with a lot of cables and connectors and lesser known brands," Brown explains. However, the company has changed its product line and now offers Sony, Pioneer, Nikon and Apple, among other well-known consumer electronics brands. "We still have some private brands, but we've upgraded the quality and the representations of branded consumer electronics in the stores."
To let the public know about these changes, the company has used television, print and radio advertising. The Source also has a deal with syndicated technology columnist Marc Saltzman, who appears in a series of ads shown at movies theaters. In segments called "Gear Guide," Saltzman explains three or four products available at the Source, how they work, their different uses and what is technically exciting about them.
The Source also is positioning itself as the place to go to purchase cell phones, and get television and Internet services. "We are building a large, fast-growing cell phone business selling both Bell and Virgin-branded mobile phones and selling satellite-based TV and fast Internet," Brown says.
"It all fits within the theme of our new and newly renovated stores, since mobile phones have become such a big part of consumer electronics."
Investing in People
The Source is investing in people, both inside and outside of its organization. "We are teaching people at our stores how to listen better so they are capable of making the right recommendations to the customer," Brown says. "Our associates will come up with suggestions based on what you are looking for. They'll give you a demonstration on how to use the product and make sure you're confident and you can operate it by yourself. It's a solution-selling process." At the end of the day, the retailer wants customers to go home feeling like their needs have been met and they go on to have great experiences with their purchases.
One of the advantages The Source has regarding its workforce is that people want to be part of the company. "We get a lot of people who want to come and work at The Source because they love technology," Brown says.
"Sometimes, we're introducing a new product and the associates already know as much as the instructor because they've done research or read reviews on the product," he adds.
Outside of the company, The Source contributes to four main charitable organizations. "One is called Kids Help Phone," Brown explains. "It's a 24-hour help phone line for children under 18." This charity offers kids an understanding person on the line who will listen without judging them, and can offer some support to the child in need, whether they're going through bullying issues at school, child abuse or are simply alone and scared at home while the parents are at work. "The Source jumped behind that charity at the end of 2011 and in our first year we were No. 4 nationally with our efforts to raise money for Kids Help Phone," he notes.
The company is also involved with United Way and Habitat for Humanity, with its employees volunteering their time to build homes for the needy. The Source also has a company-based charity called The Source of Our Heart. "We fundraise internally through Friday Denim Days and an annual bowl-a-thon so we can support people within our company," Brown says. The money is used to assist associates that may face an unexpected medical or family emergency.
'I Want That'
One of the main areas of growth for The Source is e-commerce. The company's website sales are experiencing rapid growth, thanks in part to new strategies and a new marketing campaign.
"We have a campaign with the slogan 'I Want That' which highlights the best communications and consumer electronic products," Brown explains.
Brown is confident the path The Source is setting for itself will result in further growth. "I think we will be the customers' electronics and communications store of choice, and people will think of us as the place to go for cool, fun technology and when they want to know about new technology," Brown notes.