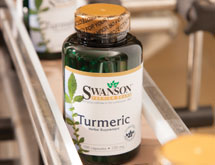 Whether it is fielding calls with a live person or buying keywords to top the list of search engine hits for health supplements, Swanson Health Products does everything it can to reach out to and meet the demands of its customers. Director of E-commerce Rachel Rice says this extends from the top of the organization on down.
"As a leadership team, we are always asking ourselves what customers want and expect from us," Rice says. "Every member of the board is responsible for reading customer comments every week. We focus on the quality of our product and adherence to being the low-price leader – we've definitely heard that's what our customers want."
Swanson Health Products was founded in 1969, and the company launched its website in 1998. Although the company remains dedicated to the mail-order catalog business model that helped it grow into the industry leader it is today, it is growing its online sales business more every year.
In the meantime, Rice and her team attempt to keep pace with the ever-changing world of e-commerce. She says one of her department's biggest challenges is staying relevant as consumers find new ways to purchase their supplements online.
"For our web team, it is a challenge to keep up with technology and all the different devices that access our website," she says. "We want to be accessible no matter how they want to reach us, so we offer the best experience possible for our customers."
No matter how the products are ordered or delivered, Swanson Health Products prides itself on its focus on customer service and timely delivery.
"We're very committed to quality, especially the Swanson brand lines," she says. "We really pride ourselves on our experience and knowledge of the industry. We've seen a lot of players come and go, but we're still one of the largest privately held vitamin and supplement companies in the United States."
Shift in Business
Rice says Swanson has seen a shift in traffic from its mail-order catalog business to its website. Even so, the company continues to print and distribute the catalog, despite the increase in online orders.
"We've definitely seen a shift from mail-order customers, although we still get a fair chunk of orders that come in through the mail," she explains. "E-commerce has helped our outreach and spread the word, though. We believe customers still enjoy getting the catalog but choose to put in their order online for ease and convenience. Some people just don't want to talk to anyone when they place an order."
Rice admits its e-commerce business has allowed Swanson to shift its resources. The company has fleshed out its inventory because it can carry more items in its warehouses to meet the growing needs of its customers. Before the website was launched, Rice says the company had to place special orders for customers for certain items.
"Now we're able to carry them because we have unlimited space throughout our website," she says. "Our inventory manager, on the other hand, does not have unlimited space."
To manage that inventory, Swanson Health relies on a product called MICROS-Retail, which is a database that ties together customer management and inventory in real time. "Our customer service reps on the phones have access to all that information, and they can provide real-time inventory levels to customers," Rice says.
Whether it is through phone orders or Internet sales, Rice says Swanson Health Products remains committed to listening to its customers. "From the president down, we provide affordable solutions to people," Rice says. "We want to make sure going forward that we're staying true to that vision."