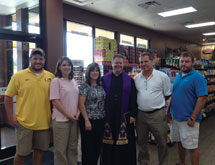 In east-central Louisiana, it takes a local to know how well-traveled the back roads are as they are developed into wider highways. And the more traffic there is, the more business comes. "Most of the metro markets are mature and have all the big-name competitors," says Todd St. Romain, CEO of St. Romain Oil Co. "We find better opportunity in small, under-developed rural markets."
His c-stores offer more than just convenience. "I think in an underdeveloped rural market, you can be the liquor store, the cigarette shop, the McDonald's, the KFC," he says. "I can be the mini-grocery and the gas station all at one time. In a smaller, underdeveloped market, we can fill the needs of the consumer and be a multitude of stores in one. Our proprietary food service is probably what really attracts people. We have a strong food service offer."
St. Romain Oil Co.'s offerings include sit-down, full breakfast and grab-and-go products. "We have all the breakfast items in the sandwich case, as well," St. Romain notes. "We can fill the need of the on-the-go customer as well as those who want to sit down and order a full breakfast."
Lunch can be the 8-ounce Angus beef Y-Notta Burger char-grilled on an open flame. The hamburgers are made by hand – not from frozen patties – with a proprietary seasoning blend packaged for St. Romain Oil Co. The c-stores also serve southern fried fish, hot dogs, pizza, fried or grilled chicken, French fries and gourmet salads.
Y-Not Start
St. Romain Oil Co. is a family owned convenience store and wholesale fuels company that owns 13 locations in east-central Louisiana, operates 10 locations and wholesales to an additional 13 locations. The company supplies the gasoline to its own and the wholesale locations.
The business was founded in 1970 by Edmond St. Romain to provide fuels and lubricants to farmers, loggers, construction companies, riverboats, generators and service stations in central Louisiana. In 1987, the company bought its first convenience store and gasoline station with a car wash. Three years later, the company built its first retail location. Since then, St. Romain and his wife Sondra have bought the company and bought or built stores in nine other Louisiana locations and purchased six other wholesale gasoline distributors. They had various names – the ones St. Romain built were called "Wash-N-Go," and the ones he bought usually kept their original community names, such as Cotton Corner, Fast Break or Lil U Pick It.
In 2007, St. Romain Oil Co. built a convenience store and gas station at a Y-shaped intersection and called it the Y-Not Stop. "We decided we needed to reinvent our convenience offer and take it up a notch," St. Romain notes. "That's where we took our foodservice. We liked the success we enjoyed so much that we went ahead and called the next ones Y-Not Stops. We built three more since then."
St. Romain reports consumers seem to respond positively to the unique name. "They told us they liked the Y-Not Stop, although we had the same chicken and pizza in our older stores," he explains. "We didn't know we were building a chain."
The company has designed a Y-Not Stop logo, and is converting its six other locations to Y-Not Stops. "The old­er stores had not much seating," St. Romain concedes. "They were all about selling gas. The newer Y-Not Stops are on larger lots with parking for 40 to 50 cars and a bigger turning radius, better seating for up to 50 people – I mean, the new Y-Not Stops are completely different than what we used to do."
The company sells its own labeled water bottles and employees wear shirts with the Y-Not Stop logo. "In a crowded market, the feasibility studies were good," St. Romain reports. "I still think there's a lot of great companies that are committed to excellence and have good offers. But I think our food offer is unique, and we are confident enough with it that we would take it into larger markets, but we still wouldn't force it in. I think our food quality would be better and give consumers more options. A lot of these bigger markets are getting mostly chain-type food, and I think our food is that much better than any chains."
Seeking New Locations
The company's mission is "Refueling and Refreshing Communities," and St. Romain seeks out new traffic light installations and road-widening projects to evaluate whether one of his new convenience stores would be appropriate for an area. Sometimes, he notes, a locale is serviced by only an old gasoline station that may need replacing.
"We are following road improvements, new schools, new subdivisions and trying to stay away from the more mature markets," he explains. "There's no one-size-fits-all approach to it. Most of our communities are farming communities; there's very little industry here. So we do well in blue collar, middle- to low-income markets."
Occasionally, communities seek out St. Romain Oil Co. to establish Y-Not Stops and even provide it with tax incentives. "The challenge is there's not an overabundance of underdeveloped rural markets," St. Romain admits. "I think limited growth would be one of the biggest challenges. Our philosophy is you can't afford to do them all at once, so we're very studious – we don't force any of our opportunities. That's why we run a smaller chain. We squeeze every penny we can out of the opportunities we have."
The company is evaluating two new locations. St. Romain's father, Edmond, entered the retail business reluctantly because the commercial oil market was drying up. He expected Todd to operate the retail end of the business, and in 2009, Todd sold the commercial fuel distribution business. "We're just focusing on retail – it's nice," the younger St. Romain remarks. "The success of our last four Y-Not Stops just gives us the confidence, the courage and the drive to want to build more of them."
Three of his four children are now working in the business, and he sees fast food as being the future of the company.
"My vision for the future is to develop our company into fast food that's more than just convenience, that has gas," St. Romain forecasts. "I came from a background of being a fuel distributor with a couple of convenience stores and a little fast food. I see a complete about-face in the next five years."
St. Romain expects food and convenience items to drive the company's revenue and gasoline to bring up the rear. But fuel will always have to be there. St. Romain foresees old two-pump gasoline stations run by owner/operators disappearing and his Y-Not Stops getting stronger.
"We just want to maintain what we have in a higher quality, revamp our older locations and slip a new one in here and there when an opportunity presents itself," he concludes.