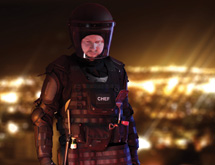 It doesn't take a rocket scientist to see that "nerd" culture is booming right now. "The Big Bang Theory" is one of the most popular shows on TV, comic book superheroes like the Avengers rule the box office and it's not unheard of for a video game to gross a billion dollars on its release date. It isn't surprising, then, that online retailer ThinkGeek has experienced substantial growth over the past few years. Purveyors of eccentric and "geeky" products ranging from computer repair kits to Jedi knight bathrobes, ThinkGeek approximately doubled in revenue between 2008 and 2011, and CEO Kathryn McCarthy says there's potential for growth even beyond the $120 million in revenue the company made last year.
In fact, keeping up with its growth has been the company's chief focus in recent years, as it has overhauled its operations to become more efficient and increase capacity. With a significant investment in people, marketing and a new distribution center, McCarthy says ThinkGeek is better equipped than ever to fill the needs of its customers around the world.
Aside from making improvements to its supply chain, McCarthy says ThinkGeek also continues to work on offering its customers a wider variety of products. She says the company has placed a great deal of emphasis in recent months on the various brands it features in its catalog, such as "Game of Thrones," "Doctor Who" and "Star Trek." In addition, the company has bolstered those products with its own line of proprietary products. As pop culture continues to celebrate smarts and "geeky" interests, ThinkGeek is poised to be the retailer of choice for the "nerd" community.
Keeping Up
ThinkGeek started seriously gearing up for growth in August 2010, when it moved its logistics to Excel, a subsidiary of DHL. McCarthy says it was clear that the company's fourth-quarter volume was going to be enormous due to the holiday season and the emerging popularity of many of the brands it carries. McCarthy says the partnership has been very positive for ThinkGeek because Excel's operations are designed to serve similar retailers like Toys R Us, meaning it has the scalability to add the appropriate amount of resources at the appropriate time.
"It was very important to us that they were able to handle our peak season," McCarthy says, adding that DHL also sees what other retailers are doing and can share that knowledge with ThinkGeek.
McCarthy says the company's new, state-of-the-art distribution center also plays an important role in helping ThinkGeek keep up with increasing demand. Because the company has such a diverse group of vendors, she says, it is essential that ThinkGeek's distribution center is capable of handling the volume of products coming in and going out now and into the future. "I would say one of the biggest challenges is making sure the distribution center can support the growth we want to experience," she says.
Global Geek
That growth is expected to include a lot more international business, as well. McCarthy says approximately 18 percent of the company's total sales is to Canada, Australia and the United Kingdom. "We see international as an opportunity for us down the road," she says.
In particular, according to Senior Public Relations Manager Steve Zimmermann, Australia represents a major opportunity for ThinkGeek. He says the country has a rapidly growing "geek" community, and the recent improvements ThinkGeek has made to its logistics allows it to fulfill orders to Australia within three to four days.
Plugged In
The company's ecommerce site is a huge advantage for ThinkGeek. But it isn't just the technologically gifted who are driving the online shopping, and ThinkGeek is in a good position. "I think one change that's in our favor is the continuing shift toward ecommerce in general," McCarthy says.
ThinkGeek has taken steps to streamline its online presence in recent years, as well. McCarthy says the company has improved navigation and placed tabs for the various licenses it has at the top of the screen, rather than at the bottom. She says this makes it easier for customers to find products grouped by brand as well as creates greater connections between ThinkGeek and popular licenses such as Marvel Comics, Minecraft and "Star Wars."
The future of ThinkGeek will focus on increasing the company's brand awareness through these connections to popular licenses, McCarthy says. The company continues to add more diverse products, including its own line of GeekLab custom products, and develop stronger partnerships with the licenses it already has. Zimmermann says the company sells products from 18 licenses at the moment. "So we're creating unique products for those fandoms, as well, which helps set us apart," he says.