Toy Fair New York Preview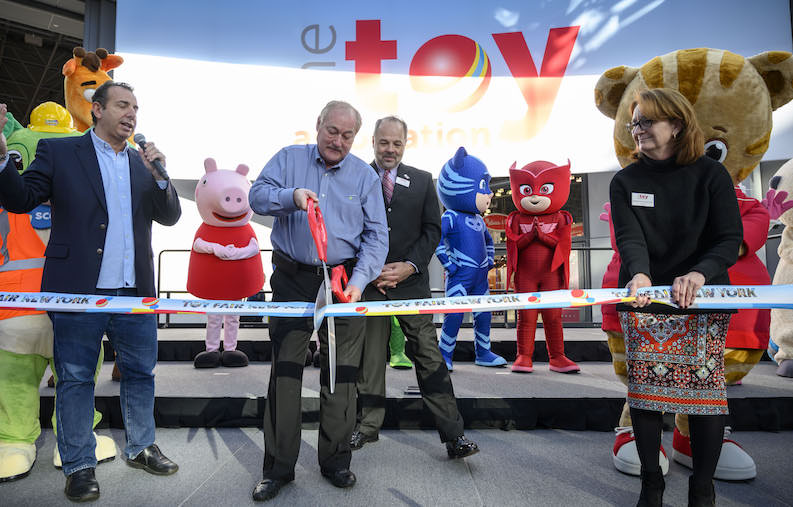 The toy industry is serious business, and its key players will convene in New York City early next year
to get a sense of where the industry is headed.
By RM Staff
Toy Fair New York is where players in the $28 billion U.S. toy market come together every year to get serious about fun and games. An estimated 30,000 professionals attend each year to network and browse more than 1,000 exhibits.
We spoke with Steve Pasierb, president and CEO of The Toy Association, to get a preview of what to expect next Feb. 22-25 at New York City's Javits Center.
Retail Merchandiser: How would you assess the toy industry's performance in 2019? What is your sense of how the industry will fare going into 2020?
Steve Pasierb: First half year-over-year sales saw unfavorable comparisons with 2018, when the Toys "R" Us liquidation flooded the market. However, looking through to the holidays, NPD Group is forecasting very modest growth free of prior-year TRU liquidation comparisons, and with the promise of highly-anticipated license-friendly movies coming to theaters including Frozen 2, the Playmobil Movie, and others.
As for 2020, our members are optimistic that momentum will continue, fueled by innovation, increased speed to market and the talented people who bring fantastic, creative playthings to life for children.
RM: Retail Merchandiser's coverage has expanded in recent years to include more profiles of companies involved in licensing and/or e-tail. Do you see more representation of those two sectors at Toy Fair? How, if at all, has the show changed to accommodate them?
SP: Toy Fair New York offers its vast array of attendees invaluable business, networking, and educational activities. The goal is to ensure that each of our guests – from global buyers and exhibiting manufacturers, to licensors and other toy industry partners, to media representatives – achieve their Toy Fair New York goals and walk away from the show armed with the contacts, orders, trend information and knowledge they need for success. We are continually adding new "Knowledge Network" content and speakers, and exciting brand-building and networking opportunities, to support our diverse audience.
We encourage prospective visitors to visit www.ToyFairNY.com or download the Toy Fair mobile app (it's free) to find everything they need to know about Toy Fair and how it can be leveraged, and to check out ShopToys365.com, where they can search new product in exhibitors' virtual showrooms and place orders online before, during and after Toy Fair.
RM: What special events or promotions are planned for the 2020 fair for either attendees or exhibitors?
SP: There is so much excitement building in anticipation of Toy Fair New York 2020! The toy design and inventor community as well as our manufacturing members are enthusiastic about the content and opportunities offered by our ongoing Creative Factor series. Creative Factor stokes creativity and innovation among our industry's talented inventors, designers, entrepreneur, and creative professionals who breathe new life into the toy industry every day. Creative Factor is embarking on its "Crazy Ideas Welcome" tour, kicking off this September in London as sponsors of Mojo Nation's Play Creators Festival.
Then it's off to Toy Fair Dallas in October for our new product innovation gallery before returning to Toy Fair New York where the program will lead inspiring sessions, panels, demonstrations and more – all designed to get the toy community's creative juices flowing and new products discovered. Our Creative Factor advisory board is already hard at work creating content and tapping inspiring speakers for this much-buzzed-about series.
Of course, so much more is happening at Toy Fair New York 2020 with fresh programming, resources and special events still in development. Be sure to check ToyFairNY.com in the coming weeks for show news.
RM: We know it's early, but any sense of what might be the most buzzed-about new toy or toy category at the show? What has had everyone talking in 2019?
SP: In 2019, we've seen the "unboxing" craze scale new heights with so many exciting ways to reveal, share and collect toys. Licensed toys have been a boon to the industry as well, with a variety of family-friendly movies hitting theatres in spring and even more to come this fall. Educational toys that help children learn STEM/STEAM skills and inspire children to imagine themselves in future careers have also taken off.
We are looking forward to seeing how these trends evolve as companies continue to innovate and deliver what kids want. To be sure, Toy Fair New York is THE place to spot what will be hot for holiday 2020.
RM: What are some challenges ahead for the industry and how will Toy Fair help industry professionals prepare for them?
SP: Challenges for the U.S. toy community include fighting the continual threat of tariffs on toys, acting against the growing number of unsafe, violative counterfeits sold online, and the ongoing evolution of retail shopping habits. The Toy Association team is hard at work advocating on tariffs and counterfeits issues at the federal government level.
We have been advocating against toy tariffs for more than two years and have been able to keep tariffs on all finished toys at bay up until now (some toy component parts and raw materials are being tariffed at 25 percent), but as of early August, the president has announced a 10 percent tariff on $300 billion in consumer goods (most likely including all toys) to come into effect Sept. 1. (Editor's note: The administration has dialed back on some of its China tariff threats since this interview was conducted.)
Our work on this continues as we provide facts, logic, detailed financial explanations, testimony and first-hand stories from toy company and retail employers in the U.S. about the irreparable damage of tariffs on the American toy industry, retail community and American families.
In terms of intellectual property protection, we have been actively advocating for marketplace and legislative changes to reduce the ubiquity of counterfeits. Recently, we were invited by Congress to testify on the issue, where we made it clear that counterfeits often do not meet the same safety standards as legitimate toys sold through legitimate retail channels – and that this is unacceptably putting our children at risk. We will continue to work closely with government agencies and retailers to ensure this wave of illegitimate products becomes a thing of the past.
As part of the resources, protection, support and tools we offer members year-round, Toy Fair New York will host sessions with key government officials and regulators on the abovementioned and other topics to help attendees understand and navigate any new safety and compliance requirements and hot-button issues facing the industry.