Uglydoll/STX Entertainment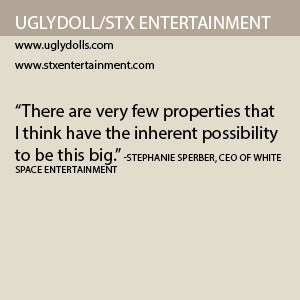 STXfilms, which has released such hits as "Bad Moms," started operations two-and-a-half years ago, Aviv says. "We were able to assemble a group of experienced, major studio [executives]," he recalls.
This includes Aviv himself, who in his 20 years at Walt Disney Studios ran both Marketing and Production, as well as STXfilms Chairman Adam Fogelson, whose experience includes running Universal Pictures as chairman. But STX Entertainment sought to set itself apart from its peers.
"The idea was, 'Let's have no silos, let's be more collaborative, let's have no politics and let's make fast decisions,'" Aviv recalls. "We were uniquely aware of where the stumbling blocks exist at the majors."
STX Entertainment sought to flip the paradigm by conducting business in a more streamlined fashion with fewer people. "We designed the company not just around the studio but around a variety of business units," he explains.
These include STXdigital, STXtv which develops both scripted and unscripted programming, and a virtual reality business called STXsurreal. "We are all in it together to figure it out with linked arms instead of silos as it continues to be at the major studios," he says.
Getting Ugly
STX Entertainment's units will all support the "Uglydolls" movie and merchandising, which are based on a line of plush toys that David Horvath and Sun-Min Kim developed. The couple met while attending art school in the late 1990s.
"They started to draw little pictures and send notes back and forth to one another," explains Stephanie Sperber, the founder and CEO of White Space Entertainment, which represents both STX and Uglydoll. When Kim returned to South Korea, Horvath sent her a letter with the sketch of an Uglydoll character who would become known as "Wage."
Kim made a Wage doll as a gift for Horvath, who showed it to a friend who owned a Giant Robot store in Los Angeles. "The owner said, 'That's so awesome, I'll take 50,'" Sperber explains.
Horvath asked Kim to make 50 more of the dolls, which sold out in a day. "It grew from there," Sperber says. "When Sun-Min's fingers started to hurt from sewing thousands of dolls, they formally created Uglydoll."
Today, the Uglydoll universe has expanded to 68 characters that reflect its "very simple, beautifully colorful unique design," she says. "It's a beautiful blend of Asian and American sensibilities."
Aviv agrees. "People who see the dolls and hold the dolls in their hands have an immediate affinity for them," he says. "You want to hold it, hug it and play with it. The fans became incredibly passionate about the dolls."
Horvath and Kim also branched into publishing and created "Uglytown," the home of the characters. "There's a series of books that explain Uglytown and the relationships between the characters," Sperber says. "Uglytown is another character in the franchise filled with food, friendship and fun."
Each doll also features a tag that shows the character's name and gives insight into their personality. For example, the character of Wage is known to be a hard worker that likes to make friends with others. "We've seen people walk up to a wall of dolls in a store, read the tag and say, 'That's really not like me,'" Sperber says. "They then pick up all the dolls and read the tags until they find the Uglydoll that best expresses how they see themselves, and that creates a meaningful relationship.
"What the tags do is celebrate the weird, quirky parts of the doll's personality," she says.
That unique and quirky DNA built a successful consumer products business. At its peak, Uglydoll enjoyed $150 million in retail sales, Sperber says. "It was built on $300 orders at a time, which in the retail merchandising business is no small feat," she says.
But until recently, Uglydoll limited its sales and exposure to specialty stores, even though the mass market was extremely interested in the line. "The creators wanted to grow a franchise for the long-run instead of going mass too quickly," Sperber says. "
They had never been in Walmart or Target," Aviv says. "They were only in specialty stores and there became this amazing cult-like following for them."
Uglydoll eventually became a property under development at Illumination Entertainment, the animation production company co-owned by Universal. Illumination, which Fogelson helped build from scratch, has produced hits such hits as the "Despicable Me" series and its spinoff, "Minions."
When Fogelson came to STX, he brought Uglydoll with him. "We had conversations with the creators of Uglydoll and said, 'We really believe in this not just as a business, but we think we can create a narrative around these adorable Uglydolls,'" Aviv recalls.
A Perfect Match
All movies need a writer and director, and STX found them both in Robert Rodriguez, who is known for films for adults as well as kids, including the "Spy Kids" series. "He is certainly a unique visionary," Aviv declares.
He also is a father of five with knowledge of the products. "When we first talked to him about 'Uglydolls,' he said, 'I know all about them,'" Aviv recalls. "'When my oldest moved out of the house, the one thing he wanted to take with him was his Uglydoll.'"
Rodriguez's love of family films also drew him to the project. "It's been an incredibly collaborative and exciting process for us," Aviv says, noting that Rodriguez also will expedite the production process.
"He has a very efficient studio, TroubleMaker, that he created and works out of, and has built over the last 20-plus years with artists, a back lot, a TV network and stages," Aviv continues, noting that Rodriguez started his career as a cartoonist.
"He's taking the typical four years-plus of making an animated film and shrinking it down to two years," Aviv says, noting that the film will be released on May 10, 2019. "That suits us very well at STXfilms."
Sperber also praises Rodriguez's approach to the material. "It's certainly going to appeal to kids, but the subtle, smart humor is going to appeal to the adults in the audience, which is the secret sauce to these animated properties," she says.
There are very few animated features, Sperber explains, that both kids and adults enjoy. "That's the goal of this film and this franchise," she says. "It's so visually appealing, so bright and touchable, and the characters are so quirky."
Another important part will be the music. "If you know Robert's films and any of the animated films we've been associated with, there's always been a big musical engine, whether it be songs or pop stars behind it," Aviv says.
STXfilms plans to have some major artists involved in the movie, as well as the soundtrack and marketing. "Uglydolls themselves love to sing, dance, cook, eat, celebrate life and reinforce their natural tendencies through awesome songs and music," Sperber says.
The film will feature global talents on its soundtrack. "We can't say who yet, but very soon we'll have an awesome announcement to make," said Aviv.
Waves of Content
STX has big plans to usher in the release of the "Uglydolls" film in 2019. Sperber, who helped Universal develop the "Minions" characters into a $3 billion retail program, says activities planned for 2018 include the release of short-form digital content, designer collaborations at high-end retailers and many other events.
STX also will release a video game along with the movie, to be followed by the launch of an animated TV series in 2020. "We're looking at a wave of continuous content like short-form digital linking the big moments in time like film release and TV series," Sperber says. "It will allow the fans to engage with the IP constantly across different formats and through consumer products."
Aviv agrees. "The idea is to corral all these media platforms as a cultural force that doesn't just culminate with the global release of the film in May of 2019," he says. "We're planning into the future beyond the release with content that includes television and a variety of other platforms as we go."
The content, he notes, will embody the themes of diversity, individuality and acceptance that are expressed in the film. "We think those are global themes that are particularly resonant today that will work not only domestically, but in every territory," he says.
"Uglydolls" also has its built-in audience that knows the product. "There are very few brands that become animated films that have an older audience already bought into it," Sperber says.
When the Uglydoll product was launched in comic book stores, "The early adopters were hipster Gen Y and millennials," she says. "Now they're adults and have kids of their own. You have this second generation that has been given to them by their parents."
This enables STX Entertainment and White Space to reach a broader audience with licensing. "Almost every age demographic can be a target with the right product," she says.
At the Dance
Sperber and her team have taken meetings with major retailers, including Walmart, TRU and Target, that are excited about "Uglydolls" products. "They say, 'We've wanted this for 10 years,'" she says.
"They are so enthusiastic about this," she says. "We're not ready to announce the toy partners, but it's safe to say that even though this is an Uglydoll, we're the pretty girl at the dance at the moment.
"It's not like introducing a new IP," she says. "Because the IPs already existed, it's something people know and already love. It's a nice situation to be in."
Sperber is also looking forward to exhibiting at the upcoming Licensing Expo in Las Vegas, which runs from May 23 to May 25. "We expect the Licensing show to be a big kickoff moment," she says, noting that there will be an Uglydoll booth with dolls hanging from the rafters.
"It's the big debut of Uglydoll to the licensing and retail world," she says, noting that White Space has booked meetings with worldwide companies from various categories. "The big promotional players are interested in this brand, [with the] boy, girl and older fan awareness."
The long-term relationships that White Space forms with these partners will require a lot of care, she notes. "When signing somebody, we're not looking to separate out a film license from a classic license," she notes.
Instead, they will be signed as part of the Uglydoll universe. "Keeping them happy also includes a consistent delivery of marketing content that Robert and our team will be developing," she says.
That content will include refreshed artwork and style guide themes that are developed for each retailer. "It keeps the licensees feeling good about it," she says. "We have a dedicated team that does not work on anything but Uglydoll."
Built for Success
Aviv sees a strong future for STX Entertainment, which is committed to developing long-term franchises with strong consumer products. "We have who we think is the best in the business with Stephanie," he says. "She has long relationships with people in the company."
Sperber also predicts longevity for the Uglydoll brand. "I see it as at least a 10-year global franchise," she says, noting that it has the potential to achieve billions in sales.
"There are very few properties that I think have the inherent possibility to be this big," she says. "The DNA is just built for success."