Victoria and Albert Museum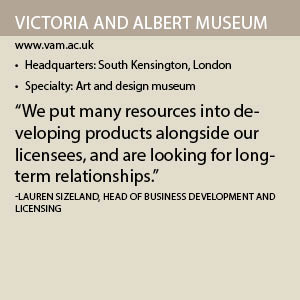 The Museum's hard work continues to pay off, as the LIMA International Licensing Awards has once again recognized the V&A for its licensing achievements. Held at the Licensing International Expo in Las Vegas, the award recognizes an outstanding performance by a brand in the global licensing marketplace throughout the previous year.
"For the third year in a row, the Victoria and Albert Museum was voted Best Art and Design Brand in the 2017 International Licensing Awards," Head of Licensing and Business Development Lauren Sizeland says proudly.
Valuing Relationships
With more than 75 licensees across a variety of product categories, Calver notes there is "never a quiet day" for the V&A licensing team. One of the Museum's most recent launches includes a new quilting fabric collection from world specialists Moda Fabrics inspired by William Morris designs.
"The high-quality printed cottons are manufactured in Japan and are available in Moda's unique and beautifully packaged pre-cut packs, including the renowned Jelly Roll® and Layer Cake®," she explains.
The V&A has also teamed up with Le Sportsac to launch a range of accessories exclusively for Japan. Other highlights for the Museum include a collaboration with Napa Valley vineyard, Darioush, and the launch of a successful range of paper product with U.S. licensee Caspari.
"We have around 10 more ranges in development with licensees, all of which are due to launch this fall and spring 2018," Calver says. "That includes Wild & Wolf, who are in the process of expanding their gift offering in the U.S. following the success of their garden tools collection, as well as stationery brand Gallison, who are about to launch their Fall '17 collection."
Although the V&A sets itself apart from competition with its extensive archives and regular exhibits, it also has an advantage with its "can-do" attitude to its licensee partners.
"We put many resources into developing products alongside our licensees, and are looking for long-term relationships," Sizeland says. "Some of our long-standing licensees have been on board with us for more than 20 years."
The V&A has built a strong and well-recognized retail brand that is seeing growing demand, Sizeland adds.
"In some cases, design teams approach the Museum," she says. "The process is very collaborative, the designers need to explore the archive, finding inspiration from the collections, and selecting relevant patterns for the season they are working towards. There is generally a lot of dialog and back-and-forth before any concepts are drawn up."
The V&A is in the process of developing closer relationships with department and chain stores ranging from John Lewis in the United Kingdom to Chow Sang Sang jewelry stores in China. In addition, the Museum aims to maximize cross-merchandising opportunities.
"Waterstones cleverly merchandises various V&A gift and stationary ranges from several of our U.K. licensees, and Bloomingdales stocks our range of paper tableware from Caspari," Sizeland explains.
The V&A's employees are also critical to its success. The museum emphasizes its values – generosity, imagination, coherence and rigor – that serve as a guide to how business is conducted at the V&A.
"With so many facets to the Museum, from retail and commercial to education and conservation, we have a diverse and large workforce who all contribute to a friendly and engaging atmosphere," Calver says.
The V&A has doubled the size of its licensing team over the last 12 months, which it attributes to its "high profile" in the sector and participation in trade shows, such as Decorex, Brand Licensing Europe and Surtex.
"Consequently, talented people are attracted to working in our award-winning team," Sizeland says. "We have recently gone through a period of growth adding new talent."
Additionally, the V&A prides itself on retaining employees for a "considerable length" of time. "Within the licensing team, Amelia Calver – whose extensive knowledge of the Museum and its archives are invaluable to the success of the program – is our most longstanding employee," Sizeland notes. "She has worked here at the Museum for 17 years, while I have been with the V&A for 12 years."
Still Building
The Museum's licensing program helps to build the V&A's brand awareness in the U.K. and overseas.
"The bigger and more international the brands we work with, the more impact this has on the overall brand recognition," she says. "It's a very exciting time because we have a lot of interest from several different countries at the moment. So we're pedaling hard trying to keep up."
With the significance of technology in today's society, the V&A is "increasingly conscious" of the role social media plays in brand development and generating sales, which is why it emphasizes that support for licensees.
"We want to ensure that we create an authentic and consistent brand voice across social media platforms," Sizeland says. "Recently, we started a hashtag, #vaminspired, as a tool to gain visibility of our product ranges across social media."
The V&A's website provides prospective licensees a clearer overview of its global program. "We depend upon the guidance and resource of the digital team at the V&A to achieve that," she notes.
The Museum's main marketing strategy includes press in trade and consumer magazines published in both the United States and United Kingdom. "These are a great way to achieve more credibility, and open new doors with bigger companies, which wouldn't have shown interest in our brand seven years ago," Sizeland says.
Exhibiting at tradeshows is also a key part of its strategy. Each year, the V&A team attend a variety of trade shows – from stationery to interior and apparel – all over the world. This not only keeps the Museum up-to-date with trends and market changes, but also provides the V&A with ample opportunities to discover and meet new manufacturers.
"We have been an exhibitor at Brand Licensing Europe since 2006, and continue to exhibit at Surtex in New York City," Sizeland notes. "We want companies to know that we are serious about licensing, which is why we continue to exhibit and are not a one-hit wonder. Trade shows are also a great place to be seen by potential licensees who didn't know we were active in the licensing arena."
When it comes to succeeding in the industry, Sizeland's personal philosophy starts with believing in what she does. "I have to have the sense of it being something very worthwhile," she explains. "It is essential to be totally committed and prepared to flex around business needs, while also striking a balance for personal achievement."
Sizeland notes that she shares her passion to engage and enthuse others, no matter what their relationship. "They could be a part of the team, clients, colleagues or media contacts," she says. "I am always open to share ideas, knowledge, insights and concerns, so we all understand what everybody aims to achieve."
Additionally, Sizeland notes that it's vital for the V&A to familiarize itself with the culture of its key partners. "It helps to gauge the real scope of the opportunity and may help to expose any potential limitations," she says. "This enables us to approach each project or deal with the right attitude and appropriate resources to ensure that collectively we can make a success of it.
"I believe we all need to be open to change if we are to succeed," Sizeland concludes. "The business and the people in it should continually evolve and learn in order to be fully engrossed."