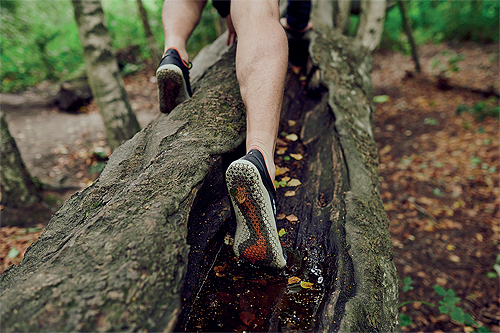 Barefoot necessities
Steeped in science and built on biomechanics, Vivobarefoot is an innovative footwear brand reconnecting people with the planet
They say every journey starts with a single step. For Galahad Clark, Owner and Founder of Vivobarefoot, that step was taken in a stripped-down pair of Nike trainers that had been separated from their cushiony soles. The experimental footwear was shown to Galahad by an enterprising student (and childhood friend) from the Royal College of Art whose education in biomechanics had led him to the conclusion that, when it came to footwear, shoes with a minimalist design that mimicked the sensation of walking barefoot were best for our bodies and our planet. As a seventh-generation shoemaker, Galahad soon became captivated by the idea's potential and in 2004, the pair came together to start prototyping the designs. After years of false starts and education, Galahad dropped everything else he was doing to establish Vivobarefoot as a stand-alone brand in 2012, making it a company dedicated to developing regenerative footwear that brings its customers closer to nature.
Scientific momentum
Combining ancient indigenous wisdom with modern innovation, 'barefoot' footwear is wide, thin, and flexible, allowing for better freedom of movement and more sensory feedback for greater agility. Designed to feel as close to walking barefoot as possible, Vivobarefoot's products connect people to the ground beneath their feet. It is a concept that has received great consumer response as far back as 2009, a year in which Christopher McDougall's 'Born to Run' brought widespread attention to the pitfalls of cushioned running shoes, and marked the rise in popularity of Vibram Five Fingers' ground-breaking minimalist footwear in the United States. During this period, which Galahad terms the 'First Barefoot Revolution', Vivobarefoot began to build the enthusiastic and loyal following that it maintains today.
"Around this time, we really started to get educated in biomechanics and the anatomy of the foot," Galahad says. "It was remarkable how little we previously knew about the way our feet work and how that impacts the body. Immediately after dropping everything to focus on Vivobarefoot, we had some difficult years between 2012 and 2016, but since then we have experienced what I like to call the second 'Barefoot Revolution' when people realized that barefoot wasn't just a silver bullet where you could take off your shoes, go running, and mother nature would turn you into a super athlete, but that it was a much staider approach about walking around in everyday life and about looking after children's feet. More and more research has since detailed, in black and white, the benefits of everyday barefoot walking and the importance of allowing a child's foot to develop naturally.
"That scientific momentum has led to us becoming more profitable and growing in a really exciting way," Galahad continues. "In the last three years, we have gone from £19 million to £26 million to £35 million, and even through the Covid crisis, we are still looking at an increase of 40 per cent this year. People realize now that our products are good for their general wellbeing, not just something built around elite running."
Transformational experience
Natural, biosynthetic and recycled material products made from thin puncture resistant soles with no heel or support, Vivobarefoot footwear is divided into three key collections -Outdoor, Active and Everyday – and is available for both adults and children. Hiking boots and trail running shoes fall under the company's 'Outdoor' moniker, as do what Galahad describes as the firm's 'Formula One' products – a line of footwear designed around a multi-stage endurance sport called Swimrun.
"Swimrun is the ultimate back to nature sport in which you run and swim through nature, keeping your shoes on while you swim, so it is a really good shoemaking challenge," Galahad declares. "It started in the Swedish Archipelago and requires footwear with a low wet weight that is also very grippy on wet rocks."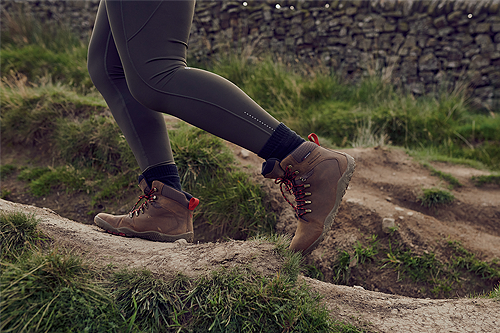 Whereas the Outdoor collection is built around shoes with strong grip, the Active line eschews grip for extra barefoot sensation and can be worn in the gym, on the court, or simply as part of day-to-day life. Similarly, the company's Everyday range provides footwear options for work and social events, but has been designed to have a more casual, leather-based appearance.
Operating through a direct-to-consumer model, Vivobarefoot has forged strong relationships with its customers over the years and sits at the center of a devoted community of people with an interest in natural health. Although the firm boasts around 20 stores across Europe, 80 per cent of its sales are made online through the company's website. This allows Vivo to provide education and tools to help consumers with the transition to barefoot footwear.
"There is a great deal of technology made available to our customers and a vast network of barefoot coaches around the world who support our community," Galahad states. "Ultimately, what we offer the customer is a transformational experience where we know that just by walking around in barefoot shoes your feet will change. According to studies, on average, your feet get 60 per cent stronger in six months as your muscles develop and you soon notice the benefits up the kinetic chain quite dramatically.
"The mission of Vivo is to reconnect people to the natural world and their natural potential, whether that be through things like Swimrun products, through a transformation back to natural movement, or even just by encouraging people to spend more time in nature through our products. It was always going to be difficult to help people understand this philosophy in a wholesale environment next to some of the world's biggest, sexiest marketing brands, and where the conventional wisdom surrounds pronation control and padding technology. Instead, we can better communicate our message online and through destination offline experiences in places like London, Germany, Czech Republic, Austria, and Switzerland."
Initiatives for 2021
Early in 2020, Vivobarefoot launched a brand-new online experience called ReVivo. The world's first branded Re-commerce marketplace for refurbished and repaired shoes, ReVivo gives every shoe made at Vivobarefoot an end of life solution. Of the 24 billion pairs of shoes made in the world each year, over 90 per cent currently end up in landfill. Offering an answer this problem, ReVivo aims to 'keep shoes on our feet and out of landfill'.
Alongside the key role ReVivo is set to play in 2021, Vivobarefoot is looking to introduce more new technology in the New Year. "We'd really like to add some version of RFID technology where possible," Galahad reveals. "We are, of course, looking for the most sustainable way to do this, but the goal is to be able to track each shoe's journey through multiple lifetimes as it is repaired, refurbished, and re-commerced in our takeback scheme. It's something exciting that we believe we can get consumers engaged with, especially if we can run it as part of a shoe subscription model we plan to launch in 2021 (starting with kids)."
Scanning technology that can be employed as part of the shoe fitting process is also in the pipeline at Vivo, especially with a view to providing mass customization for consumers, including the introduction of bespoke 3D-printed footwear. Likewise, Galahad suggests that the firm is trialing sensor technology that can be used to create in-shoe coaching experiences to help customers adopt the natural quick cadence humans use when barefoot – but that padded shoes allow your lazy selves to slow down. This slow clomping cadence that padded shoes allow is at the heart of the chronic pain and injuries that so many people endure.
"At Vivo, we promote foot-shaped shoes, rather than shoe-shaped feet, so it is all about finding more ways to facilitate bespoke shoemaking, person by person, foot by foot," Galahad asserts. "We believe some of these initiatives can be massive for us and customers will see them launched in 2021."
A values-driven organization built on sustainability and physical, social, and spiritual health, Vivobarefoot recently qualified as a B Corporation – a move that serves as proof of the firm's continuing commitment to the highest standards of social and environmental performance, transparency and accountability. These values have been part of the company's ethos from the very beginning, and Galahad argues that they have been, and continue to be, a vital part of the firm's success.
"When you are building a brand, the most important thing is to have authenticity and credibility," he remarks. "You cannot fake values like sustainability and health; customers have to believe in what you are doing. There is nothing more powerful than word of mouth, and when you create a positive user experience, people end up sharing.
"In his book called 'Sustainability by Design', John Ehrenfeld writes that the only excuse for filling the world up with more products is if they help us better connect with nature, make us feel healthier and more human, or answer important environmental or ethical questions," Galahad notes. "Our COMworld of today desperately needs solutions, not more of the same old problems that made us all sick and unhealthy and disconnected. At Vivo, we've got a long way to go, we are far from perfect, but we remain open to learning, sharing and collaborating across the industry in the hope of making the world a better place." v