Wallpaper To Release New Single "Good 4 It" On iTunes Today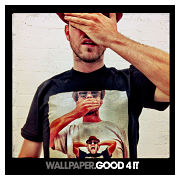 March 12, 2013 – Genre-defying pop band Wallpaper releases a new single, "Good 4 It," on iTunes today. The track, which is currently being spun at Alternative radio, is the theme song to VH1's new show Wicked Single (premiering simultaneously on MTV and VH1 March 17th) and can also be heard in ESPN's promotional bumpers and teasers for its current programming. With its mix of swagger and vulnerability, "Good 4 It" invokes the essential function of friendship in times of real trauma. A video for the track will be released in early April.
Wallpaper is the brainchild of Oakland-based rapper/songwriter Ricky Reed, who played house parties in the Bay Area while honing his songwriting skills before launching Wallpaper with Arjun Singh, Tom Peyton, Derek Taylor and vocalist Novena Carmel (daughter of soul-R&B legend Sly Stone).
"Wallpaper represents the eccentric everyman," Reed says. "A blue-collar pop band for the other 99 percent, a twerking class hero who might actually show up at your house party — that is Wallpaper."
Reed's dry-humored raps and hard-hitting beats began attracting major buzz in 2011 with Wallpaper's breakout EP #STUPiDFACEDD — a joint effort between MTV's Hype Music and Evan Bogart's Boardwalk Records, leading to syncs on Jersey Shore and The Real World, hundreds of thousands of downloads at MTV's soundtrack blog, and an "Artist To Watch" designation by the network. Reed also co-wrote and produced "Anyway" with Weezer's Rivers Cuomo for Cee Lo Green's platinum album The Lady Killer. His remix of Das Racist's "Combination Pizza Hut and Taco Bell" led to his deal with Boardwalk Records.
In 2012, Wallpaper signed to Epic Records to bring Reed's absurdist world-view to a broader audience. In the last year, Wallpaper has performed on Jimmy Kimmel Live! and Last Call With Carson Daly, been nominated for a "Breaking Woodie" at the Woodie Awards, and performed a well-received set at Coachella. Nylon remarked last summer: "Wallpaper is a bonafide hustler and gifted producer, expertly blurring glittery pop and raunchy rap with authentic rock and electric funk."
Wallpaper will bring their party-starting live show to this year's SXSW Festival in Austin next week, and will also join the Vans Warped Tour line-up this summer when their debut album for Epic Records/Boardwalk Music Group will be released.