Evolving the product mix is one of the reasons Waters cites for the company's success. "The No. 1 thing is our ability to change," he emphasizes. "We are always changing. About the time you get comfortable is the time you need to start changing again. We never get comfortable."
One product Waters took a gamble on recently was a $400 cooler. "That is a product we jumped in full force with and that has done well for us," Waters maintains. "We adopted it very early when it first came out. We were the first in our industry. Now everyone has followed."
Another gamble that Waters True Value won a few years ago was on the Multi-Tool, which combined just about every tool a home handyman would need into one device. It proved popular with early adopters. "It's a really expensive tool, but it was a big deal," Waters recalls. "We sold a lot of them, but several years down the road, everyone makes one and they are really not that popular anymore because they're so expensive. There's a lot cheaper knockoffs that aren't as good and do the same thing for a quarter of the price."
Waters invests heavily to send buyers to True Value's spring and fall shows so they can stay on top of these trends. For the first time in May, they also attended the National Hardware Show in Las Vegas on an exploratory basis. "We're still deciding if it was worth it for us," Waters says. The dealership also attends gift shows and a rental show.
Risky Business
Not every new product is a success. "There's been plenty of times when we jumped into something that didn't work," Waters concedes. "I would have never thought in a million years people would spend hundreds of dollars on a cooler. It just goes to show that you're always learning new things, and your customers change. We're always experimenting with new things. It's risky, but it's something I believe you have to do to stay current in the industry. I believe if you don't and you just stay with the same thing, eventually you'll die.
"We aren't afraid to change at all," Waters stresses. "We've always been very aggressive, never conservative at all. It's better to be aggressive than it is to be conservative. I would say for the average home improvement store – not counting big-box stores – we're much more aggressive than most."
That willingness to experiment spills over into the major lines the stores carry, such as pet food, treats and toys. "It's hard to get those pet customers, but once you get them, they're a regular customer for you," Waters says. "They come in once a month to buy pet food, and most of the time, they're getting other things. Our average customer comes in our store five or six times a year, and that's an average when you consider all customers, including contractors that are in there every day and people that came in once from our area. Pet supplies are a traffic-maker and a decent profit for us."
It's a Gift
Waters True Value stores carry a wide variety of gifts such as gourmet food mixes, picture frames, clocks and clothing accessories such as jewelry. "It's a very trendy business," Waters points out. "One thing may be really big one year and then nothing in the next year."
The reason for the gift category in the stores is to attract the real buying power in a household: the women. "Quite a long time ago, we had decided that the big-box stores really cater to a lot more male-oriented customers, and we decided to take a different approach," Waters explains. Waters True Value put gift departments in all stores except one so they would be more female-friendly. "Gifts are a much more difficult business than our core plumbing, electrical and hardware, but it is definitely something that differentiates ourselves from other stores," Waters insists.
One of the three buyers in the corporate merchandise office specializes in gifts and does all the buying for them. "The buying is very labor-intensive for the amount of time you have to spend buying gifts, but we definitely see good profit on them," Waters reports. "It's high-margin, but it's risky, and you've got to have someone that understands the business because if you don't, you also can tank it."
For the past year, Waters True Value has been experimenting with selling farm and ranch supplies at its Emporia location, including products for cattle such as ear tags, vaccination needles, syringes and wormer medicine; for chicken, feed, feeders and waterers; and tractor hardware pins, welding buckets and barbed wire fence posts.
"Farm and ranch has been rough," Waters concedes. "It's a difficult category because the market is pretty saturated. Our target market – as much as we want the full-scale farmer – we really cater to the hobby farmer who has a couple chickens or cattle for a 4H club. The category has been a slow start." Before trying the category at additional stores, Waters plans to slow down the experiment and take the time to learn a brand-new category.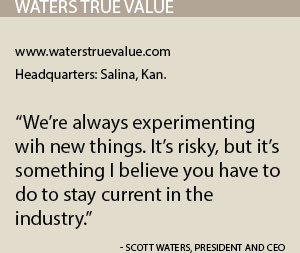 Rental Business
Rental of party and wedding equipment, general tools and large construction equipment is a strong but difficult category for Waters True Value stores. "General tools are geared more toward homes, where large equipment is geared toward contractors," Waters explains.
The construction equipment that some Waters True Value stores rent includes excavators, telehandlers and telescopic stick booms. "We have semi-trucks that we move them with, so we get pretty large when it comes to equipment," Waters adds.
The party equipment Waters True Value stores rent includes large tents, tables, chairs, linens and dishes. "In party and wedding in every market, we dominate the category," Waters maintains. The company started in the party rental business in 1993 by dabbling in rental of tables, chairs and snow cone machines.
"In 2008, we went full force in it," Waters relates. "We can now do giant tents 60 by 200 feet. We can do dishes and linens and everything from end to end. Basically, we had a lot of competitors when we started that all dabbled in it and had a few things here and there. But the customer wants a full-service shop where they can get everything. We outdid our competitors with customer service. You can make or break a business with that. If you don't do it right, it will sink you, and if you it right, you can do very well in it. But out of all the businesses, it's the hardest.
"Rental is an incredibly difficult business," Waters continues. "It's very labor-intensive and very capital-intensive, and it's difficult to manage, but the business is there. In comparison to running a retail store, rental is much more difficult, but for us, the good thing is we can compete with any of the bigger rental companies equally. We're competing with big-box stores on hardware – it's difficult. But competing with big rental chains, we're able to do quite well."
The party rental business used to be seasonal but now it is year-round. "We've secured a lot of long-term contracts doing the same event every year for colleges and corporate events," Waters says. "Everyone comes to us now, and all the caterers now rent all their dishes and food warmers from us."
The stability of the party and rental business helps even out the ups and downs of the heavy equipment rental market, which is dependent upon construction activity cycles. "The equipment, everything is crazy expensive, but it's up and down, and you're directly competing with the big guys," Waters stresses. "We focus a lot more on the smaller contractors instead of the large multimillion-dollar-job contractors, and that's really what our competition specializes in. So we somewhat stay apart from each other."
By comparison, general tool rentals are very stable. "It's less of an investment, and pretty much no matter what the economy is doing, it's stable," Waters says.
Heavy Remodeling
Waters True Value has fully gutted and remodeled six of its stores in the last six years to break out walls, build new storefronts and create new layouts, décor and shelving. In most cases, back storerooms were converted to sales floor space. "A lot of our stores were getting older and looking like old hardware stores, at least from our point of view," Waters says. "Now everything looks very modern and very clean."
Two years ago, the seventh store in Emporia was moved to a new location and its size doubled to 40,000 square feet. The average store size for Waters True Value is 35,000 square feet. The stores were remodeled in the new Destination True Value store format. Waters' goal for the future is to remodel each store every 10 years.
Waters True Value stores receive shipments twice weekly from the True Value distribution center in Kansas City, Mo. Without back rooms, only small areas are behind the sales floors for receiving merchandise directly from the truck to the shelf. "We've really done that to make ourselves more efficient so we handle things less," Waters says.
Waters True Value uses social media extensively and targets customers with high accuracy on Pandora and YouTube. "The options are dang near limitless and getting better all the time," Waters insists. "I believe the days of Yellow Pages and newspaper advertising are about all dead." The company also uses the True Value Rewards program.
"True Value Rewards is something we've had for a long time," Waters says. "We've really invested heavily and seen a return in it. True Value is very heavily investing in the program, and that's been good for us. It really keeps people coming back."
Waters is the sixth generation of his family to manage its retail business. The company has been family owned since 1894, but that doesn't mean the whole family works there. "I have a brother and a sister, neither of whom are in the business," Waters points out. "It's just me and my dad. We've seen countless times that you've got lots of family in the business and it's pretty much inevitable that you get in a family feud, which kills the business before the competition does."
Waters emphasizes the importance of human relations to the stores' success. "We treat our employees a lot like family even though we have about 250 employees," Waters asserts. "Making sure we've got good people is a huge part of our success. We invest incredibly heavily in our managers, and we treat them in a way almost like owners. We let them have a lot of decision-making ability, but we spend tons and tons of time training them. We really work hard to make sure our managers are the best people out there and very loyal to us."
Waters attributes the company's high rate of retention to its good employee pay and benefits. "Several months ago, we gave out recognition pins for anniversaries and gave one of our employees a 35-year anniversary pin," Waters says. "Twenty- and 25-year pins are very common. It's kind of cool because I personally give those out. We give out tons and tons of five- and 10-year pins and lots of 15-year pins."
For the future, Waters sees additional expansion, mostly within Kansas, and through acquisition. "Right now, I believe it's a buyer's market," Waters says. "There's a lot of hardware stores that want to sell, which is good for us and allows us to be very picky. We have countless stores call us and want to sell, and almost all of them we turn away. Either it's not a good fit or not very profitable. We're pretty much only interested in stores that are profitable, that fit well with our business model. On rare occasions, we may be interested in a store that is not very profitable, but we know we can turn it around. We have the knowledge and know-how to do it."