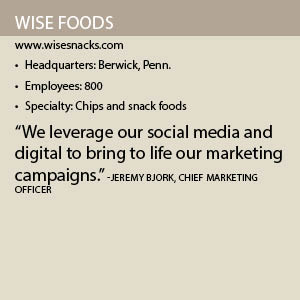 "The nice thing about having Arca Continental as owners is they are putting a lot of money into facilities, into talent," Bjork says. Arca has branches that touch nearly every aspect of the snack business and is one of the largest Coca-Cola bottlers in North America. Those resources have helped Wise Foods introduce its line of potato chips and popcorn to new markets. "They're a much larger company than what Wise is," Bjork explains. "They have some talent and foundational resources that are always there to lend a hand."
Enticing Flavors
Wise Foods started in 1921 when grocer Earl Wise found himself with too many potatoes. Not wanting to let them go to waste, Wise used the potatoes to make batches of chips that he sold at his Pennsylvanian store. The snacks quickly became a local favorite and four years later Wise opened his first chip production plant.
Wise Foods has survived for more than 95 years because of its commitment to continuous improvement and new product development. The company introduced its Ridgies chips in 1955 and launched Cheez Doodles in 1964. Kettle-cooked chips, Cheese Waffies and Bravos products came out in the 1980s. That spirit of introducing new and exciting products lives on today with the company's newest items: Cinnabon flavored popcorn and chips inspired by food trucks.
The Food Truck Favorites line takes its flavors from well-known mobile restaurants such as North East of the Border in Boston, New York's Korilla BBQ and Atlanta's Loaded Burger. "With Food Truck Favorites we literally go out and find food trucks we find interesting and try to develop a flavor that is a homage to that food truck," Bjork says. Wise Foods enlists the food trucks themselves to test the chips and includes information about the flavor's associated food truck on each bag.
The concept has proven popular and more food truck entrepreneurs are clamoring to have their products featured in upcoming bags. To capitalize on that interest by engaging its customers, Wise Foods is planning to ask the public to nominate their favorite food trucks for a future bag. "We're going through the process now of trying to determine what the next wave of favors will be," Bjork says.
The food truck chips fit into Wise Food's larger strategy of producing interesting flavors to entice and excite customers. "We make really good, high-quality products," Bjork continues. "I think we also try to have some unique flavors and product offerings to keep somebody interested."
Consumer Engagement
Unusual flavors are only part of how Wise Foods captivates its customers. "[We're] very invested in trying to build that relationship with the consumer through digital, social media and marketing programs to make them feel engaged," Bjork says. "We leverage our social media and digital to bring to life our marketing campaigns."
Facebook, Twitter and Instagram are Wise Foods' primary communication channels, but the company also does campaigns with sports franchises such as the New York Mets and Atlanta Braves to more closely tie its chips to those markets. With the help of the Mets, Wise Foods introduced new baseball-themed flavors for Cheez Doodles based on different kinds of pitches, such as Fastball, an extremely spicy chip; Slider, a bacon cheddar chip; and Change Up, a white cheddar flavor. One flavor created on the Bravos line in partnership with the Braves is a Stadium Nacho flavor.
For the past two years, Wise Foods partnered with a radio station in Boston to send a fan to baseball's spring training in Florida. The first year, the company had 3,200 people sign up for the contest. That number rose to 7,700 in 2017, a testament to its growing presence among sports fans. "If I offer you money in a promotion people are interested," Bjork says. "But what we've actually found – especially with younger people – is if you offer experiences, it's much more valuable." In addition, Wise recently launched an Augmented Reality (Zappar) baseball game via their partnerships with the Mets, Braves and WEEI.
These kinds of promotions are part of how Wise Foods builds a relationship with its customers. However, the company takes a different approach with its suppliers. After 96 years in business, Wise Foods values longevity and reliability. "I think in general when you're doing business together it's a best practice to get into long-term strategic partnerships," Bjork says.
The company works to foster lasting relationships with key suppliers such as McCormick Farms, a potato grower based in New York that has supplied Wise Foods since 1949. "One of the reasons why they're a great partner is they are extremely knowledgeable, savvy growers," he says, "extremely focused on product quality and what they can do."
Investing in Future
Wise Foods produces its snack foods at its two facilities in Berwick, Penn., and Fort Worth, Texas. The company distributes its chips to retailers mainly in the eastern part of the country; however, it is also pushing its core brands, such as Cheez Doodles, into Texas.
Additionally, it targets its Si Senor chips to Hispanic customers in the Southwest. Bjork credits Arca with making that expansion possible. In addition to its investment in Wise Foods' production facilities, in 2015 Arca funded an innovation center at Wise Foods' Atlanta office. The innovation center includes small-scale production equipment that allows Wise Foods to test different formulas and manufacturing methods, then analyze those results to develop better processing techniques.
Ultimately, the innovation center is an investment in ensuring that Wise Foods' future is as robust as its past. "This company has existed for 96 years so there's a large history and story," Bjork says.