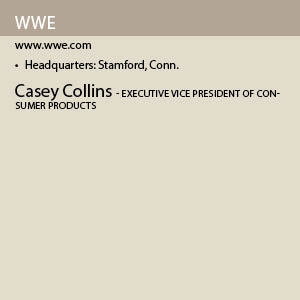 "Mattel has been a great partner to us," WWE Executive Vice President of Consumer Products Casey Collins says. "They are truly a global organization and they get the DNA of our brand. Their team is passionate about WWE – they go to our live events and watch our TV programs every week, so they understand what is special about us, and bring those qualities into every toy they make."
WWE's strong global brand, paired with Mattel's worldwide distribution presence, has made its action figures a perennial top seller on toy shelves as well as online. The WWE Series Assortment has ranked among the top four selling items within the action figures and accessories supercategory in each of the last four years, including the No. 1 ranking in 2016, according to The NPD Group. Furthermore, NPD awarded WWE Basic action figures the No. 1 selling toy in the supercategory of action figures and assortments during NY Toy Fair.
"The great thing about our brand is we are a true evergreen property that is not dependent on big movie releases like other brands," Collins adds. "We have TV programming on the air around the world 52 weeks a year, with no off season – our content keeps fans engaged year after year. Being in the top three for the past four years is pretty powerful."
Mass Appeal
Mattel offers WWE fans plenty of options when it comes to its action figure lines. This includes its Basic line, which is geared mainly to children; and the Elite line, a line of more detailed figures that has a higher price point.
"Our figure lines hit both kids and our collectors – and collectors could include children as well as teens, young adults, parents or grandparents," Collins says. "Our brand is multi-generational in appeal."
Mattel introduced its newest line, WWE Retro, to Walmart earlier this year. The figure designs and packaging of the line harken back to figures from the late 1980s/1990s. "Our toy team grew up in the 1990s, and most of our employees have many of our old action figures on their desks," he adds. "We thought that, since what's old is cool again, it would be fun to bring those back and show everyone what we grew up with."
The Retro line launched with likenesses of WWE Superstars from today who did not have figures in the old style – such as Cena, Brock Lesnar and Roman Reigns – as well as The Undertaker, who was featured in the original line. Upcoming Retro figures will spotlight stars both of the past – such as Savage and Warrior – as well as the present, including several of the company's female Superstars.
Although the Retro line has a built-in audience of adult WWE fans because of their nostalgic appeal, their price point makes them appealing to all ages, Collins says.
Worlds Collide
WWE recently united with one of its fellow top-selling action figure brands. In November, Playmates Toys – WWE's die-cast and motorized toy vehicle licensee – launched Ninja Superstars, an action figure mash-up of WWE and TMNT, at Walmart stores nationwide. The first wave features Cena as Leonardo, Sting as Raphael, Undertaker as Donatello and Savage as Michelangelo. The second wave is now hitting stores.
Playmates and TMNT brand owner Nickelodeon approached WWE with the co-branded concept because of the popularity of both brands and WWE's existing relationship with Nickelodeon. WWE Superstars regularly appear on Nickelodeon's series and specials such as the Kids' Choice Awards that Cena hosted March 11.
"Nickelodeon sees this as a way to extend the TMNT brand into our audience, and the WWE brand into their audience," Collins says.
A Worldwide Reach
Action figures make up the majority of the company's total toy licensing business. Other WWE toy licensing categories include vehicles such as Playmates' Nitro Sprints and Nitro Machines series; construction toys; and role-play sets.
Toys are a main driver of WWE's consumer products division. The division reputed a total of $27.8 million in revenue in Q4 2016, a 16 percent increase from the previous quarter. The increase was driven by higher online sales of merchandise at WWE Shop – the company's main e-commerce platform. Revenues on the year also increased 10 percent to $107.9 million from $98.4 million in the prior year.
The company continues to extend the global reach of its products. WWE toys and other items are sold in 100 countries including China, India, Mexico and Australia; as well as throughout Europe; the Middle East and South America. "Mattel, Playmates, JAKKS Pacific and Funko are truly global companies which allow us to have a footprint in all territories where we have programming," Collins says. "We want to make sure our fans can buy our products in all the places where they can see our TV programming."
WWE's global merchandising and retail efforts are now in high gear, with the company's signature event, WrestleMania, around the corner. The 33rd edition of the event is April 2 at the Citrus Bowl in Orlando, Fla. Last year's event, at AT&T Stadium in Dallas, netted the company $4.55 million in on-premises merchandise sales over a four-day period, a 37 percent increase over the previous year.
WrestleMania-related plans include Superstar appearances and other special events in Orlando and elsewhere as well as dedicated signage and retail spaces for WWE items in major retail outlets.
"We know everyone can't come to Orlando for WrestleMania, but [WWE Chairman & CEO Vince McMahon's] mantra has always been 'How do we bring WrestleMania to people around the world?'," Collins says. "This is why we work closely with our retail partners – so they can bring the WrestleMania experience to each and every one of their customers."
A Digital Universe
In addition to its action figure/toy licensing efforts, WWE is rapidly growing its digital licensing business. Two free-to-play game apps, WWE Supercard – developed by game maker 2K – and WWE Immortals, from Warner Bros. Interactive, have had more than 30 million installs combined since their launches in August 2014 and January 2015, respectively.
The company in January teamed with Scopely to launch a third title, WWE Champions. The puzzle/RPG game app launched as the No. 1 free game title in 53 countries. WWE continues to seek developers for new games. "We don't want to just put out as many games as we can – we like to find good partners and launch them in a big fashion," Collins says. "We want to work with industry leaders with innovative game concepts that work well with our [intellectual property]."