2014 Toys"R"Us Children's Fund Gala Raises $4.5M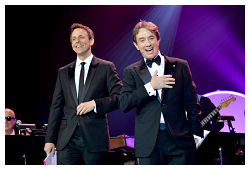 May 16, 2014 – Last night, more than 1,200 leaders from the toy and baby products industries came together at the Marriott Marquis Hotel in New York City to celebrate the 2014 Toys"R"Us Children's Fund Gala. During this special evening of entertainment and fundraising, $4.5 million was raised for the Toys"R"Us Children's Fund, a public charity affiliated with Toys"R"Us, Inc., to aid in its mission to keep children safe and help them in times of need. The event was hosted by Emmy and Tony Award-winning comedian Martin Short and featured a performance by five-time GRAMMY winner James Taylor and his All-Star Band.
"The Toys"R"Us Children's Fund Gala is a wonderful occasion for industry partners to join together in celebrating our shared mission to bring joy into the lives of all children," said Kathleen Waugh, Chairman of the Toys"R"Us Children's Fund. "This event also allows us to proudly showcase the Fund's most significant efforts in charitable giving over the past year and to salute the many respected non-profit organizations we support."
The evening featured a unique opportunity for guests to lend support to the thousands of Special Olympics Athletes from across the country competing in the 2014 Special Olympics USA Games in N.J. next month. Gala attendees rallied during a live text-to-donate opportunity to offset some of the costs associated with participating in the Games, allowing these athletes to devote themselves to discover new strengths, abilities and skills through the Special Olympics' program.
Toys"R"Us was the first Founding Partner of the 2014 Special Olympics USA Games with a $1 million grant from the Toys"R"Us Children's Fund. Toys"R"Us will also serve as the presenting sponsor of the first-ever Young Athletes Festival at the upcoming Games, providing opportunities for children ages 2 to 7 to take part in the Special Olympics' Young Athletes Program. In February, the company also launched a text-to-donate campaign encouraging customers to support the current and future champions of this summer's Games.