7-Eleven "Wines Up" for Fall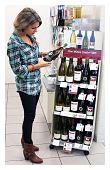 Oct. 18, 2013 – 7-Eleven, Inc. has added four high-demand A-listers to its lineup at its top wine-selling stores – "A" as in wines that have scored 89-90 points in oenophile publications like Wine Spectator and Wine Enthusiast. The ultra-premium varietals – La Crema Chardonnay, Louis Martini Cabernet Sauvignon, Kim Crawford Sauvignon Blanc and Wild Horse Pinot Noir – not only score high in quality, but also in value. The Wild Horse is the best seller in the pinot noir varietal at a $19.99 price point and most recently rated 89. The other three are rated 90 points on a scale of 100, and all have a suggested retail price at or below $19.99 at the participating 7-Eleven stores.
Close to 700 7-Eleven stores are offering the ultra-premium selections. Located in 16 states across the country, these stores' wine sales patterns indicate their customers have an interest in higher-quality wines.
Not only are people drinking more wine, they are drinking better wine. A study by The Beverage Information Group shows that American wine consumption increased by 21 percent between 2001 and 2011 and is now almost neck and neck with beer drinking. The growth shows no signs of stopping, with the group's 2013 Wine Handbook reporting that the wine industry grew almost 2 percent in 2012 alone.
"Even in a tight economy, people are splurging on higher quality wine or craft beer to treat themselves," said Alan Beach, a 7-Eleven vice president of merchandising. "We have seen strong customer response to our offers of premium and super-premium wines in our stores. Now, with these new ultra-premium additions, we can offer wines that have been recognized as some of the best in their class."
As U.S. wine drinkers' tastes have grown more sophisticated, 7-Eleven stores' wine assortment has followed suit. The retailer has come a long way since the days of inexpensive, fruit-flavored wines. Since the mid-1990s, the company has been on a steady path to offer a wider – and better – variety.
While the retailer's stores used to offer only a dozen or so different types of wines, today's top wine-selling 7-Eleven stores carry between 24 and 40 varieties from wineries around the world.
"We want to create a mini-wine shop within some of our stores that have shown strong demand," Beach said. "Regardless of their budget or taste preferences, our guests should be able to find a wine to meet their expectations."