This is a big honor for 84 Lumber, but it is just one example of the company's dedication to service and long-term customer relationships. This focus on quality – in terms of the service it provides, products it sells and relationships it has with staff and customers – has made 84 Lumber a leader in its market.
Based in Eighty Four, Pa., 84 Lumber is the nation's leading privately held supplier of building materials, manufactured components and industry-leading services for single- and multifamily residences, as well as commercial buildings. Founded in 1956, the company operates nearly 250 stores, component manufacturing plants, custom door shops, custom millwork shops and engineered wood product centers in more than 30 states. 84 Lumber is a certified Women's Business Enterprise and is also certified with the Forest Stewardship Council® (FSC®).
The company's vast offering of brand-name products and array of services make it a go-to resource for building professionals, commercial contractors, remodelers, developers and do-it-yourselfers. But the approach it takes with customers is what helps 84 Lumber remain a leader in this market. Many stores have a lot of repeat business from builders, especially family companies that pass their work from generation to generation. The company primarily attributes this to the people who both staff the stores and uphold its dedication to quality and service.
"It all starts with our people," CIO Paul Yater explains. "They are the ones doing the right things for our customers,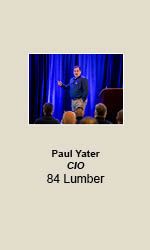 which is why we have a maniacal focus on service. I see associates who are really committed to what we do and how we do it. With this business, we have to do special things for our customers and have flexibility. That's how we win and maintain business."
84 Lumber is known as being a great place to work, and that is key in attracting dedicated associates who demonstrate a high level of service. Last year, the company was named a Top Workplace in the Greater Pittsburgh region by the Pittsburgh Post-Gazette. 84 Lumber was ranked 12th among large companies with more than 400 regional employees and received a special award for "Clued-in Senior Management," which recognized the company whose senior leaders are most aware of what's happening within the operation.
"Being recognized as a Top Workplace is an incredible achievement that wouldn't have been possible without the team we have at 84 – in Pittsburgh and across the country," President Maggie Hardy says. "I cannot commend my associates enough for the work they do every day that keeps this company moving forward."
Team Culture
The awards are great, but even more so, the company prides itself on the relationships it's developed over the years with its associates and customers. 84 Lumber maintains these connections by continually investing in its people and the operation. Training, for example, has been key to its goal of delivering a consistent level of service.
"We always ensure we are training our people well," Vice President of Marketing Amy Smiley says. "Our team is full of dedicated, honest, trustworthy and hardworking associates, and as a result, they interact with our customers appropriately."
Yater adds that education also is helpful in 84 Lumber's service level. "With associate onboarding, we send all new people to 'lumber camp,'" he says. "There, they get product knowledge, see what it looks like to frame a house, and they learn how to understand the products and homebuilding in great detail. We also do a 'sales camp' for associates as they move up the ladder. When they become co-managers, they go to sales camp to learn more about the sales process and how to develop customer relationships."
They note that these efforts result in a culture of teamwork that starts at the top. 84 Lumber is a family-owned business founded by Joe Hardy and now managed by his daughter Maggie, who became owner and president in 1992. Every associate becomes part of the 84 family, and everyone works together to support their store and the company as a whole.
"Every store is its own team, and we here at Team Headquarters are part of those teams – it's not like a typical corporate office," Smiley says. "The collaborative environment makes a big impact throughout the organization and speaks to the family culture. We attract and retain good people here."
Enhanced Upgrades
In recent years, 84 Lumber has been focused on enhancing customer service and improving its retail experience. The company has been working with key customers in some of its markets to integrate customers' ordering systems with its own operational execution system. 84 Lumber is making sure the item names match in each system, while also matching prices and item descriptions.
As a result, when the customer creates a purchase order, it easily flows into the 84 Lumber system, making it faster for the customer and less labor intensive for 84 Lumber. The company plans to offer this service to more customers in the near future.
While technology is a clear advantage for customers, it's also empowering associates at 84 Lumber stores across the country. Yater explains that the company upgraded every server in all stores last year, enabling associates to find information for customers much faster. He admits that he still hears from associates who have benefited from the enhancement.
"It's great to see the productivity they gained in terms of the speed of processing and getting the information they need for customers," he says. "We upgraded the bandwidth and put everyone on a common email platform. Additionally, we created a data warehouse by taking everything at the invoice level by store and day of the week, and analyzed all of that. It gave us more timely and easier access to data.
"Installed sales are a big part of the company's growth. These improvements have made scheduling easier, improved visibility, and added a mobile focus since much of that work is done in the field," Yater continues. "I recently met with some associates who are very grateful for the upgrades. When I asked them if they are happy with the new system, the answer was a resounding yes."
Ongoing Evolution
84 Lumber has always evolved to keep up with customer and market needs. Its current focus on improved technology is another part of that evolution. The company built a strong team of IT professionals, Yater says, that established a multiyear strategy for the company's technological transformation. Upgrading servers and harnessing data are just part of the first step of that transformation.
"We are taking a market-by-market, store-by-store approach," Yater explains. "It's important that we continue to work closely with associates and ensure that what we do helps them. We have more than 260 locations, so every change can't be done overnight. We are doing additional rollouts of the data warehouse now."
The company's next step, he says, is to look at its manufacturing systems to find ways to increase productivity. 84 Lumber is looking into technology that will help it automate some of its stores and ultimately improve customer service.
"It's not like we are making a quick investment in technology and walking away," Smiley stresses. "We really understand the importance of investing in technology and helping the company evolve. We're committed to providing the best solutions for our associates and customers."
Yater notes that associates must welcome these changes, or they may not be successful. As a result, that is a big focus for the IT team as well. "There is a real appetite from our associates to embrace this strategy because of the company's overall continuous improvement mindset," he says. "They understand that technology is a part of that. Our associates are really helping us build that technology roadmap and drive what we're trying to accomplish."
Now that 84 Lumber is doing more custom and installation work, for example, it is using technology to expose that offering in different ways to customers, such as through a web portal or in an app that it is developing. The company is growing by finding more ways to enhance its services to customers, and enhanced technology and installation offerings are a focus for the company moving forward.
"It's all about helping our associates," Yater notes. "We have a great, committed team, and what we've given them gives them the ability to be better at what they do, which is to serve customers faster and in a higher-quality way. With the reactions we've seen and the 'thank yous' we've received, we want to do more to help them."