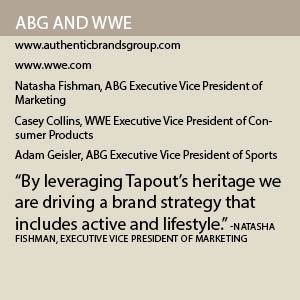 "We expanded beyond the brand's roots and Tapout became the official fitness and training partner of WWE," Fishman continues. "The partnership also immediately gave Tapout a platform from which to connect to a broader audience. When we created the joint venture in 2015, WWE had 600 million social media followers, now they have more than 800 million who are highly engaged and connected."
ABG and WWE have expanded their brand growth initiatives to two key areas: the first being the continued focus on Tapout Active, and second is the reintroduction of Tapout Lifestyle. "The lifestyle piece taps into the resurgence of '90s heritage brands and includes apparel and accessories, which will rollout later this year," Fishman explains. "We have refreshed the classic Tapout logo and have developed all new graphics designed especially for soft line categories.
"The Tapout logo is highly recognizable and the refresh allows us to leverage the brand's appeal with its heritage audience, while at the same time providing a vehicle to reach trend-conscious consumers," she adds.
Tapping Superstars
Tapout's resurgence has seen great success thanks to WWE Superstar John Cena as its brand ambassador, Fishman says. "Cena has been a big Tapout advocate both at WWE main events and at key retail meetings where he has helped lay the foundation for the new Tapout," she notes.
As the "face and voice" of Tapout, Cena is an integral part of Tapout's marketing strategy. "Cena brings an authenticity to the brand's positioning; he's got grit and an inherent link to an active lifestyle," Fishman says.
Social media has also been key to the success of Tapout's reintroduction. "WWE's social network is incredibly vast as well as incredibly active, and plugging Tapout into that platform continues to be a key driver to the brand strategy," Fishman notes.
In parallel to this is the ongoing development of a Tapout influencer group associated with the brand. At a grand opening event of a Tapout Fitness center in New York City, WWE female Superstars appeared and conducted fitness and training sessions with gym members. The star-studded event featured WWE female Superstars Alicia Fox, Lana, Summer Rae, Natalya, Alexa Bliss and Naomi, as well as E! News host Maria Menounos.
In addition to the event being promoted on WWE social channels, each of the participating Superstars promoted the workout session on their respective social media channels, providing the brand further connectivity in an organic way.
"Having organic placement on social media, which includes tapping into WWE's Superstars, such as Nikki Bella, Brie Bella, and the other women of WWE, has been a key aspect of growing the Tapout women's active category," Fishman notes.
Tapout's total active apparel business has doubled year-over-year. ABG and WWE are also focused on growing Tapout Active in different categories. Tapout Men's Body Sprays, in partnership with Elizabeth Arden, recently launched at Walmart and feature John Cena.
WWE and ABG are putting "a lot of energy behind the brand" driving new categories and distribution, Fishman says. "High Life, Tapout's long-time apparel partner who drives the Tapout active piece, has also taken on Tapout lifestyle apparel and is working in partnership with ABG and WWE to drive distribution in current and new retail channels," she adds.
Tapout's various partners will showcase an array of products at upcoming trade shows, including FN Platform's MAGIC in Las Vegas on Aug. 14-16. Products at MAGIC will be more lifestyle and trend-focused. In addition to apparel and accessories shows, Tapout Body Spray will be showcased at NACDS's Total Store Expo.
Key Partnerships
Elizabeth Arden, a leader and product innovator in the beauty industry, is a key partner for Tapout. The all-new line of men's body sprays, which recently hit retail shelves, is already seeing strong sell-through. A new category for Tapout, the expansion into body sprays and fragrance further solidifies Tapout's positioning in both active and lifestyle.
"The licensing strategy for Tapout starts with best-in-class partners," ABG Executive Vice President of Sports Adam Geisler says. "Elizabeth Arden brings a combination of product, category and channel expertise that has resulted in a strategic go-to-market plan for Tapout body sprays.
"It's very important that our licensing partnerships come along with strong retail relationships," Geisler adds. "Having partners who are focused on distribution is a key success factor so that as we are developing new categories the retail strategy is secure."
Casey Collins, executive vice president of consumer products at WWE, agrees. "Our licensing approach has always looked beyond just signing a license," he says. "The Tapout license strategy is designed to create brand partnerships that result in a win-win for all the players involved.
"Our go-to-market strategy includes thinking everything through and finding the right partners that can really bring the brand to life at retail," Collins adds. "It's one thing to sign a license, but the more important part is partnering with companies who are committed to growing the business."
"The combined support of WWE and ABG is the No. 1 thing that we bring to potential partners," Fishman notes. "Finding new partners for Tapout is not such a tough sell when your marketing partner is WWE. As one of the largest media companies in the world, license partners know that the brand is supported by an entertainment giant."
Fishman adds that with WWE as a strategic partner, social media and content are key drivers. "We all know that content is king," she says. "And that's what Tapout provides to its partners. From having significant presence in major WWE live events, including WrestleMania and SummerSlam to snackable pieces of content for social channels, the brand is being activated across varying platforms and formats."
Key Advantages
Tapout has 25 licensees both internationally and domestically. In addition to Tapout's growth in the United States, ABG and WWE are also focused on growing the brand in key international territories.
"We are aligned with WWE on the strategy to grow Tapout in Mexico, Latin America and China," Geisler explains. "The brand growth strategy aligns with WWE's media strategy, which includes establishing WWE in China. They are already making significant progress in bringing live events and TV programming to that region, and we are also implementing a strategy to grow Tapout in that market."
Fishman notes that Tapout has the unique ability to leverage other parts of ABG's portfolio to help it grow. ABG, a brand development, marketing and entertainment company, owns and manages a global portfolio of more than 26 lifestyle, sports, and celebrity and entertainment brands.
Through key partnerships with top manufacturers, wholesalers, retailers and distributors from around the world, the company works to build the long-term value of consumer brands. ABG has worked with numerous brands such as Marilyn Monroe, Muhammad Ali, Shaquille O'Neal, Thalia, Greg Norman, Dr. J, Juicy Couture, Aéropostale, Jones New York, Judith Leiber, Frye, Spyder, Tretorn, Vision Street Wear and Prince Tennis, to name a few.
As an example of how ABG integrates Tapout, Shaq was part of the Andre the Giant Memorial WrestleMania's Battle Royal against The Big Show at Wrestlemania 32 in 2016. Putting Shaquille O'Neal wearing Tapout in a WWE ring with one of its most notable Superstars at a globally televised event was a homerun for all brands involved. "Shaq has more than 25 million social media followers," Fishman notes. "This event connected Shaq's audience to both Tapout and WWE, and provided a platform for us to develop the brand narrative."
Tapout Active also recently launched in 350 Aéropostale stores (ABG acquired the brand in the fall of 2016). "In early July we tested a capsule of Tapout active wear for men," she says. "In addition to a national and geo-targeted social media campaign, including WWE posting to its fanbase, Tapout was supported with in-store events featuring WWE superstars at key locations."
Tapout is expanding the brand's reach via other ABG portfolio initiatives including activating Tapout through its proprietary micro-influencer network. "We are leveraging WWE's global reach, as well as building a following at the grass roots level to reach a broader consumer base with new brand experiences," Fishman concludes.