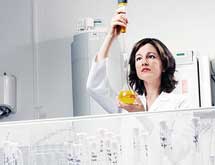 When one of the world's largest global generic pharmaceutical manufacturers wanted to move into the US successfully, it made strategic acquisitions to develop a pipeline and build critical mass. Before 2005, Actavis Group was not a player in the US generic pharmaceutical marketplace. In four short years, the US division of this global company, Actavis Inc. grew its net revenues to $600 million and positioned itself as one of the leaders in the industry.
Actavis Group is the fifth largest generic pharmaceutical manufacturer in the world. Its global revenues are just under €2 billion, and it's been one of the fastest growing generic companies for the past six years. To break into the US market, which is the largest generic pharma market in the world, the company started with acquisitions.
"From a global perspective, Actavis Group acquired significant capabilities in Western and Eastern Europe, and it identified the US as another great growth opportunity," said Doug Boothe, president and CEO of Actavis Inc. "We started with the acquisition of the Amide company, which was closed in July 2005, and the Alpharma global generics business, which gave us critical mass in the US as well as capabilities for Western Europe."
Top 10 position
In addition to establishing Actavis as a significant player in the US, the acquisitions brought together an experienced senior leadership team capable of taking the company to the next level. Boothe said most companies break into the market via ANDAs (abbreviated new drug applications) or partnerships to establish volume so they can then develop marketing and sales divisions.
It's a common strategy, he said, but at the end of the day, the companies remain small players. A combination of the Amide and Alpharma product lines, as well as their pipelines and capabilities—the infrastructure of sales, marketing, financial systems, and manufacturing sites—enabled Actavis to quickly establish a top 10 position in the US generic market space.
The company then looked at how to expand its pipeline, so its next acquisitions supporting the US market focused on building critical mass, direct customer relations, and stronger sales channels to bring more products to market. Actavis acquired R&D company Abrika Pharmaceuticals, which came with a built-in pipeline of ANDAs ready for the generic market.
"Abrika brought capabilities in extended and modified release development and had a few first-to-file products that are highly valuable for our company and the marketplace," said Boothe. "Since then, we've targeted strategic growth opportunities building on Abrika's strengths."
Actavis used the same approach when developing partnerships with third party partners. "We approach them by saying let's identify great opportunities, find good partners, and find a way to bring those to market through the Actavis commercial organization," Boothe said.
Kadian, an extended-release morphine Class 2 narcotic capsule, is one such instance. Actavis acquired the Kadian brand in December 2008 and was previously the contract manufacturer for Alpharma. A company named King Pharmaceuticals acquired Alpharma but needed a partner when it wanted to divest the asset. A logical choice, Actavis purchased the brand and trademarks from King.
"It could have been a more expensive transaction, but our history in the industry and with Alpharma made it an acquisition we could afford and that will continue to bring us great promise," said Boothe.
Ready to deliver
While Actavis was focused on acquiring assets and building critical mass throughout 2005 and 2006, it was also investing in R&D. In the past few years, the company grew from having approximately 30 ANDAs waiting to 38 in 2006, 43 in 2007, and approximately 25 in 2008.
In total, the US division of Actavis Group now has more than 80 applications pending. As a result, it has invested in expanding capabilities at its manufacturing facilities (of which it has four in the US), so when the products do receive approvals, the company will be well positioned to market them at high volumes.
Actavis doubled the size of its laboratory at the Abrika facility in South Florida and expanded the capabilities of its R&D facilities in Owings Mills, Md. and Elizabeth, NJ. On the manufacturing side, the company expanded its facility in Elizabeth, NJ and its facility in Lincolnton, NC.
"We came online about a year ago with a modified release suite, which is a more than $10 million capital investment, at our Elizabeth facility," said Boothe. "That facility is on target to do about 4 billion tablets and capsules, which is a 1 billion increase since I came to the company in 2004. We're now well positioned to continue growing in our other facilities as well."
Top of mind
Other than the acquisition of Kadian, Actavis has stayed focused on the traditional and generic pharmaceutical markets, adjusting its strategy based on what happens in the market but never losing site of its core strengths. As a result, the company is seeing increased volumes on the private label lines of its business.
"We are the largest marketshare player on triple antibiotic ointment, for example," said Boothe. "We are one of the largest players in liquid ibuprophen, and with all of the H1N1 activities, we're seeing increased volumes across the board."
Actavis is seeing growth in its OTC (over the counter) products, a business sector many of its competitors don't have. By being able to compete with branded and private label OTC products and private label pharmaceuticals, the company offers value not only to its business partners but also to its ultimate customer—the consumer.
Boothe said that over the past decade, the generic industry saved more than $734 billion from the national healthcare expense. At a time when healthcare reform is at the top of everyone's mind, maintaining a lean business structure to continue providing high-quality, low-price pharmaceuticals is critical.
"We've established credibility with our customers, made a name for ourselves in the US generic pharma market, and do more than $600 million in net revenues with a staff of 1,200," he said. "As customers look to consolidate their purchasing or choose customers for the long haul, Actavis is well positioned to be top of mind."