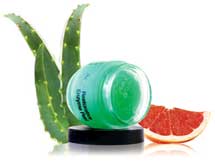 With a refreshed Web site and a strong first phase of new products, this beauty supply company is gearing up for a new era of market dominance. During the Great Depression, three products saw almost no dip in sales: candy, nylons, and make-up. Tom Judson, president of Aloette Cosmetics, said skin care and make-up products are relatively inexpensive luxuries that women will not go without, regardless of the economy. So Aloette, a well-established division of Astral Brands, hasn't been impacted too much by the current recession. But that's not to say the company is resting on its laurels.
In the 1970s and '80s, Aloette was among the top direct-sale beauty supply companies in the nation. Judson, who started his career in direct sales at Tupperware, said the company's unique story (all of its products use aloe as a base) is perfectly suited to home parties. But previous management decided to broaden Aloette's reach and positioned the brand as a multi-channel retailer with an expanded focus on electronic channels such as home shopping, infomercial, and, with the advent of online shopping, a direct-to-consumer e-commerce site.
The downside of this strategy was a lack of focus on the core direct-sales channel resulting in the dilution of the Aloette story. And that, Judson said, weakened the company as a whole.
"Direct-sale products are all about great products with a great story and the great people who talk to their friends and neighbors about them," said Judson. "We lost that to a certain degree by selling over the Internet and on TV, and that was a challenge for us. But we have a renewed focus on our core franchise party-plan business, and we are actively introducing a new generation of women to our products."
In the first quarter of this year, Aloette launched a new mascara product, designed to feature the best application wand on the market, and a Lumitone peel that brightens skin noticeably after 30 days according to the company's clinical trials.
The peel is based on an acid ingredient that is much milder than those found in other peels as part of Aloette's general commitment to better-for-you cosmetics. The company has long been devoted to the benefits of natural, plant-based products, and its launch of the Spa Indulgence collection is the biggest example of that commitment.
The line includes body washes, scrubs, a balm for extra dry skin, and a scented soy manicure candle. Judson said the initial launch of the line in October 2009 was so successful that the company sold its first, 20,000-unit order in less than three weeks. He attributed that success to four key aspects of the line. First, that it's entirely clean with no parabens or sodium lauryl sulfates. Second, its orange-creamsicle scent was reported as the most popular in the field so there was already a demand. Third and fourth: its new packaging and competitive price point made it perfect for the times.
Refocusing on the experience
The other big change at Aloette for 2010 and beyond is its efforts to refocus on the direct-sales strategy. Judson said it's much easier to attract new salespeople during a recession as people look for interesting ways to make a little extra money. He said the trick is attracting young people to the sales force, a goal of nearly every direct-sales company.
"I read a study that said 53% of young women today work a part-time job in addition to their full-time position, and that was staggering for me," he said. "That's half the population of women in this country who might be interested working for us."
For Aloette, the first step in attracting these women was the development of a clean, cool Web site devoted almost completely to educating young women about the opportunities of a direct-sales position. The site launched in January, and Judson said it's the perfect resource for Generation Y, which looks everything up online first.
Of course, the most effective way to bring in new sales consultants has always been word-of-mouth, so Aloette is also revamping its consultant support structure with online training videos and changing the way it delivers information about new products to three-minute podcasts.
"We tell our consultants we are here to support them as they find success for themselves. In years past, that meant requiring them to drive across town for a long training session. The modern young woman isn't interested in that, so we're adopting new ways that reach her on her terms," he said.
The flip side of this greater online presence, however, is that nearly all American consumers make significant purchases online. Judson said direct-sales companies are struggling with how to make products available on the Web while protecting their consultants, but Aloette has found a balance.
On the e-commerce portion of the Web site, customers can enter the name of the consultant from whom they learned about the company, and that consultant will get credit for the sale. Unlike other direct-sales beauty companies, Aloette doesn't lock online shoppers into one consultant or restrict them from making a purchase. It also uses a tracking system in its back-end operations to link a consumer's zip code with her local consultant. However, Judson said the company doesn't plan to promote the e-commerce section of the site strongly.
"We're looking for the balance between a modern business with a strong online presence and the model that's been so successful for us for so many years: woman gathered around a dining room table having a great time talking about products," he concluded.