America's Thrift Stores attributes its success to offering customers great value, variety and selection. Five years ago, the company changed its tagline to "Where It's A New Store Every Day," because it knew the variety and selection it offered throughout its 17 stores in Alabama, Louisiana, Georgia, Mississippi and Tennessee was unmatched. "Our competition doesn't have the donation network and as a result, the supply we have," Sobaski adds. "Our business is fast turning, high variety and making sure we provide good values. We know our customers are looking for values and treasures and the way they find them is if we give them a new store every day."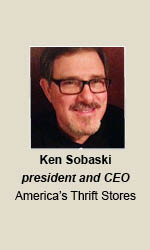 Founded in 1984 and headquartered in Birmingham, Ala., America's Thrift Stores collects, processes and markets nearly 50 million pounds of donations each year. The company turns its inventory about 15 times per year and nothing stays on the floor for more than three to five weeks. Its largest stores put out more than 18,000 items per day. "We have c-store or grocery store shopper frequency with incredibly loyal customers," Sobaski says. "Our highest frequency shoppers have incomes of $75,000 or more annually, and we also have shoppers living paycheck to paycheck who are in the stores two or three times per month."
Flawless Execution
America's Thrift Stores is able to deliver its one-of-a-kind consumer experience because the back of the house consistently executes the process of opening up and sorting through bags and boxes of donations, putting the appropriate price on them and getting it out to the sales floor that same day. The company oversees its own supply chain network with 54 over-the-road trucks that pick up donations from 2,500 locations and do about 36,000 home pickups annually.
"Every single item of ours has a unique UPC code and every single item is touched and graded for the right price point," Sobaski explains. "The worst thing you can do in the thrift business is screw up your value proposition. That execution allows you to rotate stock on the floor because customers want to know if they come back in a week or day or two that there's new stuff out on the sales floor. The back of the house of America's Thrift Stores looks like a processing or manufacturing plant."
Technology has been a key investment of America's Thrift Stores' investment over the past two years. "When you literally print out a UPC code for every single item, you've got a huge technology investment," Sobaski says. "We upgraded our POS system with new scanners at the registers and updated the terminals used to collect data for tagging and scanning. We are halfway into implementation with NetSuite ERP Solutions. Overall, our capital has gone to expand our donation network and to improve the IT foundation in our stores."
Historically, each store was its own distribution center and had trucks assigned to it. To streamline its processes and reduce cost, America's Thrift Stores is investing in a central donation center in Birmingham to bring in donations and distribute items to its stores as needed for inventory. "Operating in a just-in-time fashion gives us the opportunity to save $250,000 annually and can be a key part to get more efficient as we grow and add more stores per year," Sobaski notes.
America's Thrift Stores also looks at efficiency when it comes to ensuring the layout of each store is shoppable and items are where consumers want them to be. "Eighty percent of our shoppers are women, so the first thing you'll find is women's clothing is right up front," Sobaski says. "Kids clothes, antiques and things like that are towards the back and edge. We worked hard to get our footprint aligned with the way customers shop. We tested and tried new things, got it right and tweaked it more. The currency every customer has the least of is time and we are cognizant of that. We make sure they can find what they are looking for and do so quickly."
Moving forward, America's Thrift Stores plans to open two to three stores per year over the next three to five years. "When we look at the markets we are in, we see the opportunity for expansion," Sobaski adds. "We see our first 10 new stores opening without having to expand outside the five states we are in."