Bake Crafters Food Company
Prepared for growth!
Significant challenges presented by the Covid-19 pandemic forced Bake Crafters Food Company, as most others, to refocus, reprioritize and reallocate resources to meet the ever-changing needs of its valued customers. Focused on core values and company culture, Bake Crafters is well positioned to rise to the challenge!
Founded in 1989 by President/Owner Michael Byrd, Bake Crafters has operated with a single aim: providing the baked goods customers want with the service they expect. This means broad product selection, efficient and cost effective product development, competitive prices, and dedicated customer service.
"Our strong cultural vision was set by Michael and continues to be our driving force to this day. At Bake Crafters, everything starts with our team members. Michael continues to set the tone with his work ethic, vision and will power, and that resonates through each of our associates, in every department throughout the organization, and continues out into the marketplace with our broker and customer partners. The wonderful culture Michael has fostered is not just about Bake Crafters finding success in the marketplace, but about making peoples' lives better and providing a positive environment in which to work and collaborate. That's why we so regularly hear how much people enjoy working with Bake Crafters and helping to grow the Bake Crafters' brand," explains Executive Vice President Kirk Hill.
Servicing all 50 US States, Canada, and abroad, Bake Crafters provides baked goods to a variety of business sectors including primary and secondary education (K-12), colleges and universities, healthcare, military, in-store bakeries, and multi-unit regional restaurant chains. Bake Crafters offers individually wrapped and bulk foodservice products ranging from sandwiches, pancakes, waffles, French toast sticks, hamburger buns, English muffins, croissants, sandwich breads, bread sticks, Texas toast, donuts, muffins, snackables and sweet breakfast items. Many of these products incorporate USDA commodities, meaning schools can use allocated entitlement funds from the USDA for the purchase of products containing beef and cheese.
"Whole grain K-12 products are our single largest market segment. Bake Crafters currently offers 300+ sku's, 200+ of which are focused on the whole grain K-12 market. We offer over 125 individually wrapped products and continue to focus our product development in this area to better meet and serve the growing needs of our customers," Kirk reports. "We have a very mature distribution footprint and highly efficient logistics services offering delivery across the country on a weekly basis with the majority of our business flowing through national and independently owned food service distributors. We offer low minimums to our valued customers, so our partners can order as little as two pallets with as many different product offerings as needed.
Shared insights
"Supported by our outstanding broker partners, Regional Sales Directors, and Food Service Sales team, Bake Crafters is proud to offer best in class sales support and customer service. Many of our broker partners have been supporting the Bake Crafters brand for many years and we truly value the commitment and expertise they bring to the Bake Crafters brand and family," states Kirk.
The value Bake Crafters places on its relationships with its broker partners is such that, when the Covid-19 pandemic hit the US in early 2020, the company began daily virtual communication to ensure that both Bake Crafters and its broker partners stayed connected to better understand and analyze the changing needs and demands of their mutual customers. One year later, these weekly national conference calls continue, helping Bake Crafters and its brokers identify best practices, share successes, provide suggestions for improvement and identify product needs.
"Effective communication is part of what separates Bake Crafters from the competition. This has been especially evident throughout the pandemic. We meet regularly with our broker partners where we share insight into what trends are sweeping the country," says Justin Hamer, the company's Director of Brand Marketing.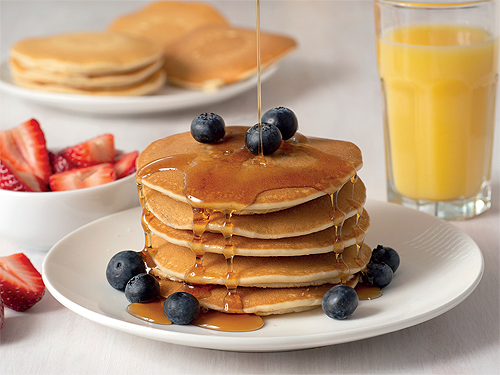 "We aim to communicate equally well with customers through our website and social media channels. Users constantly tell us how friendly and informative our site is, which in turn helps promote brand recognition. This is particularly true in the K-12 marketplace where foodservice directors can navigate through our wide offering of products to find and download the nutritional information they need."
New product offerings
Benefiting from a fast and efficient product development process and expedited routes to market, Bake Crafters decided to double down on its capabilities at the start of the Covid-19 pandemic. Rather than wait for the health crisis to pass, Bake Crafters accelerated its focus in the area of product development placing primary focus on individually wrapped products. Rolling out products at an unprecedented speed, Bake Crafters has been updating its new product offerings an average of every four to six weeks.
"Back in March 2020, everyone in the office set their sights on selling our way through the pandemic because we had so many people relying on us," Kirk states. "For us, it started and ended with K-12 children across the country. We looked at ourselves, if not as direct front line workers, at minimum as supporting those on the front line. We felt we had a deep responsibility to provide the nutritional food products school aged children, and others, needed in a time when gaining access to food on a daily basis was becoming increasingly difficult.
"Working collaboratively with our suppliers, we were able to maintain a constant supply chain which allowed us to effectively and efficiently develop and deliver new products to the market. In total, we have launched over 25 new products in the last six to eight months. Every one of these was individually wrapped and ranged from sandwiches to snackables to, most recently, pre-packaged meal kits."
A driving force behind Bake Crafters success has been the company's team members, which, despite numerous obstacles and difficulties in its path, has remained resilient, resolute, and committed throughout. "Every member of the Bake Crafters family has been, and continues to be, the life line of the organization. Our team members are family and are our most important asset and resource. We strive to recognize and reward their hard work, and during this pandemic, we're very proud and blessed to have kept everyone fully employed with no layoffs or furloughs," states Kirk.
"Bake Crafters is preparing for growth in 2021. The gradual return of in-person schooling is bound to improve and increase demand. As we continue to plant seeds and prepare for rain we will be focused on the needs of our customers. Bake Crafters will continue to engage with food service directors, brokers, and distributors across the country to better understand changing demands and work to position our company to best be able to pivot and adapt to these changes. Additionally, we are investing and reallocating resources in the other growing market segments we service," states Kirk.
Re-energized brand
2021 will also see the implementation of the company's new marketing strategy with virtual trade shows and product launches taking center stage. "Much has changed in how we share information with our customers," Justin declares. "Before the pandemic, most of our efforts were focused on in-person meetings. Now we are creating videos with our Corporate Chef, Cristian Adasme, to showcase the features and benefits of products in a virtual setting.
"In addition, we will further expand our social media presence and website capabilities." The pivot to digital platforms follows a complete rebranding of the business carried out by Justin and his team in 2019. "From logos to packaging, the rebranding was a major success and has re-energized the Bake Crafters brand and helped us better connect with our customer base.
"As the need grows for individually wrapped products, we are looking at ways to further improve our packaging," Justin reveals. "In 2021, we will be increasing the visibility of our products through the packaging, making it easier for customers to see the goods they are enjoying. This is a huge area of opportunity, so we are constantly looking for ways to better serve our customers."
Olivia Morrell, Sales Support Assistant COMwho manages the company's relationship with the brokers and oversees the entire Product Launch process states; "We always want to keep in tune with our customers and find ways to improve. We have learned a lot over the years, but we definitely don't know everything. That's why we place such a strong emphasis on our relationships with our brokers and customers because we know how much we can learn from them."
As Olivia suggests, the quest for continuous improvement at Bake Crafters is ongoing. Earlier this year, the company sent out surveys to its clients to help the business spotlight its next areas for development.
"With collective support of our Bake Crafters team, broker partners, and customers, we are preparing and planning for growth," Kirk concludes. "We feel as though throughout this pandemic, we have learned a lot about adaptation and feel confident that we have planted the right seeds in order to be prepared for rain."
www.bakecrafters.com