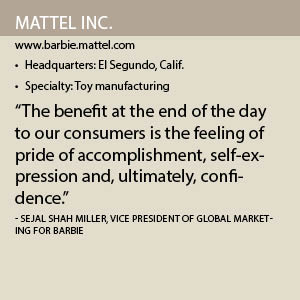 "Crayola is about unleashing creativity and Barbie is about inspiring the limitless potential in girls," Shah Miller says. "To me, it was the perfect marriage of a best-in-class arts and crafts brand partnering with the most iconic and beloved doll in the world."
"At Crayola, we're all about inspiring creativity through color and customized play experiences, and our partnership with Barbie demonstrates this continued passion, says Warren Schorr, vice president of business development and global licensing at Crayola.
"We know kids love fashion and colorful design, and giving them a way to express and create their unique style with Barbie is a perfect fit," he continues. "We look forward to our continued collaboration and providing kids with innovative and imaginative activities."
According to Shah Miller, the partnership was a "no-brainer" as both brands have significant credibility and trust with their consumers. She noted that both brands also have high appeal and affinity with girls and parents alike.
"It made sense from our consumer bases and both brands' history and heritage that we would come together to develop a new product line for girls," Shah Miller says.
It's Play Time
The new line allows girls to customize, experiment and create, staying true to the core of both brands. The benefit at the end of the day for all consumers is the feeling of pride of accomplishment, self-expression and confidence.
Some of the products will be available during the upcoming holiday season. The full line will roll out in 2018 both domestically and internationally to retailers. The products are accessibly priced, ranging from $9.99 to $39.99.
In addition, Barbie will launch the Barbie x Crayola CIY (Create it Yourself) YouTube content series in February 2018. The videos will showcase how to leverage both Barbie and Crayola to further inspire customization and ignite creation.
"Barbie has a very strong and engaging platform on YouTube with more than 10 billion views," Shah Miller explains. "As part of our marketing plan, we'll leverage influencers in the space and social media platforms across both brands."
The introduction incorporates Crayola's popular ultra-clean technologies to create unique crafting play with color-in fashions, tie-die designs, stamps and confetti. The two companies plan to continue the collaboration into 2019, expanding the Barbie fashion activity line by leveraging Crayola's proprietary crafting technology pipelines.
Consumers Align
Mattel tested its new product line with girls and moms and, in particular, found that parents not only view the collaboration between Barbie and Crayola as "highly credible," but they also feel both brands bring something unique and complementary to the partnership.
"At Mattel, we pride ourselves on our research center," Miller says. "It was a nice point in the process to see through research that what we deem as the vision was confirmed back to us by our consumers."