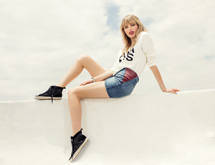 The world of women's fashion is vast, with a seemingly infinite number of choices. Standing out among the ocean of brands that can be found in the world's most popular department stores is a daunting proposition, but that's a challenge Joyce Azria is only too eager to take on. As creative director of BCBGeneration, Azria says it's her job to make sure the brand hits its target market with apparel that appeals to young women's style and budget considerations. With five years already under its belt, it's clear that BCBGeneration is living up to Azria's expectations.
BCBGeneration is a sister brand to well-known fashion powerhouse BCBMAXAZRIAGROUP. Founded by Azria's father, Max Azria, in 1989, the studio has designed lines of clothing found at retailers worldwide such as Lord & Taylor, Macy's and Bloomingdale's. The studio's clothing has been worn by celebrities including Angelina Jolie, Eva Mendes and Taylor Swift.
Much like her father's designs, Azria says BCBGeneration is focused on creating more than just fashion – it seeks to create a lifestyle. Through a blending of European chic with California casual, BCBGeneration says its apparel conveys femininity and toughness with a look that is at once young contemporary and timeless. "It's one of the most exciting if not the most exciting brands out there," Azria says.
Spirited Brand
Azria describes the DNA of the BCBGeneration brand as one that not only is inspired by the latest trends in Europe, but also is influenced by being right in the middle of the Los Angeles celebrity scene. "We see what every celebrity is wearing," she says. "It's such an exciting place to be designing from."
Whereas BCBMAXAZRIAGROUP designs fashions focused on elegance and sophistication, Azria says BCBGeneration aims at a younger, more free-spirited demographic. "It's really offering kind of the little sister to the BCBG MAX AZRIA experience," she says.
When it comes to realizing those designs into actual fashions for department store displays, Azria says BCBGeneration is blessed with licensees who understand the brand and create high-quality offerings. This is due in large part to the work of Sophie Rietdyk, President of Licensing and International, who Azria says continually brings in "best-in-class" licensees.
"We're such a design-driven company, and we're all about the product and the consumer," Azria says. "We tell that story to the licensees. When it gets to the licensees' hands, they're the pros."
Rietdyk says the brand has experienced significant growth recently, expanding from two licensees last year to eight this year, and that has corresponded with an increase in attention from retailers. "It's really exciting to see the results in the market and to see how the department stores are embracing the brand and giving us the space that we should have," Rietdyk says.
From Design to Reality
Azria attributes the success BCBGeneration has had with long-standing licensees like Camuto Group, which manufactures the brand's line of footwear, and Collection XIIX, which has been handling cold-weather accessories, hats and scarves. Trebbianno, the brand's jewelry licensee has spearheaded the development and growth of the booming affirmation business, which is featured in many of the top department stores. Most recently, BCBGeneration has debuted a line of outerwear made by New York-based Herman Kay. Azria says the technical expertise of Herman Key has been invaluable in creating a line of coats that is practical as well as stylish, and the response so far has been enthusiastic. One item in particular has already sold out through the Nordstrom's Anniversary Book.
Another recent addition to the BCBGeneration brand that has taken off is its intimates line, which Azria says its customers are just as comfortable wearing as accessories as they are wearing as intimate apparel. She says this is a prime example of how BCBGeneration embraces the free-spirit nature of its primary demographic. "Our girl loves to tell the story of how she's feeling," she says. "It's exciting to follow her lifestyle into intimates."
Retail Partnerships
In addition to the success BCBGeneration has found with licensees, Azria believes the successful relationships it has built with department stores has been a significant part of its success. For example, she says, there's the arrangement the brand has with Macy's where it leases a special branded section in its women's department to create a store-within-a-store. "Macy's has been tremendous for us," she says.
At Bloomingdale's, BCBGeneration fashions are found near contemporary designs to create a sort of bridge between the older and younger demographics. Azria says traditional department stores tend to attract a slightly older demographic. BCBGeneration offers these points of distribution, a branded experience for a more youthful demographic. This has pulled a younger clientele into their doors, which proves to be both a business success and an exciting creative advance. "It's so exciting to create that world for her in the department store space." Azria says.
Exciting Growth
The future of BCBGeneration looks to be just as exciting as its past has been, as well. Rietdyk says the company is extending its brand carefully into international markets with stores opening in Mexico, Indonesia, Chile and Peru. She adds that the company wants to enjoy its solid ground in the United States before prematurely expanding, although it has received a lot of enthusiastic responses from international markets.
Azria says the company has experienced a lot of growth through e-commerce sales, as well, and the BCBGenerations website will be undergoing an expansion soon to take greater advantage of that. Partnerships from edgy online retailers like ASOS have been a step in the right direction for international growth. "The world is becoming a lot smaller," she says. "The world is a click away, and to see our international sales happening via e-commerce is really exciting."