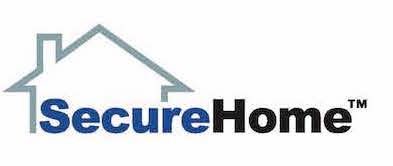 The BHMA Secure Home™ Label simplifies the process for purchasing builders' hardware.
By Ralph Vasami
Door hardware is an essential component to any home: it requires careful thought and consideration whether it is front door hardware that will be exposed to winter's frost and biting winds, or a bathroom door lock consistently used in a family home.
The simplest way to choose superior door hardware is to look for the label.
Builders Hardware Manufacturer's Association (BHMA) has developed a certification program to make the process of buying and selling door hardware easier for consumers and retailers alike. The program attributes the Secure Home™ label to products that have passed strict testing to ensure a high level of quality in three areas: Security, Durability and Finish.
Security tests determine whether a lock can resist attempts at unpermitted entry. Consumers looking to replace the entrance lockset to their new city home should consider the security rating more so than a consumer looking for an interior home office door.
Durability refers to hardware's ability to withstand repeated long-term use. Large families, for example, have family members coming and going multiple times a day, and should look into a higher durability rating.
Finish is the surface coating or outside texture of a product. The significance of the finish increases under certain circumstances. For instance, sun exposure on a family's house along the coast can cause finishes to blister while harsh northern winters can take their toll, as well.
While all door hardware that is certified by BHMA is rated in each of these three aspects on a scale of Good (C), Better (B) or Best (A), it is important to note that even a "Good" rating is generally superior to a product that does not have the Secure Home™ label. Only products with the label have been tested by an independent 3rd party lab and certified to BHMA standards, which is the only organization that the American National Standards Institute (ANSI) has accredited to develop and maintain performance standards for builders hardware.
Both retailers and consumers stand to benefit from the label in that:
• Retailers know they are selling a product that will help meet their customers' needs, and those customers know their lock has been rigorously tested and certified to ensure its performance.
• Door hardware that is certified with the Secure Home™ label tells sellers and buyers alike that their lock or deadbolt can stand the test of time.
• The visibility of the Secure Home™ label on a product takes the guesswork out of hardware selling.
• The Secure Home™ label allows the consumer to buy the appropriate hardware for their needs, and provides valuable information for the retailer to target different consumer needs and concerns.
The Secure Home™ label is advantageous to both retailers looking to sell high-quality products, and to consumers wanting to purchase door hardware that will perform to a higher standard.
After understanding the benefits of BHMA certified hardware, a retailer can help a consumer in determining the correct ratings combination for their needs. A few questions to ask include:
• Is the door interior or exterior? Generally, exterior doors should have a high Security rating, while this is not as pressing for interior doors.
• How often is the door used? Durability is important for doors that see constant, consistent use.
• Is the door continuously exposed to environmental factors that may deteriorate the surface finish? If so, look out for its Finish.
To learn more about BHMA certification and the Secure Home™ label, visit www.securehome.org.
About BHMA
The Builders Hardware Manufacturers Association (BHMA®) is the trade association for North American manufacturers of commercial builders' hardware. BHMA® is involved in standards, codes and life safety regulations and other activities that specifically impact builders' hardware performance standards for locks, closers, exit devices and other builders' hardware. It the only organization accredited by the American National Standards Institute (ANSI) to develop and maintain builders' hardware performance standards.