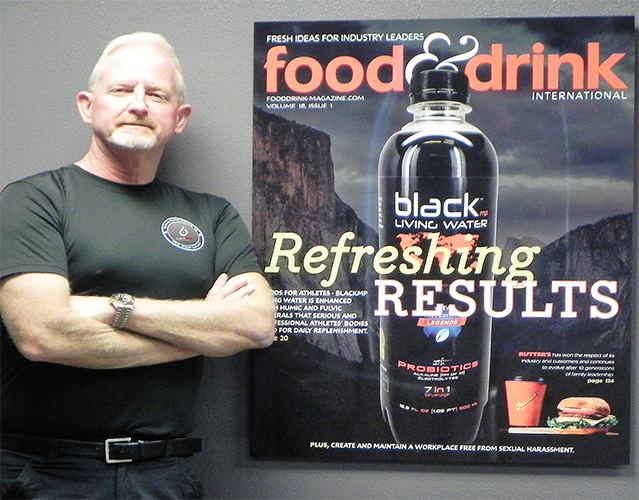 The ultimate water
Blackmp Living Water from Foods For Athletes continues to grow in popularity as consumers recognize its health and nutritional benefits
Foods For Athletes (FFA), the parent company for all Blackmp water products, whether bottles or concentrates, began operations in June 2014. From its home base in Visalia, CA, FFA spent the first three years bringing bottles of concentrates to local High School athletic events and selling them to families – most of the time from a fold-up table near the event's snack bar! In 2017, the first bottles were produced in Colorado, in 24 oz, and 16.9 oz (500ml) sizes. Within a year, production of the 16.9oz bottle was moved to WGP's state-of-theart facility in Las Vegas and Blackmp was featured on the front cover of Food & Drink magazine, launching the brand to the world and encouraging readers to 'Rejuvenate yourself!'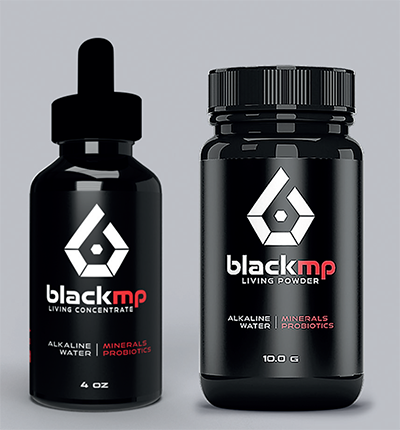 "By the end of the first year at WGP, Blackmp Living Water was endorsed by the NFL Alumni Association (NFLAA) for the unique rejuvenating properties experienced by many of the Alumni, who are true pro football legends. Blackmp then began surfacing at many of the NFLAA events in Northern California," began Gary Ferguson, VP Operations at FFA.
Before delving further into the operations of FFA, it is worth exploring what makes Blackmp Living Water so unique. Described by the company as 'THE Healthy Alternative Beverage', Blackmp Living Water was created to combat the problem of low nutrient content in food. The product comprises reverse osmosis filtered water infused with fulvic and humic minerals (obtained deep within the earth in the US) and soil-based probiotics (the m & p in the name Blackmp). Naturally alkaline with a pH of ten+, the water includes 77+ trace minerals, and electrolytes, with all ingredients USDA Certified Organic. Considering the health benefits that the Living Water offers, it is easy to understand why FFA's motto for the product is: 'the choice is CLEAR, the water is BLACK'.
"The biggest question asked about Blackmp Living Water is, 'How is it black?'," added Gary. "The answer is that the humic acid molecules (not acidic but rather highly alkaline) are naturally black and attach themselves to the water molecules and it is this that colors the drink." The humic acid element of the beverage is one of its major health-giving aspects and as Gary explained, humic acid molecule functionality has been studied through years of global research, including a National Institute of Health (NIH) study from August 2002. "This concluded that humic acids exhibit effects, both as a preventive and a curative, for a broad range of viruses, as well as indicating that humic acid taken before introduction of the virus exhibited a strong prophylactic effect," he revealed.
The Blackmp product range from FFA also includes an immune supplement powder and a liquid concentrate, which share the benefits of the Living Water. But these are not the only strings to its bow, and indeed, as Gary puts it: "The only things holding us back are the boundaries of our imagination."
Near the end of 2018, FFA introduced Zezel (pronounced Zee-zel) Probiotic Living Water. Zezel is not black, but it is USDA Certified Organic and made with fulvic minerals and soil-based organic, shelf-stable, highly potent probiotics. "We are very proud of our innovative ability to provide shelf-stable probiotics and to share their promotion of good 'gut health' to a growing community of health-conscious beverage consumers," Gary added, before going on to reveal an exciting new release from FFA. "I'm especially excited to deliver to the market our Black MVP Hemp water, which draws on the benefits of minerals, vitamins, probiotics and all-natural hemp in both 16.9 oz and one-liter sizes. We have applied our most powerful functional ingredients with the now known health benefits found in ingestible hemp to produce a unique, mega functional beverage."
Furthermore, FFA has developed five new flavored Zezel waters and a Zezel Vitamin B-complex water, also to be sold in the one-liter size and priced to fly off the shelf while providing a solid gross margin for the retailer. "We know we have to price it right for retailers to put it on the shelf and price it right for consumers to pull it off the shelf," noted Gary.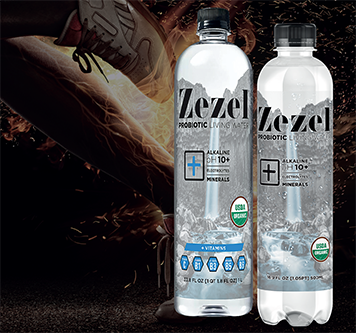 Referencing retailers brings the conversation back to the progression of Blackmp. As its notoriety grew, furnished in part by the ringing endorsement from the NFL Alumni Association, the water landed its first major account, SaveMart stores of California. About that same time, C&S Wholesale Grocers brought both sizes of the Blackmp bottles on board and became a favored source for major independent grocers to acquire the products for its center store shelves. Gary identified these two early relationships as key driversbehind FFA's success. "SaveMart Stores – our hometown proud chain store – and
C&S Wholesale Grocers legitimized the presence of FFA when we were making appointments with other retailers," he confirmed.
The brand is now aligning with CrossMark Sales, in a major move to become visible nationwide. "The immense power of their salesforce and the prospect of unleashing their industry-leading approach to growing unique products is exciting to watch unfold. We believe our partnership with Crossmark is a significant step to bringing FFA products nationally and abroad," said Gary. "We are so excited to have CrossMark Sales going to bat for us every day nationally. To support CrossMark, we are also partnering with Carolina Media to produce our first national television ad campaign. And of course, we are partnering with Retail Merchandiser to tell our story within the industry as well as in a digital space worldwide."
Additional expansion is underway thanks to the growth of online sales over the past 18 months. "Concentrates and powders had the best year-over-year percent growth during that time," said Gary. "Obviously with the circumstances impacting the world, the ability to ship concentrates has been far more efficient and cost effective than shipping weight-impacted bottles of water. Coming out of the pandemic, however, retail center store sales have picked up substantially."
Early in our conversation, Gary had credited the backing of the NFL Alumni Association as a significant early breakthrough for Blackmp (in fact, the founder and inventor of Blackmp, Darren Long, is an NFL Alumnus himself). As Gary went onto note, subsequent recommendations by recognized and COMrespected sources are continuing to push the success of the product and encouraging FFA to pursue its expansion plans. "Working hand-in-hand with the National High School Coaches association, the High School Football 100, and having Dani Hansen, a 2016 and 2021 Paralympic Silver Medalist, and Richard Torrez, Jr., a Tokyo 2021 Boxing Olympic Silver medalist, as everyday users have been further driving forces to motivate FFA to take the next step and promote nationally," he agreed.
Furthermore, being Physician-Certified has also been a tremendous boost to the growth of Blackmp Living Water and FFA as a company. "Validation is the word that comes to mind," stated Gary. "What FFA has endeavored to bring to a nutrient-starved world is now validated by the fact that physicians everywhere can medically promote the health benefits of the ingredients found in Blackmp Living Water."
At the time of speaking to Gary, FFA was on target to complete construction of its own bottling plant, right in its hometown of Visalia. This project, in combination with bringing in CrossMark creates a strong foundation for the future. "There will be a heavy focus over the next 18 months to aid CrossMark in every way to grow the brand domestically," stated Gary. "Looking 18-24 months out, we have a plan to then begin entering global markets with our bottled water products. Our concentrates and powders are already experiencing penetration now."
It is clear from Gary's narrative that FFA is entering an extremely busy and exciting phase of its growth. "If we can execute beyond the boundaries of our imagination and combine our youthful ambition with a solid dose of faithful expectation and thankfulness, then the future is very bright for Blackmp Living Water and all our FFA products," he concluded. "We are putting a solid team together to compete at retail and to give ourselves a great opportunity to win at the game of work. As functional water grows in importance in the eyes of consumers, and if we can anticipate the upward trends of that demand, then with our unmatched products, the choices will be CLEAR, and the water will be BLACK."
https://blackmp.com/