Blake's All Natural Foods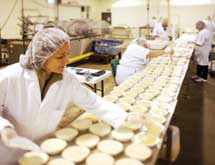 This fourth generation family owned company proves that even though you're short on time, you don't have to be short on quality. Just because we run at a faster pace than our predecessors doesn't mean we can't take the time to eat healthy. Eighty years ago, Clara Blake started Blake's Turkey Farm, raising and selling award winning fresh-dressed turkeys. Forty-one years later, her grandson, Charlie Blake, began selling chicken pies out of the back of his truck to his neighbors using his grandmother's original recipe.
A few years later, Blake's All Natural Foods began freezing and distributing its potpies to local grocery stores using the same heirloom family recipes. Although the means may have changed, what hasn't is this company's dedication to helping its customers eat healthy, no matter how much time they have.
Located in Concord, NH, Blake's began distributing food across New England through conventional grocery stores in the early '70s. Chris Licata, president, said part of the reason he left his previous career to come to Blake's in 2006 was because of the food and work philosophies and the ethics of the people and the company. He also saw an opportunity to provide healthy organic frozen food to families beyond the borders of New England.
"Had the food not been amazing and made from scratch, it wouldn't have been interesting," said Licata. Around the same time, Licata and his wife Amy, whose dad Charlie and mom Sally still work at Blake's, were becoming more interested in organic food as they raised their twin daughters.
"It was hard to find made-from-scratch food—food we would make ourselves if we had the time," Licata said. "We saw an opportunity to blend the quality of Blake's food with the simplicity of the ingredients we use in an organic formulation."
One of the first steps Licata took in transforming Blake's into an organic food producer was to have the production facility, which sits on the original Blake farm along with the company's office, certified organic. The company changed its formulations and added some new items to the menu, but overall, Blake's continued to keep it simple, fresh, and healthy.
"We use simple, clean ingredients and the best products available: white breast meat chicken, fresh-cut potatoes and vegetables, and freshly sheeted dough for the piecrusts," said Licata. "Simple meals provide great solutions for families, not only for kids but also for adults. We continue to make the food people would make for themselves if they had the time."
Expanded distribution
Blake's organic meal product line includes its chicken potpie, its all-meat chicken pie, macaroni and beef, and shepherds pie. Its natural meal product line includes the chicken potpie and all-meat chicken pie, as well as a turkey potpie and an all-meat turkey pie.
In addition to using the same recipes that have been in the family for years, with modest modifications, Blake's uses good old-fashioned manpower to put its products together. Unlike other production facilities, when walking into Blake's, you'll see people, not machines, cooking the chicken, pulling the chicken by hand into pieces, and dicing the potatoes that go into the potpies rather than buying frozen diced potatoes.
"You will see people sheeting the dough, preparing the dough, and then putting it into sheets to make the crust," said Licata. "There is certainly a downside to having a lot of people making your product; it can at some point limit your production. At the same time, one of the things we're most proud of is when you buy a Blake's pie, it will be made from scratch."
In recent years, Blake's has expanded its organic food distribution from regional to national. The company's natural products continue to be sold primarily in New England. The expansion created an opportunity for growth, but it's required the company to be more strategic with its product planning because of the need to make organic products to suit a national need and integrate that scheduling with the all-natural products also in production.
"When you need to make more product, it forces you to take another look at the efficiency of your processes," said Licata. "We've looked at some modest automation."
Blake's purchased a cartoner that puts the organic products in boxes, which has brought more wrapping efficiencies. The company also purchased a new dough sheeter that allows employees to continue making the dough from scratch and by hand but at a faster pace, a necessity in light of the company's recent growth.
Before launching its organic line, Blake's products were sold in six states. With the expansion of the organic line, Blake's is now sold in almost every Whole Foods in the country, and its products are sold in more than 40 states.
"I heard that someone was in Hawaii and saw our product in a freezer," said Licata. "I was both surprised and pleased to hear that."
Down to earth
Blake's diversification into organic foods has necessitated a diversification in its distribution strategy. On the organic side of the business, Licata said it's important that the company's products are distributed by retailers that have a commitment to the natural category, merchandise quality natural food, and have a loyal customer base that understands the benefits of organic and natural foods.
"Sometimes organic food costs a little more than conventional food items," he said. "It's important that our products are sold in an environment where people understand what they're getting for the money."
In addition to being distributed by Whole Foods, Blake's organic products are distributed through natural specialty stores, conventional grocery stores, and co-ops, such as the local Concord Food Co-op in New Hampshire. "This co-op is committed not only to selling our products but also has a great staff that can talk about the benefits of organic and natural food," Licata said.
Blake's natural products are typically sold side by side with national food brands and other conventional food products. When distributing its natural food products, Blake's looks for a retailer that understands why giving consumers all-natural frozen food options is important, especially as customers become more interested in learning where their products are sourced and what the health benefits are.
"When you put a natural product like Blake's in a conventional frozen section, people will be interested in the fact that we use only the best ingredients and we're a fourth-generation family business. I think people want to know where their food comes from," Licata said.
"We have a sense of pride, humility, and appreciation for the fact that people like our product and want to support a family business," he continued. "No matter how big we get or how small we stay, that sense of pride and humility will always remain."