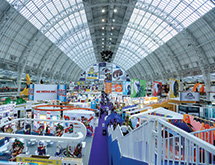 Brand Licensing Europe (BLE) 2015 will celebrate its 17th successful year as the only pan-European event dedicated to licensing and brand extension at London's Olympia on Oct. 13-15. BLE 2014 was the biggest event to date, hosting 306 exhibitors and 7,164 visitors from 69 countries. But the show hopes to grow larger every year with new features for retailers, licensees, licensors, manufacturers and sales promotions professionals.
This year, BLE will feature its biggest-ever educational programming, offering 25 free sessions. Additionally, the show will feature two education theaters, the Licensing Academy and Brand and Lifestyle Theatre, offering attendees unique insights into licensing from leading experts in the industry. The show's Knowledge Partners will also host their own seminars for the first time ever, focusing on key trends, facts and figures in the industry.
"The educational element of the show is just as important to visitors as the exhibitor lineup," BLE Event Director Darren Brechin says. "For many, it's a chance to discover the latest industry statistics, hear case study examples of how and why licensing has worked for them, and it offers access to a raft of industry experts."
Attendees can choose from 16 free seminar sessions in the Licensing Academy, covering topics such as licensing explained, guidance on licensing contracts and industry trends from speakers including LIMA, Planet Retail and NPD Group. Other sessions include the topics of anti-counterfeiting, social accountability and direct-to-retail, hosted by industry experts.
The Brand and Lifestyle Theater will run in convergence with Brand Jam, offering nine sessions regarding the business of licensing across sports, nonprofit, food and drink, museum, heritage and children's categories. Some of the speakers include Beanstalk, British Library, Imperial War Museums, Barbie Mattel Inc. and Warner Bros. Consumer Products.
"For those who are new to licensing or the show, each morning the Licensing Academy program opens with a beginners guide from LIMA – the perfect way to set yourself up for the day," Brechin says. "We launched our Brands and Lifestyle Theatre two years ago and have watched it go from strength to strength. These niche seminar sessions are ideal for anyone looking to drill down into a specific category."
BLE is the perfect place to meet with more than 300 leading brand owners to discover the most popular brands, characters, images and artwork available to take that licensing partnership to the next level.
In addition to the enhanced educational opportunities, BLE will also feature the Character Parade, an actual parade of licensed characters through the exhibit hall; Retail Buyers Lounge, where retailers can relax or conduct private meetings; Screening Suite, a theater where attendees can see previews of upcoming blockbusters; Retail Mentoring, for those new to licensing and who need guidance on how and where to begin; and License This!, a competition open to brands that have not yet been published or broadcast, allowing new brands the opportunity to present themselves at Europe's biggest showcase for brand extension.
Attendees can look forward to interacting and meeting with more than 2,500 brands such as Hasbro Nickelodeon, Pepsi, Activision, WWE, Adidas, Pokémon, Walt Disney and many more.
For more information on BLE 2015, visit www.brandlicensing.eu, or follow on Twitter using @bleurope for the latest news and show updates.