"He has really built a strong family connection with his employees," Atherton continues. "We drive for perfection and excellence and more often than not it turns out that way."
Based in Garden City, N.Y., Bolla owns and operates gas stations, convenience stores, auto repair shops and car washes in the New York City, Long Island, N.Y., and New Jersey markets. Singh came to America from Punjab, India, in 1983.
After doing a variety of jobs, Singh got the opportunity to take over a Mobil gas station in Brooklyn N.Y., one that he still operates today. He was so successful that he was offered another site within two years and the story had begun.
Since then, Singh has grown Bolla to more than 65 corporate locations and as well as over 50 dealer and supply sites. As a wholesaler distributor of Exxon, Mobil, Sunoco and Shell, Bolla has become the industry standard in the regions it does business.
But that is merely the tip of the iceberg. Bolla has five silos of business: Retail, Transport, Construction, Real Estate, and Wholesale Distribution
"We look to have them all in sync," Singh says. "We focus our energies on where there's strong growth and where the opportunity lies…[then] we strive to execute flawlessly."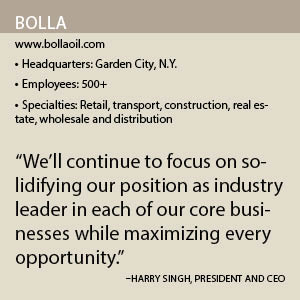 Atherton attributes Bolla's success to Singh. "I've known him for 20 of the years he has been in business," he says. "[It's all due to] his commitment to the business, his calculated risk-taking and his drive to be better than anyone else."
Unique Offerings
Bolla offers customers a very high-end product selection in its Bolla Market locations, Atherton says. For example, "We sell tilapia, salmon, chicken marsala, and other sides at lunchtime that makes us a unique destination in the convenience store channel," he says.
Offerings like these equate Bolla Market "to a cross between a convenience store and a Whole Foods, "he says. "We have everyday convenience store products as well as many better for you options like salads, paninis, wraps and fresh fruit."
"We make everything with fresh, never frozen ingredients, using highly trained chefs," Singh says "and offering a number of high-quality proprietary lines like nuts, trail mixes and cookies."
The presentation of the stores sets Bolla apart. "We have a restroom that makes you think you're in a high end hotel with employees that are in crisp uniforms, with a tie and name tag," Singh says. "There is a lot of things going on in our store that makes Bolla a leader and innovator in the industry."
Maximizing Profitability
Bolla regularly copes with challenges in its market ranging from labor costs to changes with competition. "Trying to differentiate ourselves in the competitive market place is a challenge," Atherton says.
"We continue to maintain growth plans but we never take our eyes off our market that has been saturated with extensive competition and has a customer base that faces some of the highest cost of living expenses in the country," he says, noting that the company has to look at how it manages its expenses and overhead costs. "All of those things are hard to manage, and as we grow, even more so."
"All of these challenges remain Bolla's focus as we try to meet our consumers needs and achieve profitability goals," Singh says. Fortunately, Bolla has been able to effectively manage these challenges for 27 years.
"We have an extensive pipeline of sites that are in the permitting process in New York and New Jersey," Singh says. "We continue to maintain growth plans but we don't take our eye of our current assets and maximizing there potential."
State of the Art
Bolla has invested in new technology for its stores, including inventory systems, Atherton says. "We do various scanning all around the store to order and check inventory levels as well as monitor store performance with a state-of-the-art back office system and price book," he says.
The locations also use LED lighting, "Which is something that the customer appreciates and better presents the products we sell," he says. "The customers like a warmly lit, friendly environment."
The company also is currently experimenting with loyalty programs, where visitors to its stores can receive rewards, including free cups of coffee. "We're still navigating through that to find the best alternative to encourage loyalty from our customer base," he says.
The Right Formula
Bolla has developed a culture where people are expected to work hard and deliver their best. However, "We have a family atmosphere," Atherton asserts. "There's a lot of before and after work events, and quick meetings with dinner.
"It just builds the relationships between everyone who's working here," he says, noting that it also keeps everyone in sync. "This corporate culture has made us the industry leader in this region."
Although it can be tough to operate in Bolla's markets, "We've done it and exceeded everyone else in the country that operates in a suburban or rural area," he says. "Our culture is definitely directed towards maximizing every opportunity that the market presents."
It also has a simple management structure with Singh and members of his family involved in the business every day. "We're able to be very nimble and make decisions quickly," Atherton says.
Bolla will continue to grow via its five business silos, Atherton says. "Every day, our goal is to be the top retailer in our region," he says.
"We're going to continue to grow site count," Singh says, noting that the company plans to grow its construction, real estate and transportation business, which delivered more than 250 million gallons of fuel in 2015. "We feel like we have the right formula.
"Our plan back in 1989 was to build a business, brick by brick," Singh says. "We have seen great success in our 27 years of business and continue to focus on our core businesses, maximizing every opportunity and making Bolla a great place to work and build a rewarding career."