Since it was founded in 1910, more than 110 million Americans have participated in BSA programs. In addition, the BSA is part of the international Scouting Movement and became a founding member organization of the World Organization of the Scout Movement in 1922.
As a values and lifestyle-based organization, the BSA Scout Mission is to prepare young people to make ethical and moral choices over their lifetimes by instilling in them the values of the Scout Oath (to help others at all times, remain physically strong, mentally awake and morally straight) and Scout Law (to be trustworthy, loyal, helpful, friendly, courteous, kind, obedient, cheerful, thrifty, brave, clean and reverent).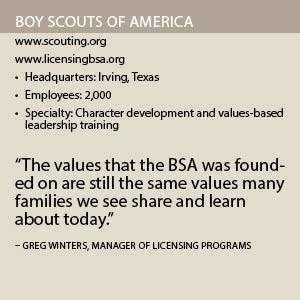 "The BSA is a program that wants to develop those qualities while teaching and promoting outdoor physical activity, skill building and education," says Greg Winters, manager of the BSA's licensing programs. "The values that the BSA was founded on are still the same values many families we see share and learn about today."
Max Effort
The BSA launched its licensing program in 1925 and initially included artwork for use on calendars and other printed materials. One of the organization's first product licenses was with Brown & Bigelow for a Norman Rockwell illustration for its Scouting calendar, Winters notes.
"At 18 years old, Rockwell was employed with the BSA in 1912 and served as our art director for Boys' Life magazine," he explains. "Although Rockwell served as Boys' Life art director for only a few years, his association with the BSA was lifelong making more than 50 paintings and hundreds of drawings until 1976."
The BSA's licensing program grew modestly until 2004. The following year, BSA revamped its approach to licensing and the program grew from 18 licensees and $6 million in retail licensed product sales in 2006 to more than 130 licensees and more than $200 million in retail licensed product sales in 2017.
Managed by its in-house licensing team in Charlotte, N.C., the BSA's licensing program has been recognized as one of the top global licensors by License Global magazine every year from 2013 to 2017.
Today, the BSA licenses a variety of products ranging from cutlery to food, activity kits, clothing and patches. "We have a variety of products that are available to our members and consumers, which are sold through retailers like Michael's, Hobby Lobby, Lowe's Home Improvement and various sporting goods stores to name a few," Winters says, noting the licensing program is currently focused into three product opportunities types: adventure, preparedness and exploration.
"Since 1910, the motto for the BSA has been "Be Prepared," he says. "At retail, we're working to identify potential partners that have products that carry an element of preparedness to them. To support this effort, we are launching several new assets at retail to support licensees with new designs that are modern and clean. We want people to not only "Be Prepared", but also be able to leverage our knowledge in that space with product opportunities which can be more easily identified in store."
With its exploration segment, the BSA aims to identify licensing opportunities that promote imagination, education and skill building, including opportunities that support STEM initiatives, "Again, the BSA is a lifestyle and values-based brand," Winters notes. "It's important to find licensed product opportunities that could help support those values and activities found in our program."
He adds that the Pinewood Derby is one of the BSA's most popular activities which embraces imagination, creativity, craftmanship, and sportsmanship. The activity challenges Scouts to design and construct a small wooden car which is then raced on a track. "Since 1953, over 150 million Pinewood Derby cars have been built," Winters says. "This year we will be introducing a new look and feel for the Pinewood Derby brand with various accessories and car kits."
Expanded Portfolio
Outdoor activities have always been a big part of the BSA, which is why it was a natural evolution for its licensing program to tap into the outdoor adventure category for products, according to Winters.
"Because of who we are, many people associate the BSA as a leader in outdoor education and activity," he says. "For example, cutlery is a big product category for us. We license Victorinox Swiss Army, Buck Knives, W.R. Case and more. Although we have had products in place for many years, we actively evaluate other types opportunities for families to further engage with us."
"We're thinking of ways that we can promote outdoor adventure and skill building like camping, hiking, and fishing, among other things," Winters continues. "The BSA offers more than 130 merit badges in various subjects. We're always thinking about how we can leverage that content with products to engage families who may not necessarily be active in Scouting, an opportunity to learn a little more about the fun and excitement the Scouting program can offer."
Recently, the BSA signed YETI Coolers as a licensee for various types of custom insulated drinkware. "We also have a licensee that produces hiking shoes with performance features made for the outdoors," Winters says. "In addition, we have a licensee that is introducing an entry level fishing pole which helps promote the excitement fishing can bring to youth."
Ultimately, the BSA licensing program is working to create positive experiences outdoors. "If we're able to create those great experiences in some form in working with our licensees, our hope is that we can encourage participation in that activity more," Winters explains. "We really want to be able to help create and promote those positive brand experiences for consumers as a whole."
From a retail product licensing perspective, the BSA is working to identify and tap new partners that share its values and lifestyle. The organization's goal is to create licensed products that not only connect with its active membership and alumni, but also with any outdoor enthusiast, Winters notes.
"At the end of the day, we want to be true to who we are as an organization," he says. "Our mission is to serve the youth and families through the Scout Oath and Law. So we look to partner with companies that share our mission and values because those are the best partners for us."
Winters has been with the BSA for 11 years. He says that he is most proud of the opportunity to make a difference. "When we look at products, we take into consideration if it will resonate with the recipient and if that could have a positive impact," he says. "It's an amazing feeling to go to one of our retail partner's stores and see how consumers react to our products. That is something that we certainly value."