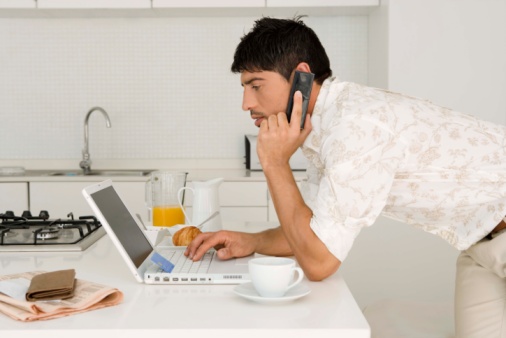 Here's the current state of the ecommerce market, and where we expect things to go in the future.
By Lauren Freedman
Over the past 20 years, the world of retail has undergone a seismic shift. From the rise of Amazon to the death of many store-based retailers, the fundamental way consumers buy products has been changed forever. What used to take a dial-up connection and 10-15 business days for delivery now takes a thumbprint and an efficient search mechanism and can often be delivered in a day or less.
Looking back at the last 20 years of ecommerce, Astound Commerce's latest report, 20/20 Vision: Looking Forward by Looking Back at 20 Years of Digital Shopping Information, explores how brands have evolved to meet the changing demands of consumers and how they've responded to a more dynamic retail environment. Of the 281 metrics measured across the top 100 retailers, 10 have emerged as standard to the ecommerce experience we know today. Here are some highlights.
Live Chat Options
Nobody likes calling customer service, but sometimes having a conversation is necessary and more productive. To make the process easier and give customers instant answers and increased convenience, market leaders began experimenting with connecting to customers directly through live chat. In 2001, less than a quarter of retailers surveyed used live chat. Today, 76 percent offer this option. This favorite of multi-tasking consumers handles concerns in context and drives conversion.
Advanced Search Capabilities
With mobile becoming an increasingly popular channel for product research, shoppers want to be able to instantly find products they're looking for without scrolling through an entire catalogue. Eighty-seven percent of shoppers offer type-ahead suggestions to prompt users today, an increase of more than 70 percent since 2009. Streamlining the path to purchase by empowering customers to find products in as few clicks as possible is a major value-add. Retailers should also display product visuals in the search bar to provide additional convenience and inspiration for browsing shoppers. Remember, it's about speed but relevancy matters as well.
Richer Content
In the fledgling days of ecommerce, products were always front and center, with customers comparing largely on price and features due to simple product pages. Today, with an endless number of competing products at consumers' fingertips, the best retailers are using compelling product and educational category content to stand out. And that number is on the rise – 75 percent of retailers now implement content marketing strategies, including product selectors and comparisons, compared to less than half in 2008. They subscribe to the belief that an educated customer is more likely to buy.
What's Next
While our research revealed the developments that defined the past 20 years of ecommerce, the more pressing question is, "What's next?" What are the features that will define the next two decades of ecommerce?
While we don't have a crystal ball, we did uncover twelve metrics that saw more than 50 percent growth since we first started analyzing them. Given the market penetration these features have experienced, we expect the following features to continue to evolve for years to come:
More consumer-generated content: Retailers were initially wary of providing customer reviews, as only 32 percent included this feature on their websites in 2005. Today, 94 percent of retailers showcase customer reviews on their sites.
The 64-point percentage gain highlights the consumer appetite for product information beyond what's provided by the brand. Shoppers take promotional language with a grain of salt, but they put significant stock in their peers' opinions. Featuring positive customer reviews on the website strengthens consumer trust in brands and retailers. And the benefits for retailers don't end there. Reviews give companies customer feedback in real-time, which can be incredibly valuable when making strategic decisions on products and promotions.
The next logical evolution for customer reviews is more freedom to add user-inspired content, like outfit pictures or snapshots of products in action. This will further connect buyers with brands and minimize the burden on brands to produce this content themselves. Retailers can take note and learn from their customers how their products are being used.
Smarter product recommendations: Research suggests customers buy more from brands that offer personalized product recommendations and get annoyed with brands that don't.
This is why brands have focused on offering a unique experience for every customer. Personalized product recommendations jumped from 44 percent in 2001 to 99 percent market proliferation today. This saturation means future market leaders will need to find new ways to offer unique experiences. Expect tactics like individualized discounts, exclusive offers and more to become more common in the next few years. As technology companies often serve as the engine behind these actions, proliferation is to be expected.
Multiple ways to pay: In the early days of ecommerce, payment options like PayPal were absent on even the most prominent retailers' websites. However, as retailers searched for ways to decrease shopping cart abandonment, streamlining the payment process was an obvious solution, particularly in light of mobile growth.
Today, 83 percent of top retailers support PayPal, compared to only 22 percent in 2002. PayPal's familiarity and simple login has empowered retailers to eliminate a key source of friction on the path to purchase. Looking forward, we expect options like Apple Pay, Visa Checkout and more to expand across the landscape, giving consumers more opportunities to choose the payment option that's best for them.
Shifting consumer preferences and an ever-growing list of new digital features make it difficult to predict what the future of ecommerce will hold. Every retailer will need to differentiate, particularly as the competitive landscape is dominated by large players like Amazon having deep pockets and a penchant for innovation that resonates with shoppers.
However, it's safe to say that market leaders in coming years will emphasize speed, convenience and personalization. Retailers that offer better experiences will stay ahead of the curve regardless of shiny new features or trendy developments. These are the fundamental building blocks of successful ecommerce experiences.
Lauren Freedman is the senior vice president of digital strategy and chief merchant of Astound Commerce.