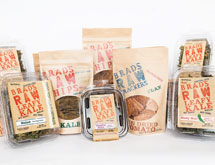 When Brad Gruno, founder of Brad's Raw Foods, decided to adopt a raw food diet six years ago, he started seeing great benefits right away. This type of diet consists of consuming mainly uncooked, unprocessed, organic fruits, raw vegetables and nuts.
Gruno explains that he lost 40 pounds in the first three months, felt better and healthier, had more energy and his complexion cleared. Though he was sold on his new diet, he missed the familiar crunch of chips and other similar snacks.
His entrepreneurial spirit, which had been focused in the construction arena until then, took over and he decided to develop a crunchy, healthy snack for his own consumption. He took kale, a green, leafy vegetable and nutrient powerhouse, and dehydrated it. Through careful control of the process temperature, he could preserve the live enzymes and nutrients of the kale, thus keeping it raw.
A stroke of luck in 2008 brought him to a food convention, where he provided chips for another entrepreneur that was marketing a fresh, live salsa and didn't want to serve it with "dead chips," as Gruno puts it. "Within one hour I had a crowd surrounding me, asking me about the chips," he recalls. "That is when the light bulb went on and I realized that I could sell this product."
Inspired by this positive reception, Gruno learned how to cultivate his own kale from a local, organic farmer and set up a small factory in one of the farmer's garages to produce his chips.
When he felt the product was ready, he took it to Whole Foods. "They liked my product, so we gave some samples in the Philadelphia store. Before I knew it, I was selling $14,000 a month in chips," he recalls.
The Right Partners
Two-and-a-half years, 10 flavors of raw chips and crackers, five flavors of raw leafy kale and a dog line later, Brad's Raw Foods is a $10 million-a-year business with 80 employees, a presence on the East and West coasts and big plans for continued growth and expansion. "There are so many people who want to eat better, they want to feel better and they don't mind spending a little more to get a great product that is good for them," Gruno says.
Brad's Raw Foods have made such an impression that even several celebrities have taken note. Hoda Kotb, from "Today with Kathie Lee and Hoda," advocated Gruno's products on her show, and actress/model Carol Alt featured them in her book, "Easy Sexy Raw."
Gruno says his most effective marketing tool is the one that worked for him at that trade show in 2008. "We give free samples in stores all over the United States and that works great for us. We go in and educate the customer."
The company also has a strong social media presence and a comprehensive website, with recipes, nutritional facts and other information. Its headquarters in Pipersville, Pa., has an educational center called The Chip Factory. "We hold raw food classes there, we have a juice bar and we have movie nights with educational offerings," Gruno explains.
A book with Gruno's recipes and his personal experience with raw foods will be available through Random House in January 2014. "The book is an education resource, with day-by-day instructions for a 60-day diet cleanse using raw foods," he explains. "I saw a need in the marketplace after so many customers and loyalists asked me questions about how I switched to a raw food lifestyle."
The entrepreneur is not done expanding his product offerings; he is planning to launch dehydrated onion rings, zucchini chips and wine. "We are going to produce, in collaboration with a grower in California, a bio-dynamic, organic and sulfite-free wine," he says.