Brock's Service and Quality for All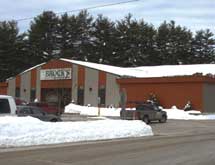 How quality products and unsurpassed service are ensuring the success of this family-run lumberyard despite a recession and stiff competition. Roughly 50 years ago, Maurice Brock was trucking rough– sawn lumber in Southern New Hampshire, providing the raw materials to a wooden box manufacturer. He knew the rise of plastic would eliminate that business, so one day in 1961, he bought $1,000 worth of a new kind of wood—plywood, set the product up in his garage, and with his wife Anne started selling to local homeowners and contractors.
Scott Brock, Maurice and Anne's son and current president, now oversees one of the largest retail suppliers of building materials to customers throughout the seacoast and lake areas of New Hampshire, Southern Maine, and the North Shore of Massachusetts. Today, Brock's employs 65 full- and part-time employees and is housed in an 85,000-square-foot showroom and warehouse in Rochester.
Brock's store actually shares a parking lot with the local Home Depot, and Brock doesn't underestimate the challenges of competing with big box retailers, especially in a recession and the worst construction downturn in years.
"The key for us is to stay on top of every new product," Brock said. "Customer expectations grow every year with more people doing their research online before they come into the store. We make sure our staff knows the answers to any question a customer has or at least knows where to find the answer because if we don't, we'll flounder."
Brock said when he first started work with his father, building a house was cut and dry: there would be one top line of windows, for example, that everyone would use. Today, there are so many kinds of products with a variety of features that the job is much more challenging.
That's why the company takes advantage of every training opportunity its vendors offer in the winter months and often invites vendors to the warehouse for afternoon seminars for the employees. And if an employee gets a question he doesn't know the answer to, Brock's has manuals on all the products in stock.
The company's annual contractor review night is another way to keep employees and customers in the know. Every April for the last five years, the company has rented out a local venue, inviting vendors to bring their latest products and allowing any Brock's customer to stop by, ask questions, and talk one-on-one with company representatives.
"We have food and drinks; it's a great night," Brock said. "It positions us in the minds of our customers as a knowledgeable resource in our community and gives them an opportunity to meet the people they are buying from."
Partnerships bring success
According to Brock, however, the best way Brock's can compete is on service. He said the company has always catered to both contractors and homeowners. The company provides free estimations, free delivery, and will load up a customer's car or truck for them.
"We offer the same level of service to all our customers, big or small. Most lumberyards don't like dealing with homeowners because they have lots of questions and don't always buy something after taking up your time, but by putting in that time and a little extra effort, when they do need something, they come to us," he said. He added that lumberyards only serving contractors are doomed in this market. The business from the little guys is keeping Brock's afloat.
Although Brock's offers competitive prices, Brock said the store only sells the highest-quality products rather than cheaper versions with less long-term value. The company also has an unadvertised 100% product support policy. Brock explained that if a customer has a problem with a product, the company replaces the product for free before going back to the vendor, which keeps the customer out of the equation and happy.
"We have long, healthy relationships with our vendors, so if there's a problem, it's much easier for us to talk to them about it than send a customer to them," said Brock. Some of the company's suppliers, he said, have been partners since the beginning, but nearly all have worked with Brock and his family for at least 20 years.
Toward the horizon
Brock also emphasized the importance of keeping the company's systems and equipment up to date. Every few years, Brock's replaces its entire fleet of boom trucks and forklifts. This year, the company is installing a new computer system that will improve POS, inventory control, and buying capabilities.
The change comes as most of the company's vendors move toward Web-based buying programs, which reduce human error and expedite deliveries. Brock said with business slow, it's a good time to retrain employees on a new system.
Although he doesn't expect the market to turn around quickly, it isn't all doom and gloom. "People will start migrating north in the next five or 10 years, and we've got our eye on being the local construction expert when they do. As long as we stay focused on the long term and keep our customers coming back, we have a lot to look forward to," concluded Brock.