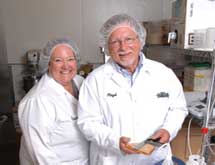 This organic and natural baking company aims to provide more wholesome options for the whole family. Doug Radi explains how it gets organic shoppers to take a bite. In 2005, a private equity firm based in New York City saw an opportunity to consolidate the baked goods segment of the organic and natural foods industry. The Charter House Group acquired Vermont Bread Company, The Baker, Matthew's All Natural Baking, and Rudi's Organic, bringing together four strong, regional brands to create Charter Baking.
Since then, Charter Baking has grown roughly 20% annually, in line with the overall growth in organic and natural foods, which runs at about 12% annually. Doug Radi, VP of marketing, attributed some of the company's success to being part of an on-trend market but added that isn't the whole story.
"When you bring together four brands, it takes a few years to get them to work together seamlessly. In this case, each of these brands was founded on the same passion for baking bread without chemicals, and that united vision made integration much easier," Radi said.
He added that the challenge for these brands is to establish preeminence in a largely underdeveloped category of organic and natural foods. He said organic breads make up as little as 1.5% of total bread sales while, depending on the market, organic milk can make up between 5% and 7% of total milk sales. Overall, organic food makes up nearly 3.5% of total food sales, double that of organic bread.
Each of Charter Baking's brands already had strong consumer bases in their markets, with Vermont Bread Company, The Baker, and Matthew's in New England and Rudi's in Colorado. The company's growth strategy centers on leveraging that strength to new markets and into regional and national grocery channels.
"Our target is the organic mom. She's already buying organic products but hasn't found, or tried, an organic bread option," Radi said. "We want her to try our products. We know once she does, she'll never go back."
Family-friendly
One challenge for Charter Baking has been bread's traditional image as a wholesome food when even breads marketed as "whole grain" have artificial chemicals and preservatives.
Last summer, Rudi's launched its first major educational campaign titled "what's in your bread might surprise you." The campaign highlighted the artificial chemicals and preservatives found in non-organic or natural breads and the difference between bread marketed as whole grain and Rudi's breads, which are made with not only whole grains but also 100% natural ingredients.
Rudi's saw sales jump more than 20% and brand awareness increase by 30% as trial rates went up after the summer campaign, which also included coupons to encourage organic moms to try Rudi's bread.
"The proof is in the taste," said Radi. "Most organic and natural bakeries use unfamiliar grains or put out products with unique flavors that might not appeal to the whole family. We offer mainstream options like our honey sweet wheat, multigrain, and country morning white."
Last spring, Rudi's launched its first line of bagels and wraps designed to appeal to a broad spectrum of organic eaters. Charter Baking's product development process, Radi explained, centers on recognizing similar opportunities to offer mainstream, family-friendly organic bread products to replace the conventional choices shoppers make.
"We think about all the occasions in a day, a week, a year where our organic mom is serving bread products to come up with ways to offer an organic or natural alternative, which is sure to please her family, if there isn't one readily available," said Radi.
Charter Baking has been successful in getting those products on shelves. Radi said the company has nearly full distribution in the natural foods channel through stores like Whole Foods and Mrs. Green's. The company's next goal is to expand from the channels and markets where the brands are already strong into more mainstream supermarket channels like Hannaford in New England or King's Super in Denver.
"Organic shoppers are everywhere, and they will only grow in numbers as more people learn how much healthier foods made with only wholesome ingredients, such as Charter Baking's products, are," Radi said.
For Charter Baking, there are still plenty of opportunities for growth, particularly in producing kid-oriented foods and gluten-free alternatives.
"Once we identify an opportunity worth pursuing, we turn our professional bakers loose to experiment," Radi said. "These are men and women who have been baking for years. The ideas they come up with astound us every time and will continue to win consumers over in the years to come."